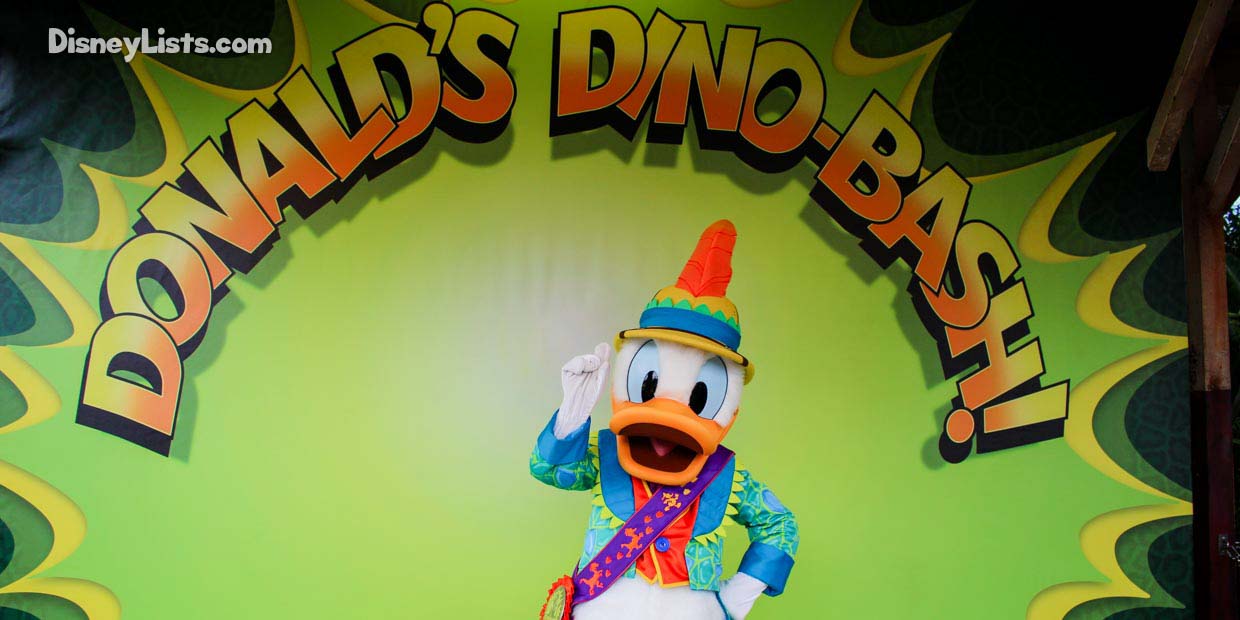 When I used to work at Animal Kingdom as a Conservation Education Presenter (now known as Wilderness Explorers), I always got excited when my rotation moved me to DinoLand. DinoLand has such a fun atmosphere, and there is a whole backstory to go along with each area of the land. The land is basically broken into two sections: Chester and Hester's Dino-Rama and the Dino Institute. The story goes, fossil hunters, scientists, and students live near the institute and do their research on dinosaurs near the Boneyard. Two locals, Chester and Hester, found a way to make money off the scientists and their discoveries and converted an old gas station into a roadside carnival. The land is full of great theming and dinosaur facts, but the backstory is only part of what makes DinoLand, U.S.A so much fun!
6- The Boneyard
Editor's Note: During the phased reopening of Walt Disney World, The Boneyard is temporarily unavailable. 
Whenever I was stationed in DinoLand, I use to love seeing all the families with young kids go crazy over the Boneyard. It's not even technically an attraction- the Boneyard is a playground made to look like a dig site. It's got everything a future paleontologist or archeologist could need; there are interactive displays, rope ladders, slides, tunnels, and plenty of crates and lids to open. The coolest part of the Boneyard is a giant sandbox filled, not with sand, but with a non-sticky substance called "Texas grit." Here, kids can dig up fossils- which, even as an adult, I would have a blast doing! It may seem strange to spend tons of money on a theme park ticket and then spend time at a playground. Still, the Boneyard is a larger-than-life area that you really can't find anywhere else!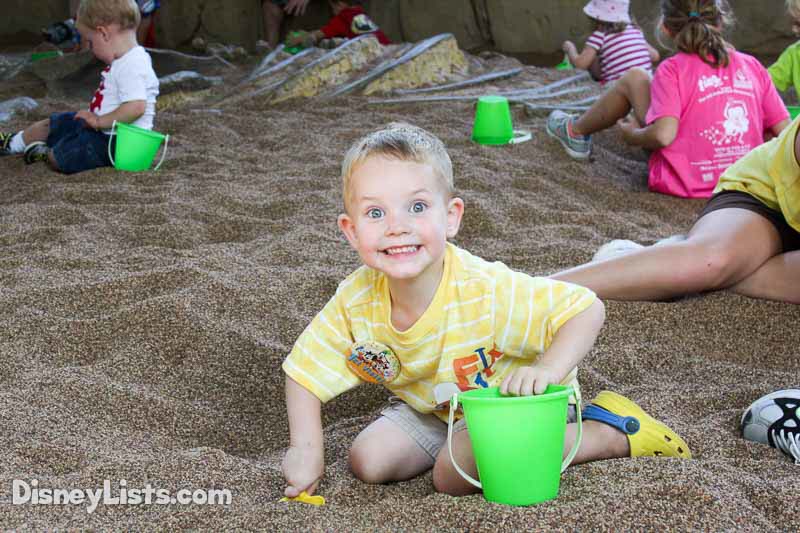 5- The Crocodile Exhibit
One of the most overlooked areas of DinoLand is the American Crocodile exhibit. As part of my cast member duties, I would often have to stand in front of this exhibit and educate guests on crocodile facts. The crocodile was so chill that most of the time, guests thought he was fake! Crocodiles don't move around that much, and this crocodile would let birds land on him, but he was 100% real. When he did move around or would open his mouth to regulate his temperature, guests would be amazed. I wish more people knew about him; after all, reptiles are one of the closest things we have to actual living dinosaurs (even if dinosaurs are more related to birds).  Make sure to keep an eye out for the crocodile the next time you're in DinoLand!
4- Chester and Hester's Dino-Rama
I know a few Disney fans who argue that the midway carnival theming of Chester and Hester's Dino-Rama doesn't fit in at Disney World. I'm inclined to agree, but this area of the park has definitely grown on me. I especially love how it's all lit up at night, and if guests want to spend their money playing the midway games, then what's the harm? Aside from the games (which are classic carnival games, but with a dinosaur theme), Dino-Rama is home Triceratops Spin. Triceratops Spin is a Dumbo-style ride, which is perfect for kids. Everything in this land is brightly colored and themed with just a hint of cheesiness. It's definitely a fun section of DinoLand.
3- Finding Nemo-The Musical
Editor's Note: During the phased reopening of Walt Disney World, Finding Nemo-The Musical is not operating. Unfortunately, the cast of Finding Nemo are among the cast members who have been laid off. Disney retains the rights to call them back. We hope and expect at some point in the future when conditions permit they will be called back and the entertainment that is critical to making the parks magical will return. If you feel that the entertainment staff are a big part of making the magic happen, we encourage you to let Disney know how important the entertainers are to your experience.
I always forget that Finding Nemo- The Musical is a part of DinoLand- it feels like it's in a whole separate world! Finding Nemo is located in the "Theater in the Wild," and when you walk in, it feels as though you've stepped under the sea. The show uses live actors, puppets, acrobats, and dancers to help bring the story of Finding Nemo to life, along with original songs that are sure to get stuck in your head. The show lasts around 40 minutes, but it's indoors and air-conditioned. There is plenty of singing and dancing going on to keep children occupied. Still, adults will appreciate this Broadway-caliber show for detail and talent. I love that this is a part of DinoLand, but feels well-removed from the hustle and bustle of the Dino-Rama carnival games.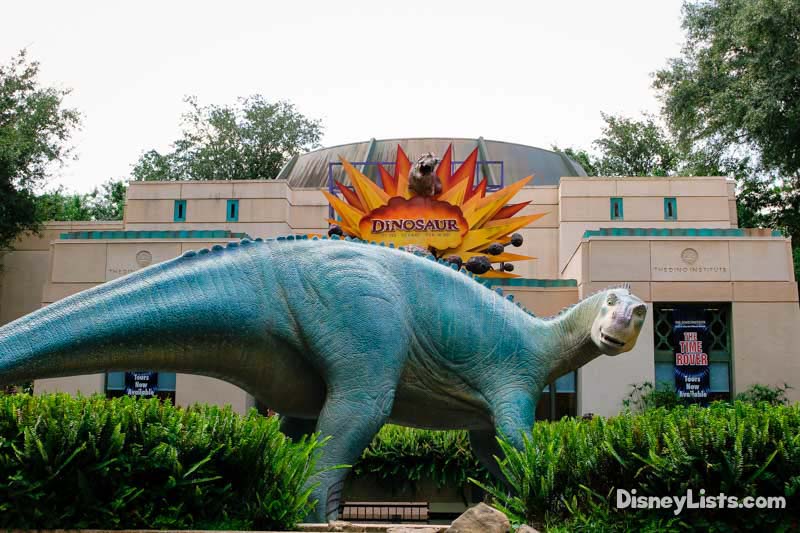 2- Dinosaur
Dinosaur has always been one of my favorite rides at Disney World, and it's a big reason why I love DinoLand so much! In stark contrast to the Dino-Rama, Dinosaur is located in the Dino Institute- a museum filled with fossils and a huge Carnotaurus skeleton. Here, visitors meet Dr. Seeker and are sent back in time to rescue an Iguanodon before a meteor shower strikes the Earth. This ride is thrilling and really scared me when I was little- it's in the dark, there are loud noises, and tons of frightening audio-animatronic dinosaurs. Once I get older, I found it to be so much fun, and it's great for guests who are looking for a ride that's a bit more on the intense side. Dinosaur definitely brings a different feel to DinoLand- I love walking up to the attraction and hearing the music and seeing the large Iguanodon figure out front. Seeing this building fills me with a distinctive sort of anticipation, and DinoLand just wouldn't be the same without it.
1- Donald's Dino-Bash!
Editor's Note: During the phased reopening of Walt Disney World, character greetings are temporarily unavailable. You'll see characters come through each park in short parades. Click here for more information on how to see characters during the phased reopening.
One of the newer entertainment offerings in DinoLand is Donald's Dino-Bash! This is a celebration hosted by Donald Duck, where you can meet him and Daisy, Goofy, Pluto, Chip 'n Dale, Launchpad McQuack, and Scrooge McDuck throughout the land. To top off the DinoLand theme, all the characters are dressed in fun, dinosaur-inspired costumes. It's a great way to see a lot of characters in one place and get some unique interactions. Plus, if you're hungry, you can find Dino-Bash snacks and cocktails, as well as a specialty-themed cupcake! This party really is an excellent addition to DinoLand, and I love hearing the music from the dance party as I'm walking through the pathways.
For a no obligation, FREE Quote on a Disney vacation package, please contact our travel partner Magical Vacation Planner at 407-442-0227 (407-442-0215 for Spanish). You can also request a FREE quote online by Clicking HERE.