More than any of the other theme parks, Disney's Hollywood Studios is currently the most exciting place to be in Walt Disney World! With Toy Story Land, Star Wars: Galaxy's Edge, and the new Skyliner station, and with Mickey and Minnie's Runaway Railway now open, there are lots of exciting things to see and do. Other than the attractions, Hollywood Studios is probably the best park to find unique souvenirs. Whether it's to celebrate a new ride opening like Star Wars: Rise of the Resistance, or to remember a longstanding favorite like Tower of Terror or to simply commemorate being in a park that celebrates the movies, you're sure to find a keepsake that's perfect for you or a family member!
8 – The Slinky Dog Dash & Dodge Power Boost Set
Toy Story Land at Hollywood Studios includes the Slinky Dog Dash attraction, a family-friendly coaster. The story goes that this coaster was actually built by Andy for his backyard, and now guests can take home a miniature version of the coaster. The playset is incredibly fun and features spinning flames and launching vehicle action, just like the actual ride. To start a collection, guests can also purchase miniature ride vehicles modeled after the Alien Swirling Saucers- this way, the memories of visiting Toy Story Land will live on once you return home!
7 – Hollywood Tower Hotel Memorabilia
Remember your stay at this mysterious hotel on Sunset Boulevard with a robe, a call table bell, a bellhop hat, and tons of clothing options. I've always been terrified of the Tower of Terror. Still, I love the spooky allure of the attraction, and these souvenirs just look so awesome. I always love merchandise that's themed to a specific ride, and these keepsakes definitely don't disappoint. These souvenirs can be found at Tower Hotel Gifts, located at the exit of the attraction.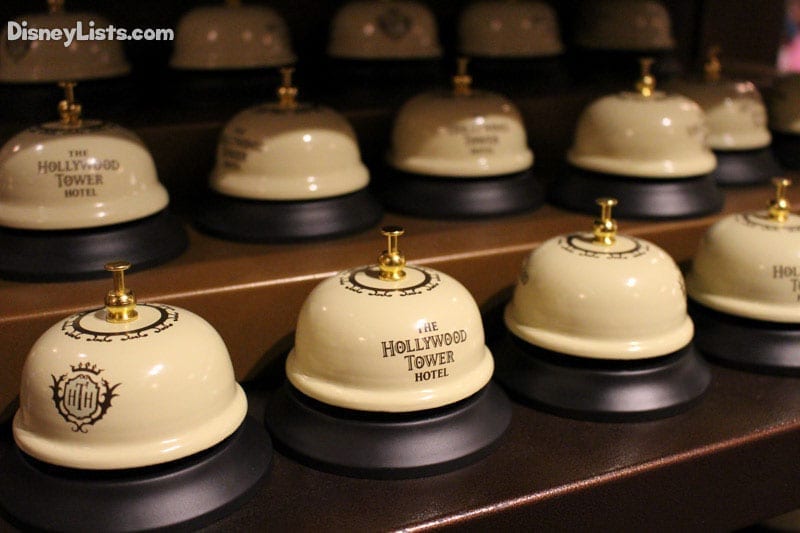 6 – Porg Plush
Within the Creature Stall in the Black Spire Marketplace, some crates hold some of the most unique creatures in the galaxy. Here you can adopt friends such as a Kowakian Monkey-Lizard, which can come to life while sitting on your shoulder (a function similar to the banshees available on Pandora), or a sleeping Loth-cat. The porgs are my favorite- they're just so cuddly, and who wouldn't want to take home one of these creatures?
5- Golden Director Mickey Trophy
These golden trophies are something I always remember seeing at Disney's Hollywood Studios but have never actually bought. They just scream, "you're at Hollywood Studios!" to me. Some of them have different "awards" inscribed on them, such as "Best Grandma" or "Best Teacher." Therefore, not only do they make for unique souvenirs, but they're perfect for giving as gifts!
4 – Movie Clapboard
Is there anything more Hollywood than a movie clapboard? At Disney's Hollywood Studios, you can actually take one home! It's perfect if you're planning for a career on the stage or the screen, or even if you just like to pretend. This souvenir is cool to play with, but it also makes a cute prop or decoration for the home, especially if you have a silver screen vibe going on. Plus, it's really hard to resist not picking one of these up, clapping it, and shouting "action!"
3 – Droids
Visitors to the Droid Depot, on the planet of Batuu, can choose parts and construct their own droids to take home. Guests choose various elements from a conveyor belt and take them to an assembly area, where the pieces are then put together and brought to life. However, they are also excellent companions as you wander through Galaxy's Edge, as these droids interact with their surroundings. You can partake in the Droid Experience for $99 per droid, or you can purchase a pre-made droid. This souvenir is perfect for any Star Wars fan who has ever wanted their own BB-8 or R2-D2.
2 -Slinky Dog Ears
Most guests are used to new Mickey ears, but now that Toy Story Land has opened, Slinky Dog ears are all the rage. Rather than actual "ears," guests can rock Slinky Dog's whole body on top of their heads, complete with his coil spring and tail. These ears are exclusive to Hollywood Studios, which make them a super unique souvenir. They're also adorable and fun and go great when taking pictures in front of Toy Story Land's popsicle wall!
1 – Lightsabers
If you want to be a true Jedi, you'll need a lightsaber. Guests visiting Galaxy's Edge can find their way to the hidden Savi's Workshop and create their own custom lightsabers. The workshop Master guides guests in picking a hilt, a kyber crystal, and a blade, and teaching them the ways of the Jedi. The $199 price tag includes the whole experience, and reservations are required to participate. If you're open to other options, you can purchase pre-built lightsabers and deluxe models at other shops throughout Hollywood Studios. For me, a custom lightsaber is an ultimate keepsake, and well worth the price if you're a major Star Wars fan!
For a no obligation, FREE Quote on a Disney vacation package, please contact our travel partner Magical Vacation Planner at 407-442-0227 (407-442-0215 for Spanish). You can also request a FREE quote online by Clicking HERE.