In Animal Kingdom, the shops are an experience unto themselves. In addition to purchasing regular theme park souvenirs such as clothes and picture frames, you can also get jewelry, safari gear, carvings, and musical instruments. The shops in Discovery island are full of color and contain vibrant animal carvings on the roofs. The shops in Asia have a mysterious, almost hidden quality to them. At the same time, the shops in Africa are bursting with music, making you feel as though you are actually wandering through a bustling marketplace. If you're looking for unique souvenirs at Disney World, then Animal Kingdom is the place to go!
9 – Tree of Life Mug
The Tree of Life is the icon of Animal Kingdom, and what better way to remember it than by drinking out of a mug shaped like the trunk of the tree? Mugs may be a popular theme park souvenir, but this one is really cool, and it definitely gets a lot of questions from coworkers when I have it sitting on my desk back home. All the parks have mugs featuring their park icons, but Animal Kingdom also has a mug shaped like the floating mountains in Pandora! Both mugs are pretty heavy, but I can't think of a better vessel for my coffee or tea.
8 – Dinosaur Gear
DinoLand U.S.A. is the perfect place for dinosaur fans! Chester and Hester's Dinosaur Treasures is packed with traditional Disney souvenirs, but the shop's décor is worth checking out. The Dino Institute Gift Shop, located at the exit to the Dinosaur attraction, has lots of cheesy (yet fun) toys such as dinosaur puppets, a dinosaur ride vehicle, educational books and materials on dinosaurs, and shirts with both scary and not-so-scary T-Rexes on them.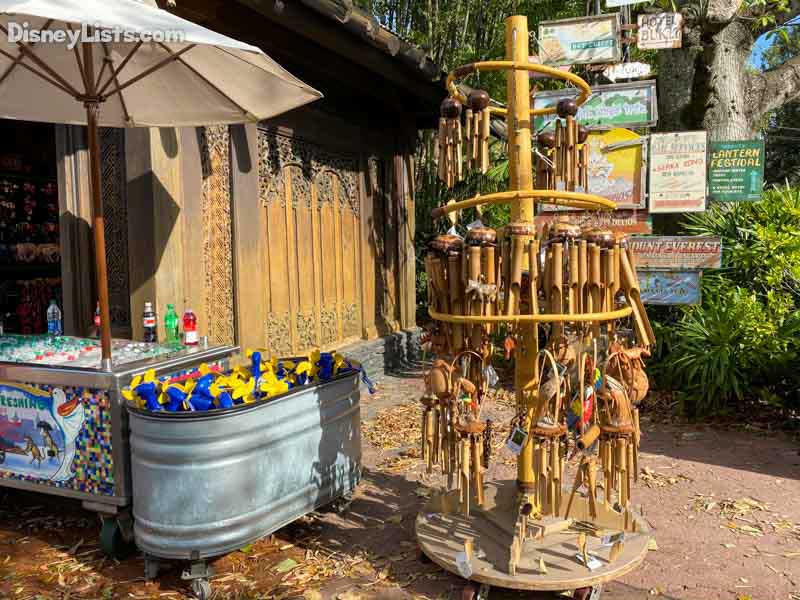 7 – Wooden Wind Chimes
The Asia section of Animal Kingdom is home to some of my favorite gift shops in Disney World. Mandala Gifts, across from the Yak & Yeti Bhaktapur Market, is a small gift shop that features items inspired by Asian culture, including wooden wind chimes. These are fun to listen to and to lightly brush your fingers against, and they provide the perfect background noise as you gaze upon the Siamangs and Gibbons that call this area of the park home.
6 – Eco-Mochila Bags
When I worked at Animal Kingdom as a Conversation Education Presenter (a role that has since transformed to "Wilderness Explorer"), my favorite thing to talk about with guests was the eco-mochila. The eco-mochila is a tote bag crocheted from recycled plastic bags. Proyecto Titi, an organization that works to help save forest habitats and cotton-top tamarins,  works with local artisans to create these bags. By purchasing a reusable eco-mochila, guests not only have a cute and useful souvenir but can learn more about how to recycle plastic and prevent pollution of the environment. Who knew buying a theme park souvenir could do so much good?
5 – Na'vi Translator
The Na'vi Translator device, found in Pandora-World of Avatar, comes with fifteen translation cards to help guests learn the planet's native language. The story goes that the Na'vi have no written language, so the translator device is used to assist guests in pronouncing up to ninety different Na'vi phrases (additional translation cards are available for purchase). The device also lights up at night, for those who want to do some bioluminescent exploring. One thing is for sure; this translator definitely keeps you busy for those long lines at Avatar: Flight of Passage! Don't forget- the word "Ikran" means "Banshee."
4 – Safari Binoculars
When I was a kid, I loved playing with binoculars. Luckily, in Animal Kingdom, the binoculars they sell actually serve a purpose! You can use them to spot faraway animals on the Kilimanjaro Safaris attraction, or you can use them while exploring one of the animal trails. They also come in handy if you want to try and spot all the animal carvings on the Tree of Life. These binoculars are cheap, and they can definitely enhance your day at the theme park!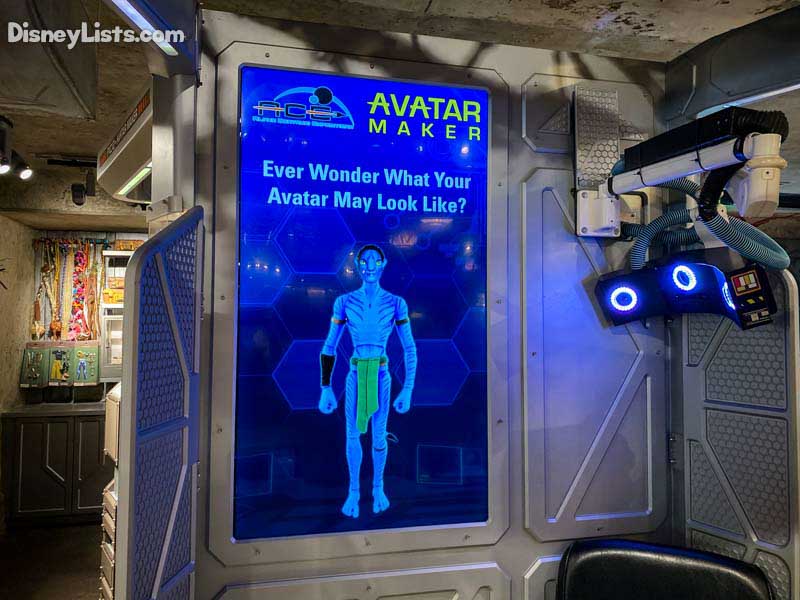 3 – Personalized Na'vi Figurine
For an incredibly unique souvenir, why not make your own avatar? Inside Windtraders is the ACE Avatar Maker, where guests can create and personalize their own Na'vi figurine. A scan technician will use a facial capture scanner for guests who enter the transformation booth, and then guests can select their avatar's body style, eye color, hairstyle, and striping pattern. Once the transformation is complete, guests receive their finished Na'vi action figures, and can then purchase accessory sets for them. I can't think of anywhere else in the world where you can get your own miniature avatar, but on Pandora, anything is possible.
2 – Musical Instruments
One thing I love about the shops in Animal Kingdom is that you can find souvenirs that are influenced by real cultures. In Africa, there are plenty of musical instruments that you can play with and purchase. There are drums, which can be useful for practicing your rhythm, or displayed as a decorative item in your home. There are also maracas and bells, and all of them are painted or carved uniquely. The larger instruments can get pricey, but the small ones are perfect for a souvenir that you really can't find anywhere else in Animal Kingdom.
1 – Banshee
The most unique souvenir in Animal Kingdom is probably the banshee, which guests can adopt from Pandora and bring back to Earth. The banshees are found in a shop called Windtraders, in an area called The Rookery. Here, there are banshees of all different colors, and they can hang out on your shoulder or on a perch. A hand control comes with the Banshee, which lets you move their heads, open their mouths, and flap their wings. Every Na'vi forms a lifelong bond with their Banshee, and so the adoption process lets you bond with your Banshee before giving it a new home. Guests learn how the controls work, take the Banshee pledge, and get an awesome storage box. Banshees are available in other shops around Animal Kingdom and online, but the real fun is going through the adoption process in Pandora!
For a no obligation, FREE Quote on a Disney vacation package, please contact our travel partner Magical Vacation Planner at 407-442-0227 (407-442-0215 for Spanish). You can also request a FREE quote online by Clicking HERE.