More than just a place to sleep, the staterooms on the Disney Dream offer comfort, conveniences, luxury and of course some of Disney magic. What can you expect from your stateroom on the Disney Dream? Here's everything you need to know.
Editor's Note: Disney Cruise Line has suspended all departures through June 2021 and Disney Magic European Sailing through September 18, 2021. We present this article for future cruise planning.
1 – A Variety of Staterooms
The four main categories are Concierge, Verandah, Oceanview, and Inside. There are 1,250 staterooms and suites on the ship. 901 staterooms and suites include verandahs – that's more than 70 percent of total staterooms. Another 199 staterooms have an ocean view. To accommodate larger families and groups traveling together, there are 500 connecting doors that adjoin staterooms.  And on connecting verandah staterooms, the partition between verandahs may be opened to create a larger shared balcony.
2 – Magical Porthole
For inside staterooms, the ships feature the Magical Porthole, a video monitor with the appearance of a porthole that offers a "window" to the world with a real-time video view outside the ship. High-definition cameras on the exterior of the ship feed live video to each Magical Porthole. The view corresponds to stateroom location – either port or starboard…forward, midship or aft. Animated Disney characters may pop by the Magical Porthole, including Peach the starfish from the Disney•Pixar film "Finding Nemo," Dumbo the flying elephant or even Mickey Mouse.
3 – Split Bathrooms
The staterooms themselves have been well thought out. We absolutely love the Disney Cruise Line signature bath-and-a-half design that is featured in nearly every stateroom on both the Dream and Fantasy. Conveniently, one bathroom includes a vanity, sink and full tub/shower, while the "half" bath has a vanity, sink, and toilet. It really makes getting ready in the morning so much easier with the split space. Also, since many guests are traveling with younger children, having a bathtub is such a great feature.
4 – Extra Space
Because families tend to travel with more luggage, bed frames are elevated to provide generous under-bed storage space. Since staterooms are much smaller than a standard hotel room, this is a great feature to free up clutter in the room. For an added pinch of pixie dust, pull-down beds open to uncover a celestial scene. In artwork overhead, constellations of Peter Pan, Tinker Bell, and Wendy soar through the night sky.
5 – Design and Function Blended Perfectly
Staterooms feature a contemporary, art deco-inspired design. Meticulous attention to detail is evident in the elegant nautical theme with beautiful wood finishes, custom fabrics and carpets, stylish furnishings, original artwork, and genuine teak accents.
First-class features and amenities in all staterooms include a 22-inch LCD flat-screen TV on a swivel arm, two Wave Phones for use as onboard mobile communicators, iPod docking station, mini-refrigerator, mini-safe, premium toiletries, queen-size pillows, plush Frette 100 percent Egyptian cotton bath towels and Frette 100 percent Egyptian cotton 300-thread-count bed linens and duvet. There were also plenty of USB ports for charging devices.
Check our deluxe oceanview stateroom with veranda on the Disney Dream:
6 – Suites
The Disney Dream and Disney Fantasy have twenty-one suites on Decks 11 and 12, each lavishly appointed and designed with upscale furnishings.  Most suites can connect to another stateroom, creating an exceptionally spacious living area for larger groups and families.
Each suite has two bathrooms designed with opulent granite and marble finishes. The master bathroom features a whirlpool bathtub, a rain shower, double sinks and a television built seamlessly into the mirror.
Suites have a generous private verandah, walk-in closets, living room and Blu-ray disc player.  Both the living area and master bedroom have a 42-inch, high-definition LCD television, and guests are provided Wave Phones for use as mobile communicators while onboard.
7 – Concierge Service
On the Disney Dream and Disney Fantasy, all-suite and concierge stateroom guests enjoy the benefit of the ship's Concierge Level providing special services and exclusive access to dedicated areas.
The Concierge Lounge is located among the concierge suites on Deck 12.  Guests may relax in quiet comfort, access the Internet, watch the news on a large-screen TV and enjoy complimentary food and beverage presentations offered throughout the day, including specialty coffees and pre-dinner cocktails.
The concierge team will provide guests with personalized service and assist with a variety of shipboard requests, such as making reservations for spa treatments, specialty dining, shore excursions and nursery care for children.
Concierge guests may borrow an iPad to use during their cruise and receive 100 free minutes of onboard Wi-Fi access.  For children, Nintendo DS gaming devices are available to use throughout their voyage.
One deck up on the private sun deck, concierge guests can soak up the sun in an exclusive area. This private oasis offers comfortable, cushioned lounge chairs, complimentary suntan lotion, cool face cloths, and a dedicated concierge pool deck host.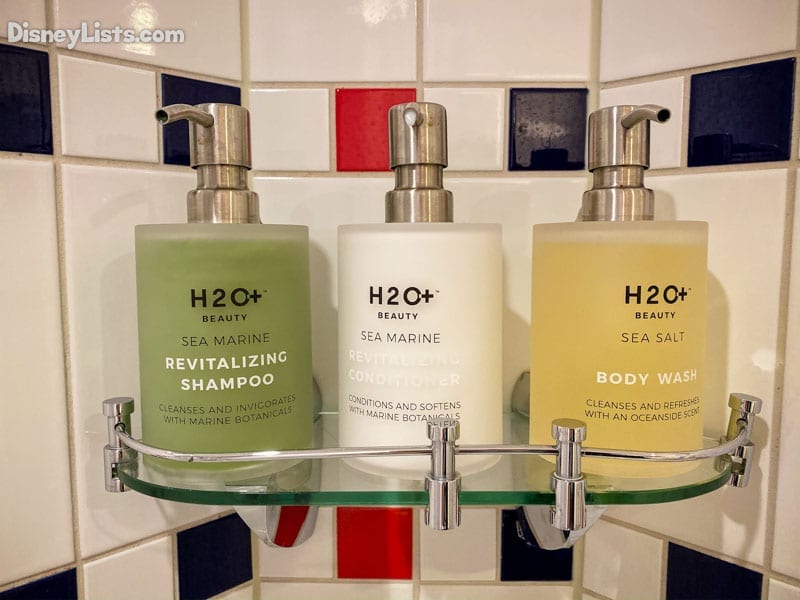 8 – Tips for Choosing the Right Stateroom
Just as you would expect when choosing a room for a resort in Walt Disney World, the cost of a room varies with what kind of room it is and its location on the ship. There are four main categories that encompass 10 different room types. The four main categories are Concierge, Verandah, Oceanview, and Inside. When booking a room, you will choose and category and then be guaranteed this type of stateroom. Disney Cruise Line will assign the actual stateroom at a later time, based on availability for all guaranteed staterooms of that type. However, you'll also be able to choose if you want your room mid-ship, aft, or forward, and the deck level.
The price might be the biggest factor in choosing a room, but there are other things to consider. When choosing a room type, first, consider how many are in your party? Most rooms sleep four, although there are some options for five. For more than that, you'll likely need two rooms for your party. What kind of views do you want? What deck would you like to be on?
Looking for some help? We highly recommend booking with an Authorized Disney Vacation Planner to ensure you are well taken care of and get all the discounts available to you. For more details and help booking your vacation, call (407) 442-0227. You can also get a no-obligation, FREE vacation quote by clicking here. Their services are free to you, and they can answer any questions you may have about Disney Cruise Line and selecting the right stateroom.
For a no obligation, FREE Quote on a Disney vacation package, please contact our travel partner Magical Vacation Planner at 407-442-0227 (407-442-0215 for Spanish). You can also request a FREE quote online by Clicking HERE.