If you haven't been to Disney's Hollywood Studios in the past few years, you should know that a lot has changed! We are big fans of the additions and are thrilled that Disney continues to impress us with their ability to submerge us into a world of film and theater. "Lights… camera…" before you shout "ACTION," make the most of your Hollywood Studio visit by understanding the points we share here!
1 – It's Nostalgic…but also NEW!
As you step through the gates into Disney's Hollywood Studios, the nostalgia of the Golden Age of Hollywood is ever-present. From when the park opened in 1989 until now – film, music, and theater are the keystones of Hollywood Studios. The best part is that while we absolutely love the nostalgic feeling the park has to offer, we especially enjoy the additions of new and exciting experiences that truly allow guests to be immersed in the film world.
2 – Arrive in Style
Hollywood Studios has some of the very best Disney Transportation for guests going to and from the park. The most exciting way to arrive and end your day is with a ride on the Disney Skyliner. You can pick up the Skyliner at several Disney Resorts including Riviera Resort, Caribbean Beach, Art of Animation and Pop Century Resorts. You'll also find a station for ease of park hopping just outside of Epcot – ideal for Epcot Resort guests. If the Skyliner isn't an option, Disney buses and boats are available. Driving in? The parking lot is huge! Be sure to snap a photo or text a friend, your parking lot and row number.
3 – Nine Sections
Editor's Note: During the phased reopening of Walt Disney World, character greetings are temporarily suspended. 
Grab a park map and times guide and/or be sure you have your My Disney Experience App open and ready to go, as you'll likely need it to navigate through Hollywood Studios. Even better, save yourself the stress and get familiar with the park and the nine sections it has before you arrive!
Hollywood Boulevard: This is the boulevard is the grand entrance! It's lined with tall palm trees, shops, and has some of the best views of the iconic Chinese Theater for a perfect photo op.
Sunset Boulevard: Stroll down Sunset Boulevard, which ends with two thrilling attractions – Rock 'N' Roller Coaster and Twilight Zone Tower of Terror. There are shops, bites to eat, and the ever-popular live-action Beauty and the Beast Theater. Fantasmic! takes place nightly in this section. The boulevard ends with Lightning McQueen's Racing Academy.
Animation Courtyard: This section involves the Chinese Theater, which is where a lot of the magic happens as the evening unfolds with a nighttime spectacular! Disney Junior Dance Party, Voyage of the Little Mermaid, Star Wars: Launch Bay, and Walt Disney Presents are here. Plus, Mickey and Minnie's Runaway Railway is inside the Chinese Theater!
Echo Lake: Gertie the Dinosaur stands watch in the lake over some of the best dining options in the park. You'll also find live-action shows, including the Indiana Jones Epic Stunt Spectacular and For the First Time in Forever: A Frozen Sing-Along Celebration. A dose of Star Wars is in this area, including Star Tours: The Adventures Continue and Jedi Training.
Commissary Lane: Mickey and Minnie Starring in Red Carpet Dreams is a great meet and greet in this section. Nostalgic and ever-popular, the Sci-Fi Dine-In Theater Restaurant calls Commissary Lane home. Looking for quick-service food? Check out the ABC Commissary.
Grand Avenue: Enjoy some laughs in Grand Avenue with Muppet Vision in 3D. Baseline Tap House, PizzeRizzo, and Mama Melrose's Ristorante Italiano are eateries in this area.
Pixar Place: There are no attractions here, as it serves as a spot to celebrate Pixar. Check out the Instagram worthy #DisneyWalls and specialty bites and beverages.
Toy Story Land: A favorite land for guests of all ages – Toy Story Land features three headliner attractions, including Slinky Dog Dash, Alien Swirling Saucers, and Toy Story Mania. Have a meal or snack at Woody's Lunch Box, meet Toy Story characters, and take in the colorful and fun atmosphere.
Star Wars: Galaxy's Edge: The newest land in the park, Galaxy's Edge, is home to two immersive attractions, including Millennium Falcon: Smuggler's Run and Star Wars: Rise of the Resistance. The land takes guests away from the Golden Age directly into the Star Wars universe on Planet Batuu. Memorable shopping and galactic bites are just a small but excellent part of this land's unbelievable existence!

4 – FastPass, Boarding Group, & Single Rider
Editor's Note: During the phased reopening of Walt Disney World, FastPass+ is temporarily suspended, and there is no single rider. 
Care to dance? Navigating through Hollywood Studios FastPasses and Boarding Group systems can be like learning the tango, to say the least!
FastPass (FP): Snag three FP 60-days in advance for Disney Resort guests or 30-days in advance for non-resort guests using My Disney Experience. You can select one Tier 1 FP and two Tier 2 FP. Tier One includes including Slinky Dog Dash, Millennium Falcon: Smugglers Run, and Mickey and Minnie's Runaway Railway. It's a tough pick! Tier 2 consists of other attractions but also has live-action shows. Our favorite picks from Tier 2 include Star Tours: The Adventures Continue, Alien Swirling Saucers, Toy Story Mania, Rock 'N' Roller Coaster, and Twilight Zone Tower of Terror. Once you use all three FP, you can then select a fourth and so on until the park closes. Take note: Star Wars: Rise of the Resistance does not offer FP.
Boarding Group: Here's where it gets fun! Star Wars: Rise of the Resistance is the only attraction in the park that requires a "Boarding Group" to ride. It's essential to know that you can NOT ride this attraction without being assigned a boarding group. There is NO standby line that you can wait in for hours. It's a Virtual Queue. You either have a boarding group, or you don't. Since the attraction is so popular, you must arrive at park opening and while in your My Disney Experience App, sign up for a group as soon as the park opens. We'd recommend arriving well before park opening to ensure you are in the park as soon as the boarding groups open. Boarding groups fill up quickly, and depending on the day (and from our personal experience), that could mean anything from 11 minutes or two hours after park opening! Your whole party must be IN the park to be assigned a boarding group. When you get a boarding group assigned to you, you will be notified via your My Disney Experience app when your time to ride comes around. It's super stressful, to be honest, but the ride is SO worth it!

Click here for our survival guide and everything you need to know about the boarding groups for Star Wars: Rise of the Resistance.

Single Rider: Keep in mind that while Millennium Falcon: Smuggler's Run has no FP or Virtual Queue, it does have a Single Rider Line. Rock 'N' Roller Coaster also has a Single Rider Line. These lines move much faster than the standby lines, but you likely won't be sitting with your party.
5 – Bites & Beverages Galore
Pull up a chair, grab a fork, and trust that you won't go hungry when visiting Disney's Hollywood Studios! Several of the very best table-service and quick-service restaurants are located within the park.
Editor's Note: During the phased reopening of Walt Disney World, the dining booking window has been reduced to 60 days.
Table-Service: The best-themed restaurants in all of Walt Disney World are in Hollywood Studios! Sci-Fi Dine-in Theater, Hollywood Brown Derby, Mama Melrose, and 50's Prime Time delight guests with a great deal of nostalgia to match the restaurants' theming. Want to dine with characters? Check out Hollywood and Vine Restaurant! Dining reservations are highly recommended for these restaurants 180-days in advance of the dining date.
Quick-Service: Quick-service is something special at Hollywood Studios! You can have a galactic bite in Galaxy's Edge, childhood reminiscing eats in Toy Story Land, pretzels and beer in Grand Avenue and a simple burger and fries on Commissary Lane. Ice cream sandwiches are a favorite of ours on Sunset Boulevard. Plus, the mix of specialty alcohol and non-alcohol beverages are abundant throughout the park. Seriously great grab and go food awaits!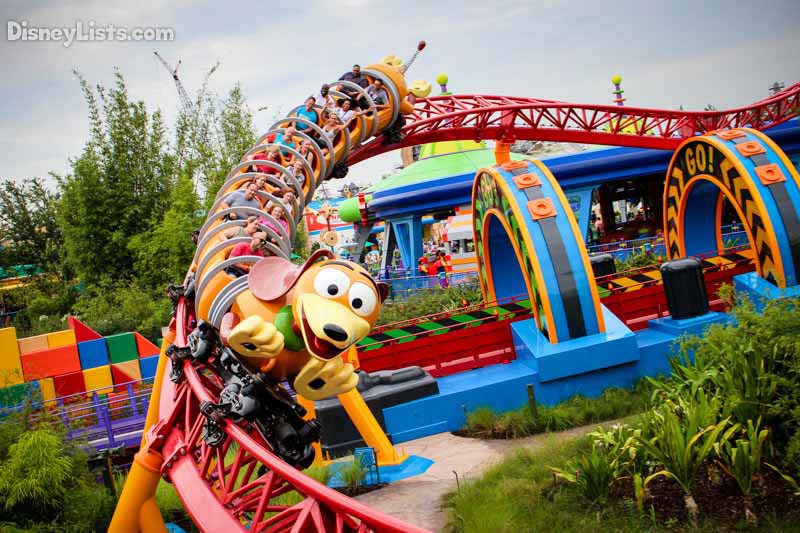 6 – Plenty for the Kids
Sure, Hollywood Studios has some of the most thrilling attractions in all of Walt Disney World. This doesn't mean that kiddos won't find plenty to do! This park is our little guy's favorite. Let your tot take a spin on Alien Swirling Saucers, shoot at the targets on Toy Story Mania, dance with favorite characters at Disney Junior Dance Party, sing their hearts out with Frozen Sing-Along Celebration, and watch Lightning McQueen race. They will also love Mickey and Minnie's Runaway Railway! There are several characters your kids will be excited to see, including Olaf, Buzz, Woody, Jesse, Bo Peep, popular Disney Junior characters, and Star Wars favorites like Chewbacca and BB-8.
7 – Worth a Visit Day & Night
Hollywood Studios is no longer a half-day park, as many believed it was in years past. There are so many entertainment options, attractions, and experiences that one day isn't enough anymore! We especially enjoy that Hollywood Studios feels like a totally different experience from day to night. During the day, you'll see the palms sway and live-stage performances. At night, the place glows with impressive lighting to match the theme of each section of the park. The Tower of Terror is super creeping looking at night. Toy Story Land illuminates with strings of colorful lights. You don't want to miss the glowing marquee of Mickey and Minnie's Runaway Railway. And Galaxy's Edge…well, Galaxy's Edge is AMAZING at night with blue and purple hues that make it feel like a different land depending on what time of day you visit. Be sure to see it all in the daylight but also as it glows when the sunsets.
8 – Nighttime Choices
Editor's Note: During the phased reopening of Walt Disney World, nighttime spectaculars are temporarily suspended. 
Speaking of when the sunsets, it's important to understand that Hollywood Studios has two nighttime entertainment options. Unfortunately, it's not conducive to do both as they typically take place at the same time. You'll want to think about this in advance and select which of these two options is a priority. Arrive early for a good viewing spot or seat to get the most out of the show.
Star Wars: A Galactic Spectacular is a nighttime firework spectacular that projects on the Chinese Theater. There are fireworks, lasers, and impressive music. This show is a Star Wars fan must-do, but even people that don't get the whole Star Wars thing will enjoy it. Take note – A Galactic Spectacular is replaced by a holiday-themed spectacular during the Christmas season.
Fantasmic! is a classic Disney nighttime show! It takes place in a massive amphitheater and features loads of Disney characters, water screens, pyrotechnics, and more. It's a battle of good vs. evil as Mickey is up against the Villains.
Alright, enough talk – get out there and revel in Hollywood ACTION!
For a no obligation, FREE Quote on a Disney vacation package, please contact our travel partner Magical Vacation Planner at 407-442-0227 (407-442-0215 for Spanish). You can also request a FREE quote online by Clicking HERE.