Breakfast is taken seriously at Walt Disney World, and there certainly isn't a lack of restaurants to enjoy the most important meal of the day! Depending on your party and plans, guests at Disney can choose from lively character breakfasts, intimate table-service settings, or on-the-go quick-service meals (perfect for those who want to hit the attractions first and eat later)! No matter how you envision the perfect breakfast (is it a steaming cup of coffee with a view of Cinderella Castle, or a hug from Goofy while dripping syrup on a Mickey waffle?), there are a few top breakfast spots at Walt Disney World that can offer the perfect start to your day.
Editor's Note: During the phased reopening of Walt Disney World, not all restaurants have reopened. Be sure to check the MyDisney Experienced app for up-to-date hours. 
8 – Les Halles Boulangerie & Patisserie- Epcot
If you're looking for a place to eat breakfast in Epcot, look no further than the France pavilion in the World Showcase. This is where you can find the best breakfast options in the park and eat them in a fantastic setting! Les Halles Boulangerie offers both savory and sweet options such as croissants (I love the ones stuffed with ham and cheese), chocolate-filled pastries, quiches, eclairs, and croque monsierus. Skip the overpriced French cuisine over at Be Our Guest and enjoy breakfast at the France pavilion, where you can pair your pastries with some Chocolat Chaud (hot chocolate) or a Café Latte.
7 – Chef Mickey's- Disney's Contemporary Resort
Editor's Note: During the phased reopening of Walt Disney World, Chef Mickey's offers a modified experience–they will greet you from afar. The buffet is closed and the restaurant has a fixed menu for guests to choose from.
I have very fond memories of going to Chef Mickey's as a kid with my parents. While the food isn't noteworthy, the restaurant is fun, and the character interactions are a blast. Chef Mickey's can be found in the Contemporary Resort and is one of the most popular character breakfasts in all of Walt Disney World. Mickey and his friends dress as chefs, and encourage guests to smile, dance, and wave their napkins in the air while they eat! The food is served buffet-style, with traditional breakfast items on offer such as fruit, omelets, potatoes, pancakes, and Mickey waffles. The restaurant has a fun atmosphere, and you will definitely leave breakfast with a huge smile on your face.
6 – Main Street Bakery – Magic Kingdom
The Main Street Bakery in Magic Kingdom used to be my absolute favorite place to eat breakfast at Walt Disney World. I loved getting a huge, gooey cinnamon roll and eating it on the curb, watching all the early morning guests stroll by and take photos in front of the castle. Now, the Main Street Bakery has turned into a Starbucks, and they no longer sell cinnamon rolls. Nevertheless, you can't beat the atmosphere, and the smell of coffee and pastries wafting down Main Street in the morning is still magical. The Bakery does get very crowded in the mornings, but nothing beats strolling up to your first ride or show of the day with a strong cup of coffee in your hands (and perhaps a lemon loaf as well)!
5 – Woody's Lunch Box- Hollywood Studios
Now that Hollywood Studios is drawing quite the morning crowd (thanks to Star Wars: Rise of the Resistance), breakfast locations within the park are in high demand. My favorite place for breakfast is Woody's Lunch Box in Toy Story Land. You can get unique dishes from this quick-service stand, including a scrambled-egg breakfast bowl with smoked brisket, a S'more French Toast Sandwich, and chocolate-hazelnut stuffed pastry tart. This stand can get crowded, but if you utilize mobile ordering, you can skip the line and save yourself more time in the park!
4 – Kona Café- Disney's Polynesian Village Resort
Kona Café in Disney's Polynesian Village Resort is famous for its Tonga Toast, and for a good reason- this toast features multiple layers of cinnamon sugar-crusted bread stuffed with banana and is served with syrup and strawberry compote. Another favorite dish of mine at the Kona Café is the macadamia-nut pancakes. As you can see, this restaurant is perfect if you have a sweet tooth, but another great reason to dine here is the coffee. Kona Coffee is flown in from Hawaii, and you can have it served to you in a French Press Pot. Eating breakfast in a resort is calmer than eating it at a theme park, and you can really take the time to enjoy your food in a more peaceful setting.
3 – Grand Floridian Café- Disney's Grand Floridian Resort and Spa
Speaking of resorts, the Grand Floridian Café is definitely the place to go if you're a fan of eggs benedict! The Lobster Eggs Benedict served here is one of the best breakfast items I've had at Walt Disney World. Plus, you can't beat the quiet, classical atmosphere and the leisurely pace of a table service breakfast. The Grand Floridian Café can often be overlooked in favor of the hotel's other restaurant, 1900 Park Fare, but the quality of the food here cannot be beaten. If you're looking to dine outside of a theme park and don't want a character buffet, this is a solid choice.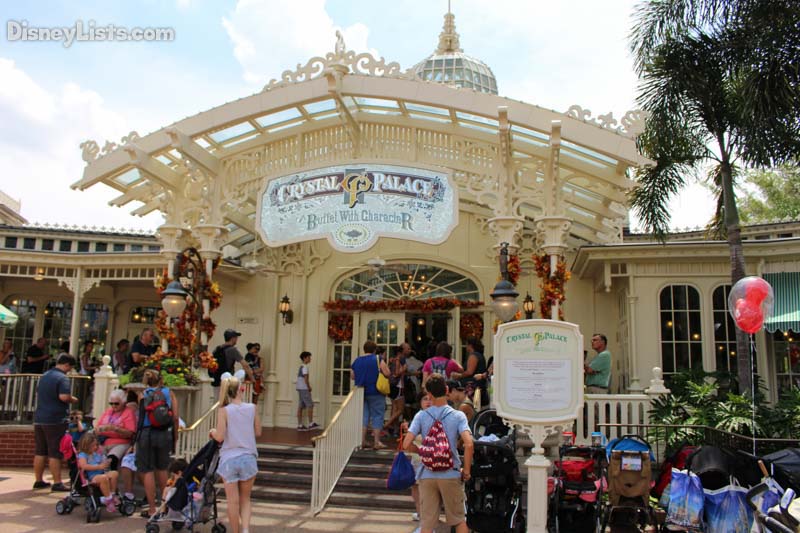 2 – Crystal Palace- Magic Kingdom
Editor's Note: During the phased reopening of Walt Disney World, Crystal Palace is open but the characters are not present and there is a new menu.
Out of all the character breakfast options, this is the one I get most excited about. There is just something about hugging Eeyore, Tigger, and Pooh first thing in the morning, before digging into a warm Mickey waffle, that feels like magic. Seeing how this restaurant is always busy, I'm not the only one who enjoys the Crystal Palace! Aside from the plentiful character interaction with the inhabitants of the 100 Acre Wood, there are plenty of delicious breakfast buffet options. I love filling up my plate with fresh fruit and pastries, eggs, potatoes, and omelets from the omelet station. If you have young kids or are just looking to start off a fantastic morning at the Magic Kingdom, then this restaurant can't be missed!
1 – Topolino's Terrace- Disney's Riviera Resort
Editor's Note: During the phased reopening of Walt Disney World, Topolino's Terrace is offering a modified character experience. The characters will still roam the restaurant and you can take socially distant selfies! 
Topolino's Terrace, found in Disney's new Riviera Resort, is home to Breakfast a la Art, a character dining experience with Mickey and friends. This signature table-service restaurant is located on the rooftop of the resort and offers amazing views with a prix-fixe menu. The fab four are dressed up in unique, artist-inspired outfits that can only be found during this breakfast, so make sure to capture all the meet and greets on camera! You won't want to miss out on the food, though, as the menu deserves equal attention. Fresh pastries are served at the table in a painter's basket, and entrees include Sour Cream Waffles, Smoked Salmon, Quiche Gruyere with House-made Pancetta, and Spiced Sausage Hash. When you've digested and interacted with all the characters, you can take a stroll out on the patio and enjoy the views of Walt Disney World from above. I know how hard it is to stray from favorite breakfast locations at Disney, but this new experience and new resort are definitely worth a visit! Click here to read our full review.
For a no obligation, FREE Quote on a Disney vacation package, please contact our travel partner Magical Vacation Planner at 407-442-0227 (407-442-0215 for Spanish). You can also request a FREE quote online by Clicking HERE.