Nothing says Disney better than characters, music, lights, and the unexpected! Set sail with us on the Disney Cruise Line to experience entertainment like no other! Disney seems to do the impossible by offering paramount entertainment right from the ship deck…in the middle of the big blue ocean. As you get ready to enjoy the entertainment, check out a few things you'll want to know about the deck shows offered on the Disney Cruise Line, particularly when traveling as a family with young kids.
Editor's Note: Disney Cruise Line has suspended all departures through May 2021 and Disney Magic through August 10, 2021. We present this article for future cruise planning.
1 – Deck Shows Vary by Ship
Don't think because you've been on one Disney Cruise Line ship, you've been on them all. The ships are similar in many ways, but it's obvious Disney has worked hard to keep each of their four ships shining in their own way.  All ships offer a Sail-Away Celebration, which is a great way to get the party started with, upbeat music, a DJ, and a warm send-off as you leave port. You can also expect to find fun themed-deck shows depending on when you travel, and which ship you are on. Pirate Night is an excellent deck show and party on the ships which has cruisers dressing in their pirate best. On the Disney Fantasy, Mickey & Minnie's Surprise Party at Sea offers a deck show unique to this ship. You can also find the Star Wars Day at Sea deck show on the Fantasy, depending on your itinerary. The Frozen Deck Party is available on the Disney Magic and Disney Wonder. Special to the Disney Magic, you may get a chance to see the Marvel Day at Sea deck show, again depending on your cruise itinerary. Lastly, if you're traveling over a specific holiday, you may experience a deck show in correlation to that holiday, such as New Year's Eve, Halloween on the High Seas, and Very Merrytime. As you can see, deck shows offered depend on which ship you are setting voyage on and which itinerary you've selected. Keep this in mind as pick a ship and voyage, so your little ones won't be thinking they are going to experience whatever they've seen in the commercials if it's not what you've booked.
2 – Exceptional Performances
If you aren't aware, Disney Cruise Line has live performance theater shows on each ship, each night of the cruise. Many of these same, exceptional performers make their way to the deck shows! Despite the incredible costume changes, you and your children may start to notice some of the same actors as you learn to recognize their dancing and singing styles from one performance to the next. It's fascinating seeing them in one role to the next. Then, of course, your kids will especially love the over the top arrival of beloved Disney characters, which range from Captain Jack Sparrow to Elsa and Mickey Mouse himself, all depending on which deck show you're watching.
3 – Pool Deck Transformed
You may be thinking – but where do they host these deck shows with the pools in the way? No worries! Disney has thought of everything. They close the pools down and cover them for deck shows. Since deck shows are typically at night, this is an easy transition to get the kids out of the pool, dressed for dinner and the theater, then back to the deck for a deck show. It's an excellent transformation, allowing for a maximization of the ship space!
4 – Arrive Early
Disney fans know they can expect a good show, so rest assured that the deck shows will be crowded! Do yourself a favor and try to arrive 15-30 minutes early to get a good viewing spot. When you do arrive early, however, plan on sitting in your one spot for some time, until the show begins. If you leave to go to the bathroom or somewhere else, chances are your spot will be taken.
5 – Best Viewing Spots
A great way to figure out the best viewing spot for the deck show is by asking a Cast Member. They will give you the low-down! There are two main areas, including the main deck floor itself and the next deck up where you can look down over the balcony. Both areas fill in, but some offer better views than others. If your children are young and short, the deck above the deck show (overlooking the deck below) is not the best spot as the railing can easily block their view. Best viewing areas with young children are typically down on the main deck in front of the stage.
6 – And Then There are the Fireworks!
What's Disney without fireworks, right? On many of the Disney Cruise Line itineraries, cruisers will have a chance to see those incredible Disney fireworks right from the ship! Check in advance to see when the fireworks will be offered. They typically follow the deck show or are in conjunction with it. Fireworks are fired off to one side of the ship, so again, asking a Cast Member about prime location is important. After the fireworks wrap up, there is usually a DJ playing music, ready to dance the night away on the deck! The kids will love this, but it can get late, so keep that in mind with their morning schedule.
7 – Dress the Part
Pirate Night? Go ahead and dress the part! We're not talking about only the kids – but adults too! Just think how cool it would be for your little ones to see you dress up as a pirate too. Or maybe it's the Frozen Deck Show you're attending – let your inner Elsa go! Whatever the deck show may be, Disney typically encourages cruisers to dress the part to enjoy the show.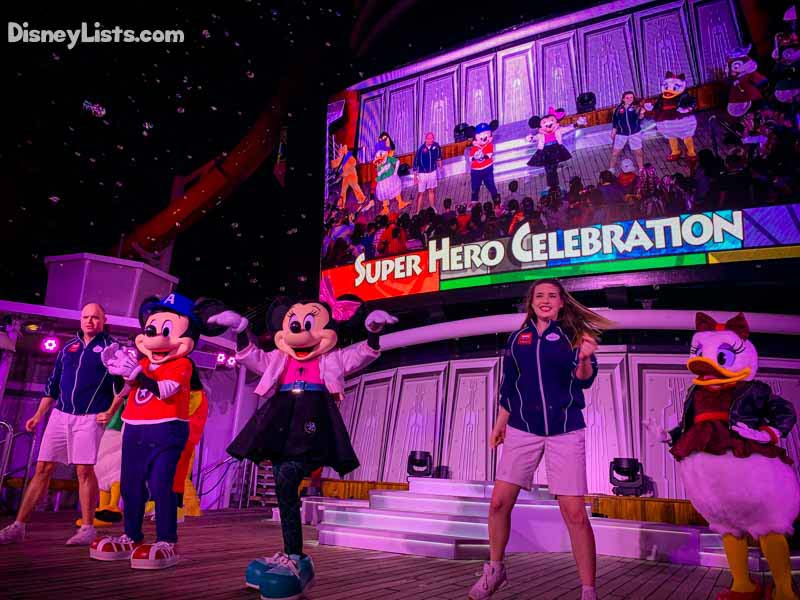 8 – Bring Along a Snack or Two
Since you are in the middle of a crowd and sometimes waiting for the show to get started, a snack or two is nice to have for the kids. Maybe you could grab some ice cream before selecting your spot and waiting. Other sweet treats, food, and beverages can be found around the ship, so be sure to snag something and bring it along with you.
9 – Time to Glow!
Kids love all things that glow at night (of course, we adults think it's cool too!). Do yourself a favor and pack a few Dollar Tree glow items in your luggage. While on deck, there are Cast Members are selling different glow items which can be purchased. If you plan ahead, however, and bring glow items with you, you'll save some money while still making your kiddos excited about wearing their glow gear.
10 – Call It A Night
While we highly recommend deck shows, especially with kids – we get it! Kids get tired. Adults get tired. Sometimes the deck show is the last thing you want to watch after a long day. It's all good! This is your cruise, so if you miss a deck show – it's not the end of the world, and your kids likely won't have the slightest clue you've missed the show. Give yourself a break and call it a night if you want. Order some milk and cookies from room service and enjoy the night in your room. There will be other chances for the kids to see characters and entertainment.
Happy Cruising!
For a no obligation, FREE Quote on a Disney vacation package, please contact our travel partner Magical Vacation Planner at 407-442-0227 (407-442-0215 for Spanish). You can also request a FREE quote online by Clicking HERE.