The Disney Dining Plan is a great way for many guests to enjoy the many different dining options available during their Walt Disney World vacation. It can be a great way to try a lot of new foods while not worrying about the bill at the end of each meal. Today Disney announced a new dining plan option that offers more flexibility for guests. Disney is also offering a new ticket option that gives guests a sports and water ticket option without adding a park hopper option. Catch all the details below.
Here are all the details from Disney cast member Thomas Smith:
At Walt Disney World Resort, we know how important it is to give guests options so they can plan their visit in a way that's right for them. As we continue to grow, we're introducing a new Disney Dining Plan option for Disney Resort hotel guests and a new ticket add-on, the "Water Park and Sports Option," to help guests discover more of our offerings, at a great value.
Disney Dining Plan Plus
Starting February 27, Disney Resort hotel guests can add Disney Dining Plan Plus to their vacation package. A Disney dining plan offers something for everyone as it is a convenient and flexible way for Walt Disney World guests to pre-pay for meals and eat at dining locations throughout our four theme parks, Disney Resort hotels and select locations at Disney Springs. With Disney Dining Plan Plus, guests get two meals per night of their package stay to redeem at either table service restaurants, quick service locations, character dining experiences, or a combination – giving them more flexibility.
In addition, the Disney Dining Plan Plus option includes two snacks per night, one Disney Resort hotel refillable drink mug (which can be used at any Disney Resort hotel quick-service location), and at each meal, unlimited refills of fountain sodas, single-service teas and brewed coffee, or one non-alcoholic specialty beverage, and for guests 21 and older with valid ID, one beer, wine or cocktail. Meals can be redeemed in any order and in any combination. Unused meals and snacks rollover day to day so you can use them whenever you want during your stay. To learn more about what is included with each meal and how the new Disney Dining Plan Plus compares to the other Disney dining plan options, visit Disneyworld.com/dineplans.
As Walt Disney World Resort continues to grow, there are so many amazing dining experiences for guests to enjoy, from new table-service restaurants like Toledo – Tapas, Steak & Seafood and Topolino's Terrace – Flavors of the Riviera, to favorite quick-service options like Docking Bay 7 at Star Wars: Galaxy's Edge and Satu'li Canteen at Pandora – The World of Avatar.
New Water Park and Sports Option
The Water Park and Sports Option, available as an add-on to select theme park tickets for $70 plus tax, allows guests to choose between enjoying the splashiest thrills at Disney's Typhoon Lagoon or Disney's Blizzard Beach, living their basketball dreams at The NBA Experience, attending events at ESPN Wide World of Sports Complex and testing their abilities at Disney's Oak Trail Golf Course, FootGolf at Disney's Oak Trail Golf Course, Disney's Fantasia Gardens Miniature Golf Course or Disney's Winter Summerland Miniature Golf Course. This is a great option whether you're visiting for the first time or looking to enjoy Disney in a new way!
The total number of admissions you receive with this option is based on the length of your theme park ticket. For example, with a 3-day ticket that includes the Water Park and Sports Option, you will receive three visits to any of these locations. And, it's flexible! You can use all your admissions on the same day or repeat the same experience across multiple days. Click here to learn more.
Walt Disney World Resort is bustling with excitement right now, with groundbreaking lands like Star Wars: Galaxy's Edge, Toy Story Land, and Pandora – The World of Avatar, seasonal festivals, and three new films at Epcot and more. And, there's even more on the horizon this year – from Mickey and Minnie's Runaway Railway to Remy's Ratatouille Adventure and the "Harmonious" nighttime spectacular! Happy planning!
Editor's Note: The new Water Park and Sports Option is different from the Park Hopper Plus Option in that it does not include park hopping. The Park Hopper Plus costs $85 per ticket for 1-day tickets, $95 per ticket for 2-3 days tickets, and $105 per ticket for 4-10 day tickets. The Water Park and Sports option is an additional $70 per ticket. If you were not planning on park hopping but wanted to go to the water parks or sports offerings, you'll receive some savings here.
RELATED ARTICLE: Bang For Your Buck: 15 Best Table Service Restaurants for the Disney Dining Plan
by Mike and Jamie Sylvester
Whether it's Mickey waffles, Mickey ice cream bars, or those Mickey beignets we can't get enough of, eating at Disney is a vacation highlight! If you've decided to go with the Disney Dining Plan (DDP), you'll understand that finding value when using your DDP credits is super important. While some Disney restaurants require two table-service credits for a meal, we believe you can get the most bang for your buck by dining at one of the many one table-service credit restaurants. Read along with us as we share what we feel are the best table service restaurants when using the Disney Dining Plan. And yes, the 15 restaurants below are all one table-service credit. Great use of credits and simply magical food awaits!
15 – The Edison
First off, let's head over to Disney Springs, where choosing a restaurant is as difficult as making Eeyore smile! In "The Landing" area of Disney Springs you'll spot a large brick tower that serves as a beckon for The Edison restaurant. The gothic, 1920's style décor gets more and more impressive as you make your way through what is meant to look like an "Old World" electric company (hence the name, "Edison"). The American cuisine has a unique and modern twist. From burgers to salmon, we have yet to taste something we don't approve of. The size of the meals and the interesting atmosphere places this one on the list!
14 – Chef Art Smith's Homecomin'
Moving right along, we come to another Disney Springs restaurant located in "The Landing" where home-cooked goodness is born! Lunch and dinner at Chef Art's accept the DDP and boy are we thankful for that! The food is the stuff your Grandma made on Sundays with fried chicken, deviled eggs, mac and cheese, biscuits, and more. Excellent service and that warm, full belly feeling when leave, will have you thankful you used your credits here.
13 – Whispering Canyon Café
There's not much "whispering" happening in this Canyon Café! This is such a fun restaurant where servers throw out antics, games (such as riding around the restaurant on a wooden horse) are played, and the food just keeps coming! Whispering Canyon Café is located at Disney's Wilderness Lodge and boasts views of the stunning resort lobby. Order a skillet meal and be prepared to eat a hearty portion of rustic, American cuisine. Excellent location, fun environment, and yummy food… yep, on the list for sure!
12 – Hollywood & Vine
Whether it's the latest and most popular Disney Junior characters you are seeking for breakfast or Minnie and her pals for seasonal dining for lunch and dinner, Hollywood & Vine is a Hollywood Studios must-do when on the DDP. The value is here with the characters uniquely dressed to impress and ease of location within Hollywood Studios. Enjoy a vast buffet to get your fill while snapping photos with this popular crew of characters.
11 – The Crystal Palace
Pooh and his friends enjoy the DDP just as much as we do at The Crystal Palace restaurant. One of Magic Kingdom's finest, The Crystal Palace, has views of the Cinderella Castle through the Victorian greenhouse-style windows. This bright and cheerful restaurant is a great place to get the most bang for your buck with characters and an endless buffet of American favorites. This one puts a little sunshine into your DDP!
10 – Chef Mickey's
Dislike waiting in line for characters? Chef Mickey's, in Disney's Contemporary Resort, is the perfect "one-stop-shop" for a bountiful buffet of food and the most recognizable Disney characters around. Chef Mickey is the star, of course, but you can also expect a visit from his best girl, Minnie, and pals Pluto, Goofy, and Donald. While the food is a pretty standard American buffet, the value of using the DDP at Chef Mickey's is in the characters, the Contemporary Resort atmosphere, and the perk of being in walking distance to Magic Kingdom.
9 – Sanaa
They may not be considered Disney characters, but out the windows of the beautiful Sanaa at Disney's Animal Kingdom Lodge, you can spot some of the most beautiful African animals right from your chair. The views aren't the only highlight at Sanaa! The India-inspired flavors will leave your taste buds rejoicing with every bite. Sanaa can be a "wow, Mom, look!" spot for lunch or a romantic, hand-holding experience for dinner. An easy YES for this DDP list!
8 – 'Ohana
Lilo, Stitch, and Mickey are at Disney's Polynesian Village Resort, awaiting your arrival for this fantastic character breakfast. Breakfast here is outstanding, and the food just keeps coming with favorites like Mickey waffles! These characters take a break; however, for the dinner service, which is all-you-care-to-eat Hawaiian flavor heaven. Skewers of meat, perfectly grilled vegetables, delicious noodles, and of course, the famous bread pudding! Even though you'll likely be willing to give two credits after eating here, it's all covered under one.
7 – 1900 Park Fare
Head on over to Polynesian's neighbor, Disney's Grand Floridian Resort & Spa, where you'll find deluxe at its finest! The restaurants here are nothing less than deluxe themselves, including the whimsical restaurant known as 1900 Park Fare. Breakfast and dinner are great values when using the DDP as the food is top-notch, as are the characters for each service. For breakfast, you can expect Mary Poppins, Alice, Madhatter, Tigger, and Pooh to drop by the table. Dinner is a whole new slew of characters, including Cinderella, Prince Charming, Lady Tremaine, and her dreadful daughters – Anastasia and Drizella. Characters are subject to change, but the value of using the DDP here won't!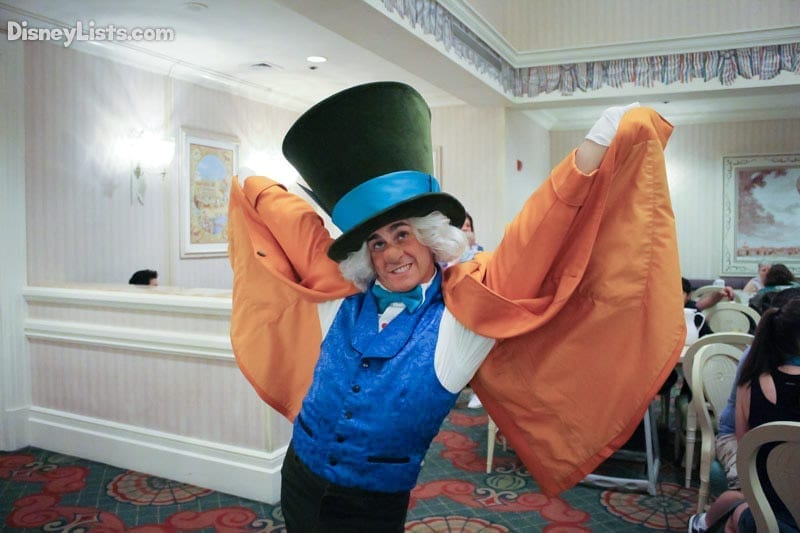 6 – Tusker House
Moving right along, you won't find any evil stepsisters here! Disney's Animal Kingdom is filled with adventure and exploration, and the Tusker House restaurant is no different. Explore new African flavors or stick with American classics as you select from a vast buffet. This is a great place to enjoy a break in a busy Animal Kingdom day. Plus, you can expect big hugs from characters dressed in their safari best, including Donald, Mickey, Daisy, and Goofy.
5 – Story Book Dining at Artist Point
Oh no, we must give you a Villain warning for this one! Story Book Dining at Artist Point, located in Disney's Wilderness Lodge, is a popular restaurant for all the right reasons. Open for dinner only, the food here is "fit for royalty" with plated entrees including roast, chicken, fish, and more. Even better, while you dine, the sweet Snow White, silly Dopey, and disgruntled Grumpy, will drop by your table. After dinner… hold your breath… the Evil Queen awaits a photo op with you. A perfectly scary way to use your DDP credit!
4 – Akershus Royal Banquet Hall
Snow White is working double time! She is also available at Akershus Royal Banquet Hall in Epcot, along with several of her Princess friends such as Belle, Aurora, Cinderella, and Ariel. If you love Princesses or have a little one that does, Akershus is a no-brainer for the best value for your DDP credit! You'll get to see multiple Princesses you'd otherwise have to wait in line for. Unlike the coveted Cinderella's Royal Table restaurant at Magic Kingdom, Akershus only requires ONE table-service credit. Of course, the food here is wonderful with a Norwegian inspired cuisine served family-style.
3 – Cape May Café
Cape May Café at Disney's Beach Club Resort is like two restaurants in one! Breakfast is a character dining experience with Minnie and pals such as Daisy, Goofy, and Donald. The buffet is huge and has a great variety of breakfast favorites, including all the classic breakfast items. Cape May then undergoes a full dinner transformation with a seafood dinner buffet. No characters are available for dinner, but the food is truly the focus at this time! Breakfast and dinner both fall under the one credit each for the DDP. Come hungry because you're sure to get your fill.
2 – Garden Grill Restaurant
We're back at Epcot with what might surprise some as our #2 pick for DDP bang for your buck! The Garden Grill Restaurant is known as the "rotating" restaurant, which yes, it does rotate while you dine, but at a very (like super-duper) slow pace. You won't even notice you've moved until you look up from your plate of goodness. Farm-fresh is what this place is all about with some ingredients coming directly from the Living with the Land attraction below the restaurant. Every bite is fresh and filling. Finish what's on your plate? No worries – your server will bring you more! Eat until your heart is content. And one of the most exciting parts… Chip and Dale are at Garden Grill, stirring up their usual trouble! You can expect a visit from characters such as Chip, Dale, Mickey (in his cute farmer overalls!), and Pluto. This one has the DDP value in food, atmosphere, and furry hugs.
1 – Toledo – Tapas, Steak & Seafood
Finally… drum roll, please… our number one pick for the best bang for your buck on the DDP goes to Toledo! Some of you may be going, wait – what's Toledo? It's a newbie to the Disney dining scene! Located at the very top of the Gran Destino Tower at Disney's Coronado Springs Resort, Toledo – Tapas, Steak & Seafood, is deluxe all the way, but at a moderate resort! It's genuinely a high-end restaurant with masterpiece entrées and drinks (both in appearance and taste) – all for only one table service credit. We could easily compare this restaurant to California Grill, which is a popular two credit restaurant. Toledo sits at the top of the tower and has expansive views of the Walt Disney World property, including views of each of the four theme parks, two water parks, and Disney Springs. Visit during the early dinner service to see it all in the daylight or come later in the evening to see fireworks in the distance while you dine. Best summed up – Toledo equals DDP value.
Make those dining reservations now so you can get the most bang for your buck at these wonderful restaurants!
For a no obligation, FREE Quote on a Disney vacation package, please contact our travel partner Magical Vacation Planner at 407-442-0227 (407-442-0215 for Spanish). You can also request a FREE quote online by Clicking HERE.