Topolino's Terrace is Walt Disney World's newest signature dining restaurant. It sits on the 10th floor of Disney's Riviera Resort, offering amazing views of nearby Epcot, Disney's Hollywood Studios, and the Disney Skyliner. The restaurant's name is taken from the Italian word for Mickey Mouse, "Topolino," and is open for both breakfast and dinner. We recently enjoyed dinner at Topolino's Terrance. Keep reading for our review and what you need to know about the latest dining experience to open at Walt Disney World.
1 – Disney's Riviera Resort
Disney's Riviera Resort is inspired by the European travels of Walt and Lilian Disney to the Riviera. The resort brings the elegance of a modern European retreat blended with a touch of old-world glamour and Disney charm to Walt Disney World Resort. It's the 15thDisney Vacation Club resort and offers approximately 300 family-friendly vacation homes, including deluxe studios, one- and two-bedroom villas, and grand villas that sleep up to 12 guests each. Disney's Riviera Resort is the first DVC resort to offer a new room category, the Tower Studios, that sleep two guests and include a private balcony with scenic views and seating for two, in an intimate, modern setting. Learn more about Disney's Riviera Resort by reading our review by clicking here.
2 – Getting to Disney's Riviera Resort
Disney's Riviera Resort is an Epcot Area Resort. It has a dedicated station on the Disney Skyliner, which makes it a lot easier for non-resort guests to visit the resort for dining. The Disney Skyliner can be easily accessed from Disney's Hollywood Studios and Epcot, along with Disney's Caribbean Beach Resort, Disney's Art of Animation Resort, and Pop Century Resort. The Disney Skyliner will offer a quick way to get to the resort and will give you some fantastic views. When driving to the resort, Disney security will ask for a confirmation of your dining reservation before letting you park on the premises. If you are coming from another Disney resort, you'll need to take a bus to a park or Disney Springs, and then transfer to a Disney's Riviera Resort bus. As an alternative, using Minnie Van, Uber or Lyft will save 30 to 60 minutes of travel time between resorts. No matter how you plan to arrive, give yourself plenty of time to travel. Plan to arrive at least 15 minutes before your reservation time.

3 – Signature Dining Experience
Dinner at Topolino's Terrace is a signature dining experience, which means that you can expect a delicious meal from a restaurant that is at the top tier at Walt Disney World. It also means that if you are on the Disney Dining Plan, you'll need to use two table-service meals per person for the meal. Additionally, you'll need to adhere to a dress code for dinner. Don't worry, simple "resort casual" attire is fine, but certain types of clothing such as tank tops, swimsuits, swimsuit coverups, hats, cutoffs, or torn clothing are not permitted.
4 – Dinner at Topolino's Terrace
The dinner menu at Topolino's serves a selection of items with French and Italian Flavors. You'll find fresh meats and seafood, handmade pastas, and desserts. The wine list is sourced from the Mediterranean coast. We enjoyed both red and white wine with dinner.
During our dinner, we enjoyed sampling a few of the Antipasto items such as the Olives Marinees and Ricotta.
For dinner, I enjoyed the Rigatoni. It was so delicious and flavorful, more than I expected. Many in our party said the Rigatoni was the clear winner of the night!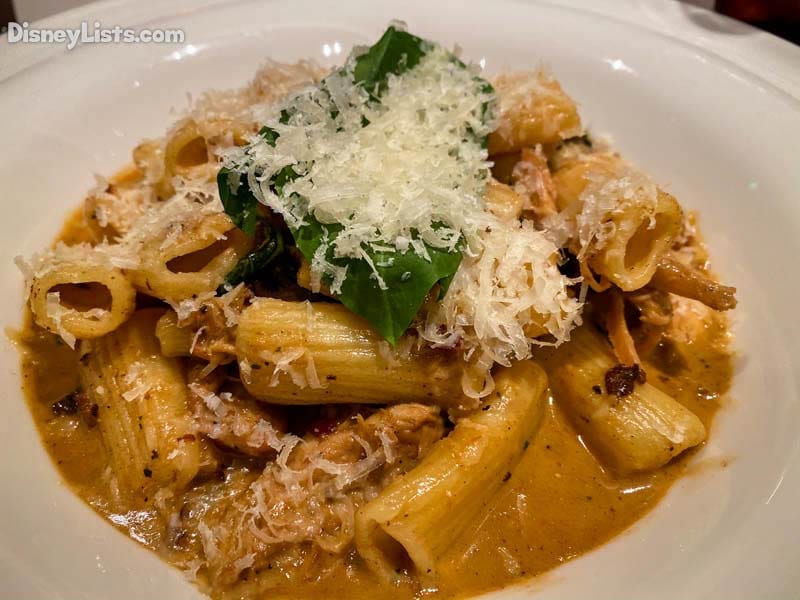 Chad had the King Salmon Mi-Cuit, and others had the Filet Mignon. Both were delicious.
The Warm Valrhona Chocolate Cake for dessert was the perfect ending. This cake has a caramel center and is served with Chantilly, raspberries, and vanilla gelato. It was so good. I would go back just for the dessert!
5 – Gorgeous Views
During your meal, you'll be treated to some fantastic views of Disney's Caribbean Beach Resort, Disney's Hollywood Studios, and Epcot. You'll want to go out onto the terrace to take it all in and maybe catch some fireworks depending on the time of your visit. During our meal, the sun was setting, so I went out for a moment to snap some photos. After the meal, we went out and spent some time taking in the views. We also caught the fireworks from Disney's Hollywood Studios and had a slightly obstructed view of Happily Ever After from Magic Kingdom. It was fantastic!
6 – Breakfast a la Art with Mickey & Friends
Editor's Note: During the phased reopening of Walt Disney World, character greetings are temporarily suspended. Topolino's Terrace's Breakfast a la Art offers a modified character dining experience where characters will greet you from afar.
Topolino's Terrace also offers Walt Disney's World latest character breakfast dining experience, Breakfast a la Art with Mickey & Friends. It's a prix-fixe dining experience that has quickly become our favorite character breakfast. We love the fact that Mickey, Minnie, Donald, and Daisy are the characters you can meet during breakfast. It's one of the few places where you can see these four together at a character meal. Learn more about this fantastic breakfast with our full review by clicking here.
7 – Overall Thoughts & Recommendations
Overall, we really enjoyed our dinner at Topolino's Terrace. The food was delicious, and the menu had a lot of options. If you are on the Disney Dining Plan, you'll want to consider if it is worth it to use the two table service credits for this meal. Depending on what you order, you may find more value for your credits elsewhere. For example, my favorite dish was the Rigatoni at $32. That price is more in line with what you would pay at a one table credit meal at the higher end. However, if you order the $54 steak, you'll be using your credits wisely. It does come down to some math and the price of the entrée and where you really feel like eating. The restaurant accepts the Tables in Wonderland discount card. At the moment, the restaurant is not included in the passholder discount program. No matter how you pay, we recommend dining at Topolino's Terrace for a fantastic dinner experience!
Editor's Note: Disney Parks, Experiences and Products provided us a complimentary meal at Topolino's Terrace. However, as always, the thoughts and opinions contained in this article are entirely our own.