Do you prefer to have your cake and eat it too? Well, we hope so because the sweetness is about to happen! Let's jump right in where cake, ice cream, chocolate, and more excel…at Walt Disney World, of course. And while many Disney fans rave about the theme park desserts, we recommend the Disney Resorts for the best of the best. Diets be warned! We are checking out our top Disney Resort desserts here!
9 – Kitchen Sink – Beaches & Cream Soda Shop at Disney's Beach Club Resort
The Beach is calling! For our first stop, we head over to Disney's Beach Club Resort, where sand and hammocks await. Before you unwind, treat yourself to a not-so-little dessert! The infamous Kitchen Sink serves four diners, so bring along a few friends. This mound of ice cream has everything (including a cute kitchen sink it comes in!). Scoops of vanilla, chocolate, strawberry, cookies and cream, and mint chocolate chip ice cream are smothered in every topping available. Grab a spoon and stretchy pants for this one! Remember, calories don't count at Disney, right?!
8 – Specialty Cupcakes – Contempo Café at Disney's Contemporary Resort
Cupcake fans – this one is for you! Some of the trendiest desserts at Walt Disney World are the cupcakes. They come in all shapes, sizes, themes, and flavors to match whatever is currently trending. One of the best places to find the newest and cutest cupcake is at Disney's Contemporary Resort at the quick-service spot call Contempo Café. Grab a cupcake and enjoy watching the Monorail roll in through the lobby.
7 – Zebra Domes – Boma – Flavors of Africa at Disney's Animal Kingdom Lodge
Editor's Note: During the phased reopening of Walt Disney World, Boma is not operating.
Mmm…as if the vast buffet at Boma – Flavors of Africa in Animal Kingdom Lodge isn't enough, we can't resist heading straight for the desserts here. Zebra Domes are a unique dessert, which is why when we get a chance to have one (or two!), we go for it. These little treats are in the shape of a dome with zebra style stripes. The white dome is an Amarula Cream Liquor mousse and white, creamy chocolate that is nestled upon a thin crispy cake base. It is topped off with a chocolate drizzle and shavings. SO good!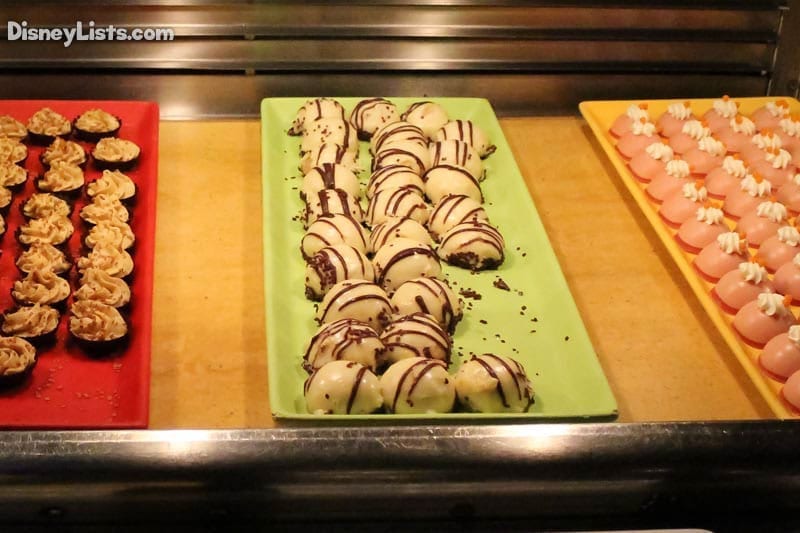 6 – Warm Churros – Three Bridges Bar & Grill at Disney's Coronado Springs Resort
Warm. Churros. Two words that instantly speak to our taste buds! Get ready to dine in relaxation at Three Bridges Bar & Grill at Disney's Coronado Springs Resort. With a drink in hand and these churros covered with sugar in the other hand, you'll surely find your happy place! The chocolate dipping sauce is the "icing on the cake" (aka the "sauce on the churro"!).
5 – 'Ohana Bread Pudding – 'Ohana at Disney's Polynesian Village Resort
Editor's Note: During the phased reopening of Walt Disney World, Ohana is not operating.
We bring you one of the most classic desserts on the list. You know if a dessert has been around as long as this one, chances are you've done something right. We aren't the only ones that sing the praise of the 'Ohana Bread Pudding! The best way to enjoy this bread pudding is with the vanilla ice cream melting over it, caramel sauces and sliced bananas. It's a heavenly dish that we always find room for somehow after eating all the delicious 'Ohana food that arrives before dessert.
4 – Dole Whip – Pineapple Lanai at Disney's Polynesian Village Resort
Yes! You don't have to be in the parks to enjoy the classic Disney treat we all know and love as the Dole Whip. Disney's Polynesian Village Resort is home to Pineapple Lanai, where Dole Whip soft serve is being handed out as quickly as it's being devoured. Try a pineapple, vanilla, or (our favorite) the swirl. You can even have your Dole Whip as a Pineapple Float. At Magic Kingdom, you won't find this option, but at Pineapple Lanai, you can have your Dole Whip and some rum too! Just order the Dole Whip with Rum Floater. Take a bite, close your eyes, and let your taste buds escape to a tropical paradise.
3 – Strawberry Crème Brûlée – California Grill at Disney's Contemporary Resort
One of the most prestigious places to dine understandably is home to one of the very best resort desserts! At Disney's Contemporary Resort, California Grill boasts stunning views of Magic Kingdom plus a delightfully refreshing dish – the Strawberry Crème Brûlée. This vanilla bean crème brûlée, fresh strawberries, cornflake crunch, coconut whip, and sponge cake is like biting into a cloud with every bite.
2 – The Toledo Tapas Bar – Toledo – Tapas, Steak & Seafood at Disney's Gran Destino Tower
Maybe it's something to do with restaurants located at the top of resorts? Seriously though, just like California Grill, Toledo (located at the top of the Gran Destino Tower), is another hot spot for deliciousness on a plate. This dessert is extremely unique; however, in that, it's not something we've ever really tried before now. It's called a "Tapas Bar" because it's a different experience with each bite. One chocolate base is the sturdy foundation to individual bites of flavors, including Spanish coffee, crunchy chocolate, raspberry mousse, and lemon curd. Go slow and enjoy each bite while taking in the stunning views of the Walt Disney World Resort around you.
1 – Warm Valrhona Chocolate Cake – Topolino's Terrace at Disney's Riviera Resort
And finally, our number one! Don't laugh. This dessert is also located at the top of a resort just like the last two! Topolino's, found at the top of the Riviera Resort, rivals the deluxe expertise found at California Grill and Toledo. Views, impressive service, masterful dishes, and yes…desserts that somehow remain in memory as being unmatched. Here enters the Topolino's chocolate cake. Sounds simple enough, right? Well, this baby is served warm and is made with the decadent Valrhona chocolate. As your fork cuts into the soft cake, the caramel center oozes out.  The whipped cream (Chantilly) is light and pairs beautifully with the fresh raspberries. Drooling yet?
There you have our top ten Disney Resort desserts. Get out there dessert lovers and enjoy!
For a no obligation, FREE Quote on a Disney vacation package, please contact our travel partner Magical Vacation Planner at 407-442-0227 (407-442-0215 for Spanish). You can also request a FREE quote online by Clicking HERE.