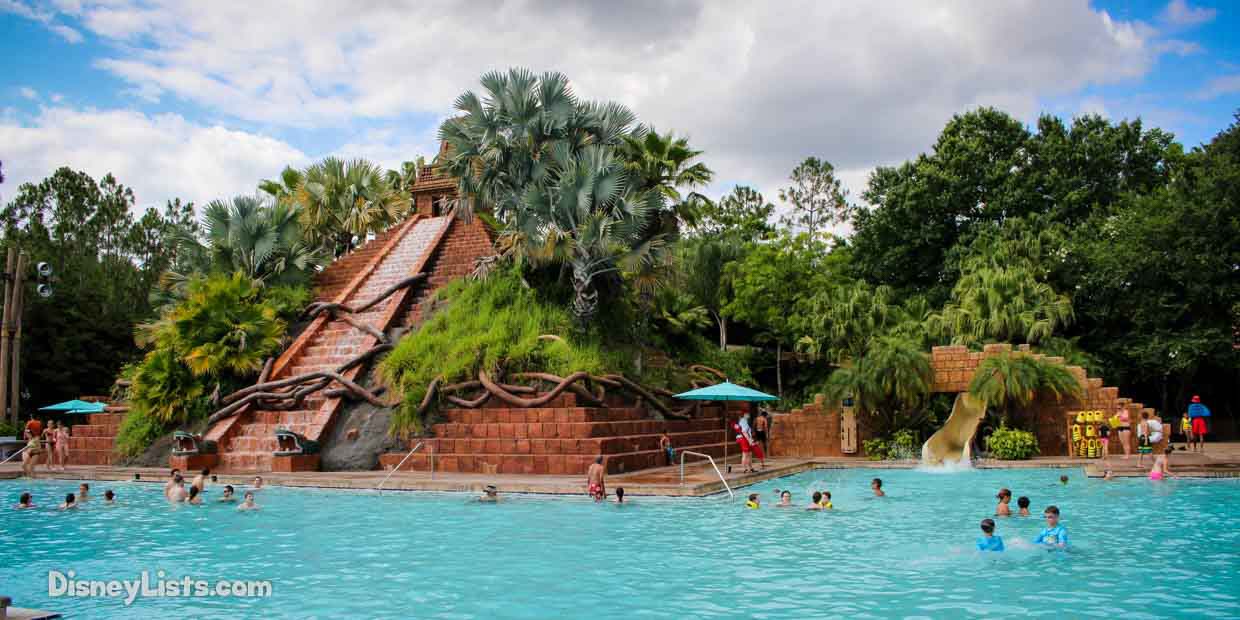 We love staying at Disney Resorts so much that we decided to become Disney Vacation Club Members so we could own a smidgen of the Disney Resort entity! Here are 10 things we love to do at Disney Resorts.
1 – Explore
Exploring a Disney Resort is like a new adventure for our family with each visit – even the repeat visits! There is always something new to explore and see. Don't just walk or drive to your room and stop there. Check out the activity center, the different pools, the variety of dining and drinking options, the arcades, and see what stories or history the Guest Service/Lobby area hold.
2 – Swim and Play!
Recreational activities are a dime a dozen at Disney Resorts. Our children's favorite (and ours) is definitely swimming in the Disney Resort pool. We have yet to stay at a resort and be disappointed in the size and theming of the pool area. They are all incredible from wonderful places to lay out to fantastic slides to scream all the way through… something for everyone in the family. Play a game of beach volleyball, take a jog on one of the resort trails, shoot some hoop with the family, and get your competitive side all riled up with a game of shuffle board!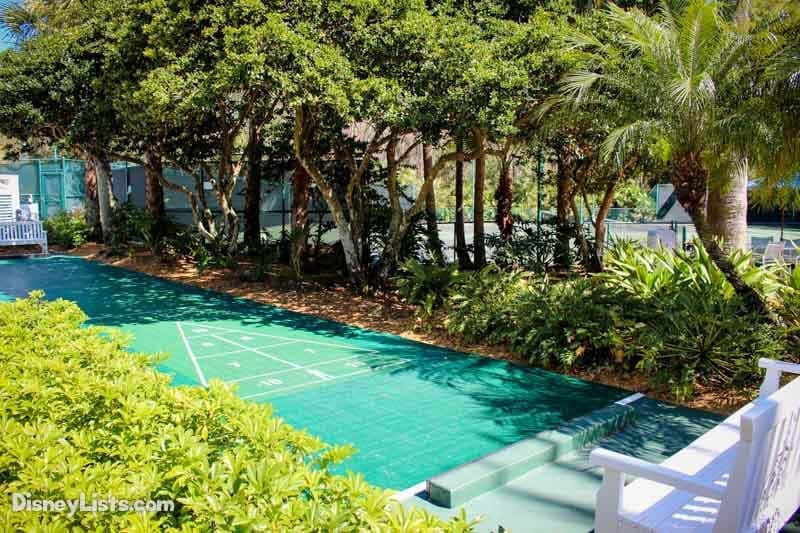 3 – Dine and Drink
Our favorite restaurant in all of Disney World is Olivia's Café at the Old Key West Resort. There is just something about that place to speaks to us and we enjoy dining there among all the other awesome Disney World restaurants. Find your niche among the Disney Resort restaurants. You may just find a favorite place to dine! Plus, having a few adult beverages at your resort (don't tell our mothers!) is a wonderful way to relax and trust that your room is safely just steps away.
4 – Movie Under the Stars
Movie Under the Stars is a daily event held each evening at Disney Resorts. Sometimes the large screen movie displays next to the pool while other times it's on the large green lawn to lay back on. If it's raining, Resorts typically don't cancel the show but instead move it inside. The movies that play are always Disney (of course!) and are safe for the whole family. It's a perfect way to end the day!
5 – Shop
The gift shops at Disney Resorts are some of our favorites to shop at. Yes, they are smaller than what you would find in a Disney World theme park, but they tend to hold a few unique items that are specific to the Disney Resort. Surely, you'll be able to find the typical Disney favorites among the merchandise, but at each resort be on the lookout for something unique to that resort only. We've found it to be a hobby to collect at least one thing from each resort such as a shot glass, magnet, or mug – making for a memorable keepsake.
6 – Campfires
Editor's Note: During the phased reopening of Walt Disney World, campfires are temporarily suspended.
Just before the Movie Under the Stars, most Disney Resorts have a campfire for guests to enjoy! That wonderful campfire smell fills up the night sky as family and friends cozy up to roast marshmallows and even make a few s'mores! Whenever we think of our fondest memories of our Disney vacations, a campfire experience or two tend to pop into our minds. Spending time with the ones we love is what it's all about.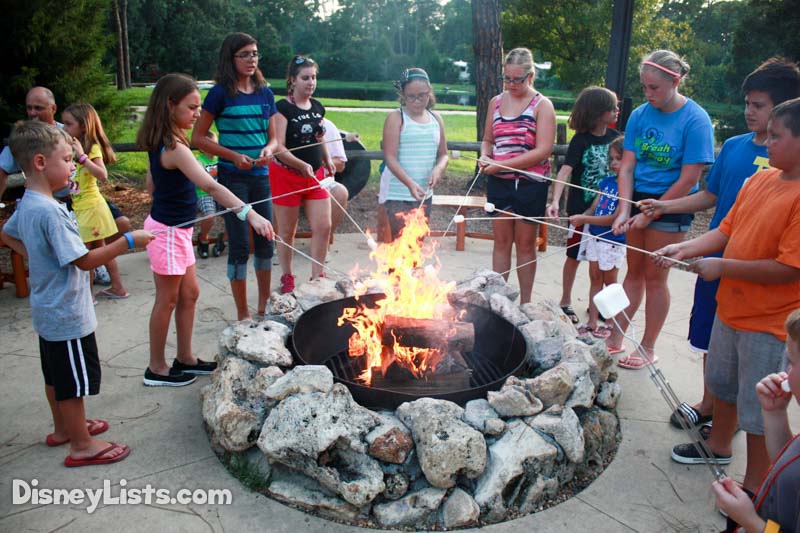 7 – Sleep!
If you know anything about us, you knew that sleep was going to be on the list! Disney's comfort level is paramount and we personally take full advantage of that with sleeping peaceful while at our Disney Resort. We know that transportation to and from the parks will take less time so the alarm clock is set a little later. We also know that we (and our children) will be exhausted at the end of the day and fully ready for a good night's sleep. No need to count sheep here!
8 – Rentals
It's nice to be able to borrow something and return it without worrying about having to add it to the packing list! Bikes and boats are fun to rent depending on which resort you are staying at. We also recommend renting the simple things like a movie from the Clubhouse or even a board/card game. We can remember a rainy night threatening to ruin or plans, but instead we rented a movie and an UNO card deck, bought a bunch of junk food from the gift shop, then stayed up late eating, playing, and enjoying the show as a family. All thanks to rentals!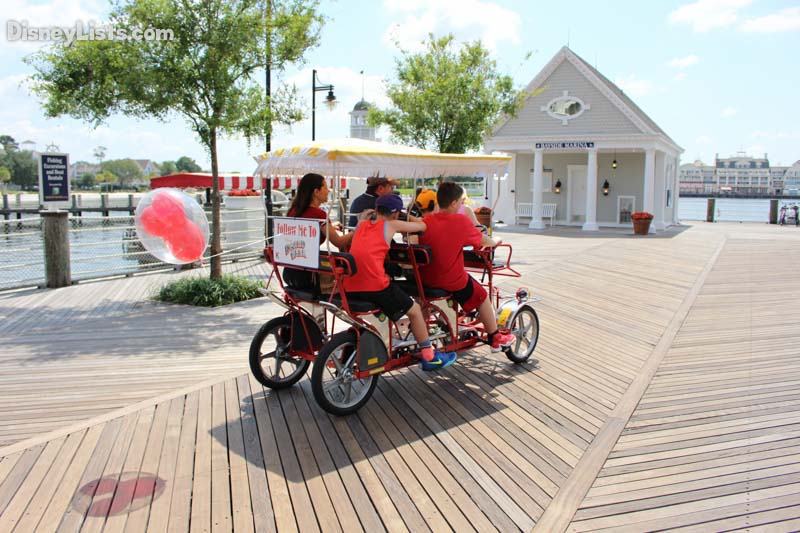 9 – Special Event Fun
Have you ever noticed at Disney Resorts how the Cast Members make you feel like you are just coming home – as if you've always had a place there? From time to time, Resorts hold special events such as trivia by the pool or bar, special scavenger hunts for the kiddos, costume and pumpkin contests around Halloween, and even Christmas games and activities. It's the little things like this that set Disney Resorts apart from the rest. We love participating in as many activities as we can!
10 – Taking Advantage of the Perks
Editor's Note: During the phased reopening of Walt Disney World,  FastPasses are temporarily suspended. 
Staying at a Disney Resort is like having an extra key to the Disney kingdom! Disney Resort guest perks such as Disney transportation, reduced-priced MagicBands with the ability to charge things to your room via your MagicBand, FastPass+, and Dining Reservations prior to non-resort guests at the parks are our favorite perks.
What are your favorite things to do while staying at a Disney Resort? We'd love to hear from you!
For a no obligation, FREE Quote on a Disney vacation package, please contact our travel partner Magical Vacation Planner at 407-442-0227 (407-442-0215 for Spanish). You can also request a FREE quote online by Clicking HERE.