When the sun goes down, Disney's Hollywood Studios lights up in the most spectacular way! The Florida heat subsides, the crowds tend to feel a little thinner, and the stress of the day melts away. Experiencing Disney's Hollywood Studios at night is just as important (if not more!) than visiting during the day, in our opinion. So, let's get right to it, shall we? Check out our ten must-do night experiences at Disney's Hollywood Studios.
10 – Arrive or Depart via the Disney Skyliner
The newest form of Disney transportation has guests soaring to and from Disney's Hollywood Studios with great ease. Particularly at night, we feel the Disney Skyliner is a fantastic way to arrive or depart. As you coast through the sky, check out the views that glow around you. As you get closer to Hollywood Studios, you'll see The Twilight Zone Tower of Terror with its eerie glimmer in the distance and even Star Wars: Galaxy's Edge shine from afar. Truly a beautiful way to take in the night views!
9 – Admire the Chinese Theater Marquee
Mickey & Minnie's Runaway Railway is the newest attraction at Disney's Hollywood Studios, and guests are RAVING over it! Go on a picnic with the sweetest of couples (Mickey and Minnie!) with Goofy as your conductor. Things get a little off course but in the most wonderful way, as you're immersed inside a cartoon world of Mickey short films. When night falls, this is the perfect time to check out the front of the Chinese Theater to admire the Mickey & Minnie's Runaway Railway marquee as it dances with excitement. Worthy of a photo snap or selfie for sure!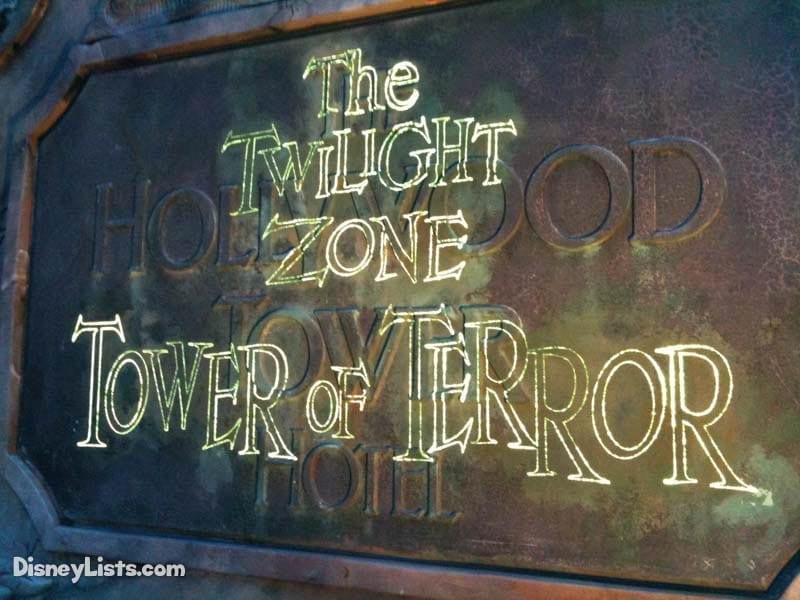 8 – Have a Drink at Baseline Tap House
One of our favorite places at night is Baseline Tap House, a corner pub on Grand Avenue. This little pub has a great variety of California beer, wine, ciders, and cocktails – along with a few delicious snacks. The best part is there is a tree canopy terrace that is lit up at night. With strings of lights glowing above, the warm Florida night air, and a drink in hand – it's really the perfect way to cap off a night at Disney's Hollywood Studios.
7 – Spin on Alien Swirling Saucers
Alien Swirling Saucers in Toy Story Land is one of our kiddos' favorite attractions. It's a simple attraction, really. The cute little green aliens from Toy Story take you on a ride around and around. The swirling is fun during the day, but nighttime is the best time to ride this one. It illuminates with fun, colorful lights that dance to the music. Watching the smile go from ear to ear on the kids under these dancing lights…priceless.
6 – Be Terrified on Tower of Terror
On the other hand, who doesn't like a good scare! The Twilight Zone Tower of Terror is already terrifying enough, but at night, well, it's just extra creepy. The moment you spot the Tower at the end of Sunset Boulevard, as it's engulfed in darkness, is spooky! Add Disney's special lighting effects (and what seems like louder screams at night), and you have your very own haunted attraction right in front of you. Once you're on the ride, you'll take the elevator to the 13th floor. Try to keep your eyes open to look out across the park with all the lights beaming at night. THEN… well, then you need to prepare your gut for the fall!
5 – Enjoy Wonderful World of Imagination
Wonderful World of Imagination is often an after-thought at Disney's Hollywood Studios – but we personally really enjoy it! This is a 12-minute show that takes place just before the start of the official nighttime spectacular, Star Wars: A Galactic Spectacular. Stand in front of the Chinese Theater and watch 90 years of Disney and Pixar animation unfold in front of you. You'll catch glimpses of old and new films being projected in a vibrant way. Our favorite part is that the show never loses sight of one thing…it all started with a Mouse!
4 – Hands Up on Slinky Dog Dash
We bring you back to Toy Story Land! Toy Story Land is an amazing place to visit at night. The colorful lights stretch across the walking path, and everything seems to radiate with excitement and youth! Plus, we can't ask for a better attraction to ride at night than Slinky Dog Dash. This popular roller coaster feels even faster at night as Slinky dashes around Andy's backyard under the night sky. Put your hands up and feel the night air between your fingers! Don't forget to keep your eyes open to enjoy the bright lights around you.
3 – Feel the Force with Star Wars: A Galactic Spectacular Dessert Party
Disney's Hollywood Studios nighttime projection and fireworks spectacular, Star Wars: A Galactic Spectacular, is not to be missed. It doesn't matter if you are or are not a Star Wars fan, you'll still find the show to be a stunning one with outstanding projection, lasers, lights, fireworks, and musical score. The very best way to make the most of this experience is to make a reservation for the Dessert Party. Galactic eats and beverages await with a VIP viewing section for the show. Be prepared to feel the Force all around you!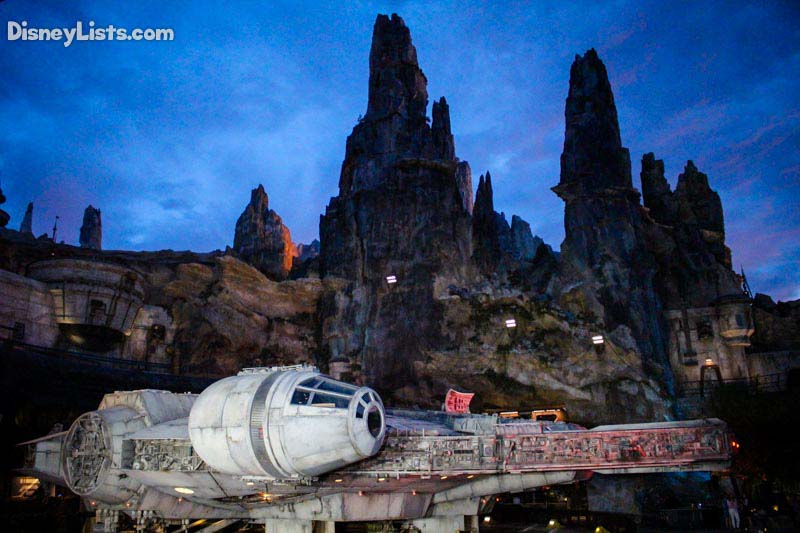 2 – Be in Awe of Star Wars: Galaxy's Edge
No surprise here. Disney has done it again! Just when you think things can't get any more impressive, they kick it up a notch and leave us all in awe. Visiting the Planet Batuu (aka Star Wars: Galaxy's Edge) during the day is truly excellent. But when you visit it at night…well, it's a whole new world. The way the land glows with a purplish/blue hue is superb, and you can't help but slow your stroll and take it all in. We highly recommend exploring the land during the day but would suggest the nighttime even more so! While you're in awe, be sure to grab some Blue or Green Milk to feel the essence of the land.
1 – Go Classic Disney with Fantasmic!
It doesn't get much more classic than this Disney fans! As the day comes to a close, Disney's Hollywood Studios holds a nighttime spectacular called Fantasmic! that has kept us entertained for years now…and hopefully, for many years to come. It's the classic story of good vs. evil. Mickey Mouse and his friends are up against the Disney Villains. Will good prevail? Arrive early for a seat and get ready to enjoy a 30-minute show filled with storytelling via water screens, music, and over 50 live performers and characters. It's a classic Disney experience that caps of your Hollywood Studios day in the most magical of ways.
That wraps up our must-dos for the nighttime at Disney's Hollywood Studios. Now, let's let the sun set and get ready for a night of fun!
For a no obligation, FREE Quote on a Disney vacation package, please contact our travel partner Magical Vacation Planner at 407-442-0227 (407-442-0215 for Spanish). You can also request a FREE quote online by Clicking HERE.