Trail's End, located at Walt Disney's Fort Wilderness Resort and Campground is often overlooked by guests but is a wonderful dining experience. Trails End is buffet style for breakfast and dinner, and brunch on weekends. On the menu, you will find home-style favorites that are sure to please everyone in your party. It is located off the beaten path, which is why it is a hidden gem. There are a few ways to get to Trail's End. First, you can drive to the resort and park in the front parking lot. You will need to take the internal resort bus back to Settlement Outpost. The second option requires you to take a boat from Magic Kingdom theme park or from the Wilderness Lodge or Contemporary Resort.  It's a little more effort to get to, but the food is well worth it! Here are 5 reasons why you should make the trek to Trail's End on your next visit.
5 – A Reason to Visit Fort Wilderness Campground and Resort
Walt Disney's Fort Wilderness Resort and Campground is a gorgeous 700-acre retreat at Walt Disney World. Like any Walt Disney World resort, you don't need to be staying here to enjoy some of what the resort offers. Recreation at Disney's Fort Wilderness Resort is almost as endless as the great outdoors itself! Guests can choose from horseback riding, fishing excursions, nature trail exploration, boat rentals, volleyball, tennis, bike rentals, and the Wilderness Back Trail Adventure, where guests can experience, first-hand, a Segway X2. The Archery Experience is an option for guests who are interested in learning target shooting from an Archery Guide. For those who want to slow it down and relax can unwind on a white sand beach, play a leisurely game of shuffleboard, take the little ones on a pony ride or enjoy an evening horse-drawn wagon ride around the resort. Or you can simply tour the campground and enjoy its beauty. Whether you dine before or after your meal at Trails End, you'll enjoy your time at Fort Wilderness!
4 – Buffet style Breakfast and Dinner
Breakfast and Dinner are served buffet style, both offering a variety of foods. Breakfast includes the same fare you may find at other Disney buffets including Mickey waffles, bacon, sausage, cereal, and fruit. Country favorites such as biscuits with sausage gravy and grits are also available. Guests can enjoy French toast casserole, warm sticky buns, and a variety of pastries. One unique menu item often found on the buffet is Eggs Benedict featuring barbeque pulled pork.
Dinner consists of hearty favorites such as fried chicken, barbeque pork spareribs, macaroni and cheese, chili, cornbread, mashed potatoes, and seasonal vegetables. Classics such as pizza and carved meats ensure there will be something for everyone to enjoy.  Assorted salads, fruits, and desserts round out the meal. Dinner also features a baked potato bar with all the fixings to customize to your liking.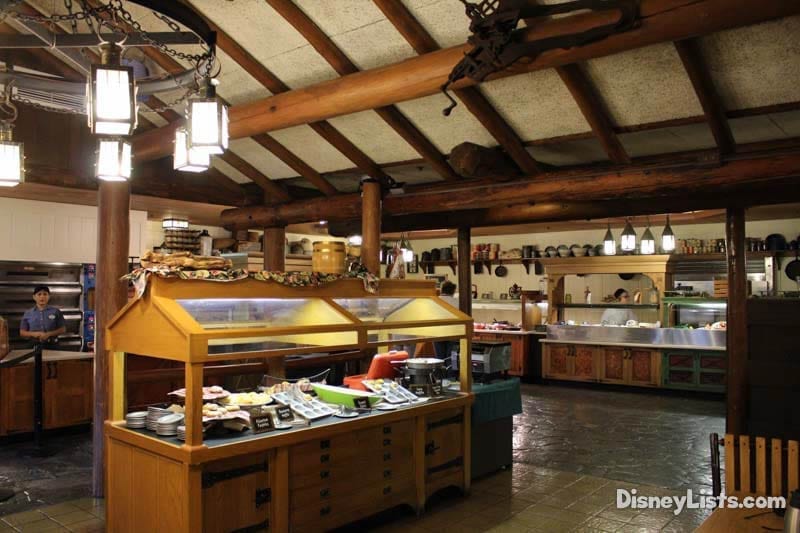 3 – Moonshine
Moonshine is a sweet, non-alcoholic fruit juice found at Trail's End. It is a mix of orange, passion fruit, and guava juice and is absolutely delicious. It can typically found on the buffet or offered by your server during Breakfast and is available for order during dinner as well. It is very sweet so you may want to order a glass of water to go with it. Remember that beverages are included in the price for breakfast and dinner, so try it out on your next visit!
2 – Quaint, Rustic, Country theme
The atmosphere of Trail's End is cozy and comfortable. Wood panels and beams give the location a rustic feel. Even the tables and chairs appear to be made out of unfinished logs. The walls are decorated with kitchen items, which could be used by settlers after a long day on the trail. There is even a 6-foot bear located downstairs near the bar! The atmosphere sets the stage for the hearty country fare offered at this location.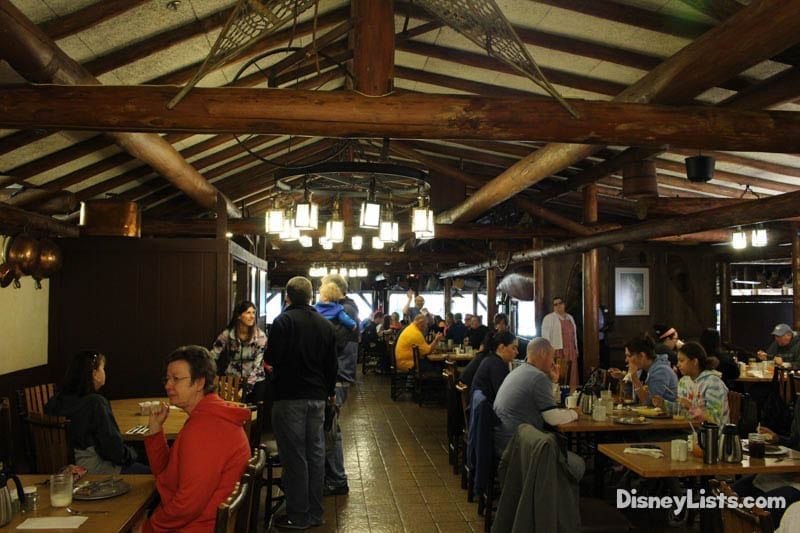 1 – Price
Trail's End is one of the most affordable restaurants on Disney property. The breakfast buffet features many of the same items that other more expensive buffets on property have and include a few special items that are not found elsewhere. Dinner offers hearty family favorites and southern cooking at it's best.  But Trail's End is less expensive than many of these other locations. The price for breakfast is around $27 per adult and $15 per child. At dinner, where you really get the best value, you'll pay about $37 per adult and $20 per child. This location is one table service credit on the Disney Dining Plan, but with the low prices, you may consider paying for this meal out of pocket and using your credits on another meal.
There are many great reasons to pay a visit to Trail's End on your next visit. Don't let the fact that it is a little out of the way discourage you from trying it out, as the food is delicious and you can't beat the price!
For a no obligation, FREE Quote on a Disney vacation package, please contact our travel partner Magical Vacation Planner at 407-442-0227 (407-442-0215 for Spanish). You can also request a FREE quote online by Clicking HERE.