Guests who decide to take a Disney World vacation spend months looking forward to their amazing trip. Dreaming of attractions and amazing experiences, planning out schedules for each day, and looking forward to delicious meals and shopping leave guests with high hopes for each Disney day. While a Disney vacation is always magical, no matter what it tends to pass by far too quickly and guests suddenly find themselves on the very last day of their trip. Suddenly feeling as though they have to make the most of each remaining moment and soak up as much as possible, the final Disney day can become stressful or depressing if not looked at in the right way. Guests who head into their final Disney day can make the most out of it by following a few simple tips which are guaranteed to leave them with magical memories. Here are the top six ways to make the most out of the last vacation day in Disney World.
1 – Pick One Park
Editor's Note: During the phased reopening of Walt Disney World, park hopping is not available.
Guests who want to make the most out of their final Disney day should plan ahead and choose only one of the four theme parks to visit. By choosing either the Magic Kingdom, Epcot, Disney's Hollywood Studios, or Disney's Animal Kingdom, guests can avoid having to make any last-minute plans and instead head straight out in the morning. By choosing only one park, guests also avoid losing time that would otherwise be spent moving from one park to another on either a bus, boat, or monorail.
2 – Arrive Early
Editor's Note: During the phased reopening of Walt Disney World, Disney has temporarily suspended Let the Magic Begin. Also, Magic Kingdom Park does not open an hour early. They will still open the gate a bit early to avoid crowding.
After choosing which park they would like to enjoy on their final day in Walt Disney World, guests should make sure that they wake up bright and early to arrive for rope drop. Arriving at one of the theme parks for rope drop entails getting there before it officially opens and waiting at the gates to be let in. While waiting to be let inside, guests can enjoy different welcome shows and speeches depending on the parks. Once the gates are open, guests who have arrived for rope drop are guaranteed to be some of the first inside the park where they can then enjoy few crowds, quiet walkways, and low wait times.
Magic Kingdom opens its gates one hour before park opening. Guests are allowed to stroll up Main Street U.S.A and up to the Hub. This allows guests to get pictures, get some shopping done, and eat breakfast in the park without losing time otherwise spent on riding attractions. Arriving early is the only way to see the opening show, "Let the Magic Begin," which opens the park 5 minutes before the posted opening time. A Royal Herald invites you to join Mickey and friends as they open the park in a magical way.
3 – Book FastPasses
Editor's Note: During the phased reopening of Walt Disney World, FastPass+ is temporarily suspended.
In order to make the most out of the last vacation day, guests definitely will want to experience as many attractions as possible including popular and thrilling options. Often times the very popular attractions tend to have extremely long wait times which can eat up a significant amount of time on a final day in the parks. Guests should plan accordingly and opt to book FastPasses for the popular attractions in their last day park to enjoy the experiences while avoiding losing lots of time spent waiting on standby lines. Some of the best attractions to book FastPasses for are Mickey and Minnie's Runaway Railway, Millennium Falcon: Smugglers Run, Seven Dwarfs Mine Train, Peter Pan's Flight, Space Mountain, Slinky Dog Dash, Test Track Presented by Chevrolet, the Toy Story Land rides, Flight of Passage, The Twilight Zone Tower of Terror, the Rock 'n' Roller Coaster Starring Aerosmith, Expedition Everest, and Dinosaur.
4 – Have Must Dos
In addition to the thrilling and popular attractions, guests should also have a list of their must-do experiences on the final day of their vacations. By knowing exactly what attractions and experiences that they can't miss out on, guests are sure to make the most of each moment on their final day. Guests should also make visiting these must-dos a priority and try to experience some of them first thing in the morning before the parks get crowded.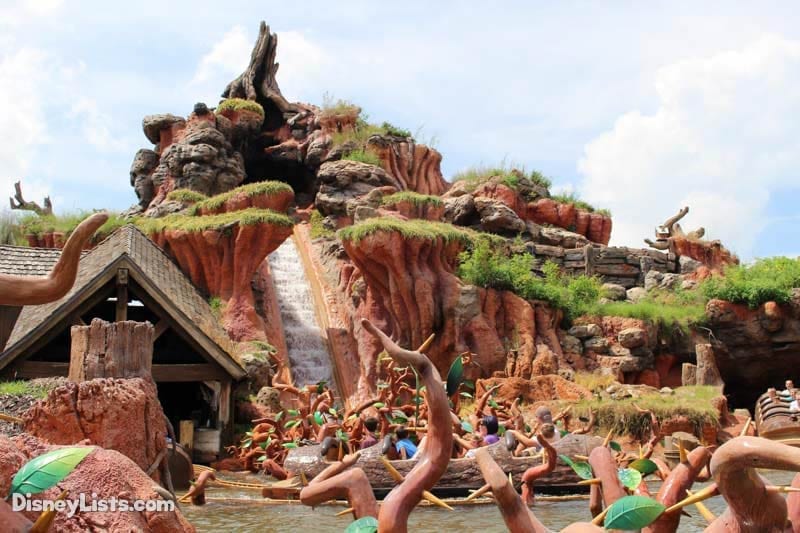 5 – Eat A Quick Service Meal
In order to make the most of each moment, guests who are enjoying their final days in the parks should opt to dine at quick-service locations instead of full-service locations. While full-service locations are amazing and should definitely be enjoyed, quick service locations are faster and more convenient for guests. Eating in a quick service location on the final vacation day ensures that guests will still be able to enjoy delicious meals in the parks, but at a fraction of the time allowing them to enjoy more time exploring and enjoying the parks and attractions.
6 – Soak Up the Details
The last day in Disney can be a sad one, so a great way to make the most of it is to simply slow down and take a few moments to soak in the details. By noticing the small things and taking in the surrounding atmosphere, guests are sure to make a lasting memory that they will be able to look back on fondly. The small details are truly what makes Walt Disney World so amazing and pausing to appreciate them is a great way to make the most of the final day in the parks.
For a no obligation, FREE Quote on a Disney vacation package, please contact our travel partner Magical Vacation Planner at 407-442-0227 (407-442-0215 for Spanish). You can also request a FREE quote online by Clicking HERE.