We understand Disney is constantly on the move making additions, changes, and remodeling portions of the parks, including the attractions. We actually expect this and are excited to see the changes unfold as Disney seems to become even more amazing with every new addition! But, when the need for updating or changes occurs, sometimes a previous attraction is removed.
While we don't foresee any changes in the following attractions, we found it interesting to list what 8 attractions we hope never close at Disney's Animal Kingdom!
1 – Kilimanjaro Safari
Kilimanjaro Safari is one attraction we feel defines Animal Kingdom in a nutshell! The African safari, numerous animal encounters and sightings, an adventurous safari guide, and a rough and bumpy vehicle – attractions don't get much better than this! We feel the uniqueness of Kilimanjaro Safari and the time and effort placed into the behind the scenes work (to the extent of hiring veterinarians for the animals' health) will provide this attraction with a golden ticket to hopefully never close!
2 – Expedition Everest
If they closed Expedition Everest, where would the Yeti go? Surely, Disney's Animal Kingdom Imagineers wouldn't want the Yeti making his way over to Magic Kingdom somehow and terrifying the young ones in Fantasyland… although he would make a cute animatronic addition to It's a Small World. Since Expedition Everest cost Disney roughly $100 million dollars, we seriously doubt this wild coaster will be closing anytime in the near or far future.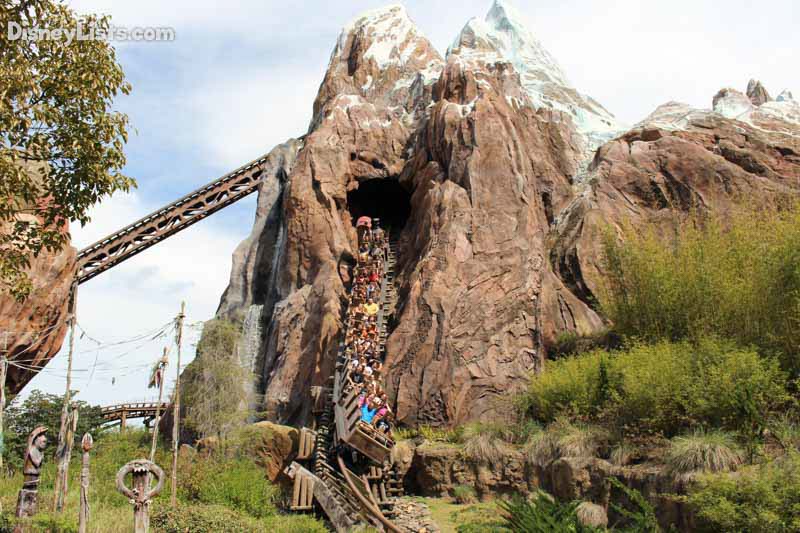 3 – Festival of the Lion King
As many times as we've seen the Festival of the Lion King, we still can't get enough of this spectacular Broadway-style live show. The characters, the costumes, the performers, the music, the crowd excitement – it's all so fascinating! We could see Disney making changes to the show possibly, such as their recent relocation of the show within Animal Kingdom, but we think Simba and his gang at here to stay.
Editor's Note: During the phased reopening of Walt Disney World in 2020, Festival of the Lion King is temporarily suspended.
4 – It's Tough to Be a Bug
This attraction might not be as thrilling as Expedition Everest and maybe it's made up of bugs instead of safari animals, but we still find it to be one of our favorites. It's fun, exciting, and slightly unexpected. Plus, where else can you experience what it must be like to be a bug? Nestled under the Tree of Life, we'd have a hard time imagining anything else taking its place.
5 – DINOSAUR
Who wants to go on a prehistoric time travel and get chased by dinosaurs?! Don't all raise your hands at once! This thrilling ride is on our Animal Kingdom must-do list. It's a blast as a Time Rover hurries guests through the bumpy prehistoric terrane. Several dinosaur encounters make you wish you could stop for a picture… but then again, maybe not! We hope this ride sticks around long enough for us to ride through when we are in our 90s!
6 – Primeval Whirl
Located in DinoLand U.S.A., Primeval Whirl may look somewhat cheesy and innocent – but for Pete's sake! This baby will have you spinning, dipping, and swerving all over the place. It's an absolute blast. Every time we ride it, we can't help but laugh the whole way through. For these reasons, we really would love for Primeval Whirl to always stick around at Animal Kingdom!
Editor's Note: Primeval Whirl now operates seasonally.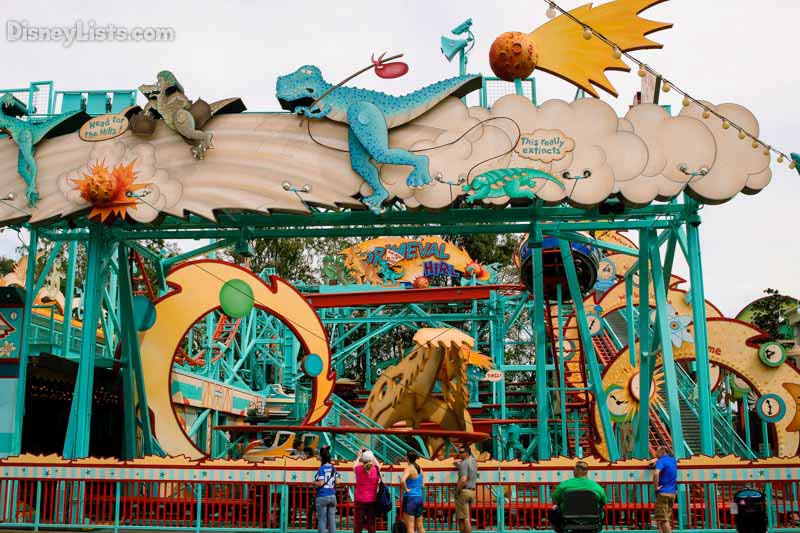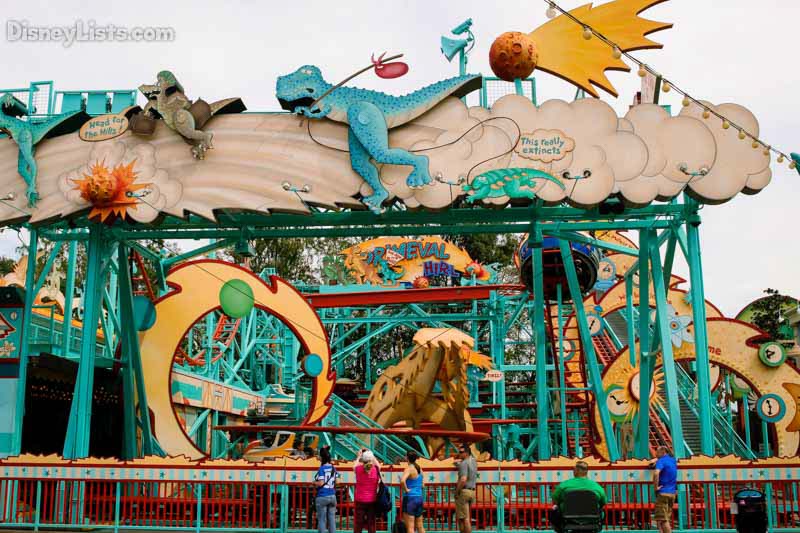 7 – Finding Nemo – The Musical
No spoiler alert needed here because it's in the title – Nemo is found! We find this 40-minute live stage performance/musical to be among the most incredible we've ever seen. The performers are spectacular at what they do. The props are so beautiful and greatly detailed. And it doesn't matter where you sit, you'll have a great view of the show. Kids and adults flock in for this musical and hopefully the popularity will keep drawing in the crowds.
Editor's Note: During the phased reopening of Walt Disney World in 2020, Finding Nemo is temporarily suspended.
8 – Affection Section
We've heard before, it's a Disney theme park – not a zoo. Ok, ok… yes, it may be a Disney theme park, but what good would an Animal Kingdom theme park be without the ability to physically touch some of the animals? This open-air petting section is located in Rafiki's Planet Watch area of the park. It's a great place to unwind with the kids, learn about conservation and animal care, and get hands-on with some sweet animals. We'd miss these sweeties if they ever had to close this attraction.
Once again, we don't believe any of these attractions are endanger of being removed from Animal Kingdom. These favorite attractions are ones we just hope never do go on the extinct list!
For a no obligation, FREE Quote on a Disney vacation package, please contact our travel partner Magical Vacation Planner at 407-442-0227 (407-442-0215 for Spanish). You can also request a FREE quote online by Clicking HERE.