Disney's Hollywood Studios has gone from one of the quietest parks in Walt Disney World to one of the most popular and trending parks to date! New attractions and experiences are just the beginning. Our foodie taste buds are happily falling for the many outstanding eats, treats, and beverages flowing from Disney's Hollywood Studios. Even though this park has some of the very best-themed table service options, we must say we are currently favoring the counter service spots! While we rush from one exciting experience to the next, it's worth a stop at one or more of these best counter service options. Ready, set…let's dig in!
8 – BaseLine Tap House
While technically in the "lounge" category, we still feel the need to include BaseLine Tap House as it's an easy spot to grab and go a refreshing beverage and quick snack that could easily suffice for a small meal. Near the entrance to Star Wars: Galaxy's Edge, you'll want to head to Grand Avenue to find this corner pub that specializes in California beer and wine. We love the simple and modern industrial interior but especially enjoy sitting under the tree canopy on their outdoor terrace. If you plan to find a seat and stay for a while, order the California Cheese and Charcuterie Plate. Otherwise, great grab and go options are the large Bavarian Pretzel and/or the Spiced Almonds. Don't forget you'll want to order one of their many beers, wines, ciders, or cocktails on tap to wash it down. Despite the small size of the Tap House, in our experiences, it's been easy to get in and out with the goodness in hand!
7 – Hollywood Scoops
Ice cream cookie sandwich, anyone? Who needs a regular sandwich when you can have ice cream smashed between two cookies! This counter-service option is a favorite that remains a timeless classic because of the yummy treats being served out the window. Pick from eight ice cream flavors including chocolate, vanilla, orange sherbet, strawberry, cookies 'n cream, mint chocolate chip, butter pecan, or fat-free, no sugar added vanilla. They will then sandwich the ice cream between two cookies so you can be on your way to happiness! If the ice cream cookie sandwich isn't your thing, you can also order Apple Crisp à la Mode, Brownie Sundae, or a simple hand-scooped ice cream cone or cup. And adults – if you're a root beer fan, they also have Hard Root Beer Floats! There is plenty of seating behind this counter service that shares seating with Fairfax Fare, as we mention below.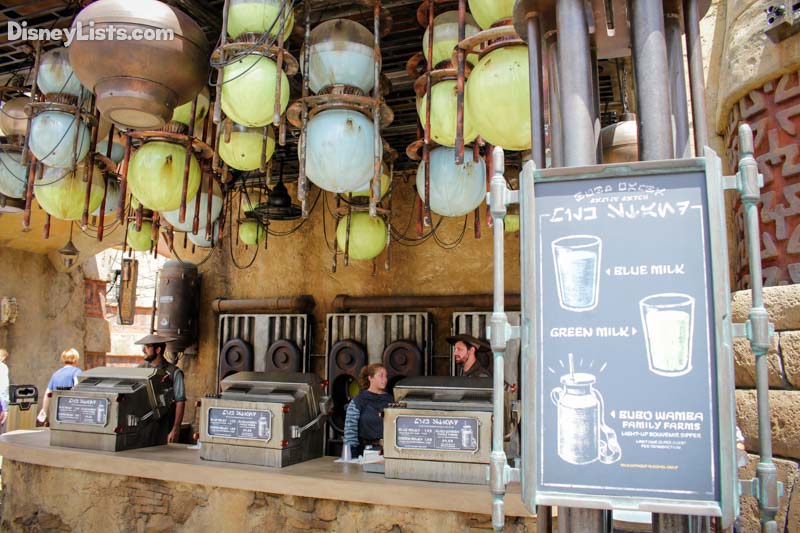 6 – Milk Stand
Oddly enough – yes, a MILK stand makes our best counter service list! Just don't think we're crazy until you've tried it. Why is there a Milk Stand in Star Wars: Galaxy's Edge? Well, Luke Skywalker can be seen enjoying blue milk in Star Wars: Episode IV – A New Hope, and green milk in Star Wars: Episode VIII – The Last Jedi. Simple enough – do you prefer BLUE or GREEN milk? This is one Walt Disney World debate that doesn't seem to have a clear-cut winner. Both milks are served frozen, which makes for a refreshing treat on a hot Disney day. The Blue Milk is a plant-based blend of coconut and rice milks with dragon fruit, pineapple, lime, and watermelon flavors. The Green Milk is also a plant-based blend of coconut and rice milk but has mandarin orange, passion fruit, grapefruit, and orange blossom flavors. You can turn your milk into an adult beverage with Bacardi Rum in the Blue Milk and Corazon Blanco Tequila in the Green Milk. This has truly turned into a must-have when visiting Galaxy's Edge. Even better – you can easily Mobile Order your milk! The Milk Stand now also serves breakfast! Be sure to check the new items out!
5 – Backlot Express
When people think of counter service, they tend to think of burgers and fries. If you're looking for just that, Backlot Express is an excellent option with a couple of different types of burgers. We will say, however, Backlot Express has a lot more than people give it credit for! Not only does it offer great space for finding a table and chair to relax in air-conditioning for a while, but it also has an excellent variety on its' menu. If you don't want the burger and fries, try the plant-based Tatooine Two Suns Hummus or one of their regular menu selections like the Chicken-Garlic Ranch Club, Southwest Salad with Chicken, or Cuban Sandwich. They also typically have a specialty dessert item available that is themed for the season, holiday, or special event currently taking place. Be sure to Mobile Order here for easy pickup.
4 – Ronto Roasters
Known as an "exotic meat stall," this delicious spot in Star Wars: Galaxy's Edge is a great place to snag a bite to eat and keep exploring the foreign land of Batuu. The hanging podracer engine and droid pitmaster look and smell like they are grilling up something good! As you browse the Market, you can Mobile Order your Ronto bites right on your phone before you arrive for ease of pick up. Their Ronto Wrap is where it's at! Simple, yet unique, it's roasted pork, grilled pork sausage with peppercorn sauce and tangy slaw, all wrapped in a pita. If you're early enough for breakfast, they even have a Ronto Morning Wrap with eggs, grilled pork sausage, shredded cheddar, and peppercorn sauce in pita bread. This is an especially great counter-service spot for eating on the go as seating is limited in the popular Galaxy's Edge.
3 – Fairfax Fare
Looking for some Latino specialties? Look no further than Fairfax Fare on Sunset Boulevard! Located at the end of the boulevard next to Hollywood Scoops mentioned above, Fairfax is a great stop after you've had your stomach churned from riding Rock 'n' Roller Coaster and Tower of Terror! Have a seat and rest at one of their many, mostly shaded, outdoor tables. One of our favorite dishes at Fairfax is their 7-Layer Rice Bowl you can get with either chicken or pulled pork. Another bowl option is their plant-based Southwest Bowl. Their Empanadas, Fajita Combo Platters, and Mojo Pulled Pork Sandwich are also yummy! If you're looking for a lighter dish, they have an excellent Fairfax or Veggie Salad. We love this counter service for a change in flavor from American cuisine.
2 – Woody's Lunch Box
The beloved Toy Story films come to life in Toy Story Land! Visitors become toys and get to play along with Andy's toys in a "backyard" full of fun – including a ride on Slinky Dog Dash, a crazy swirl with some cute green aliens on Alien Swirling Saucer, and arcade fun at Toy Story Mania. Lots of fun can make any "toy" hungry! Head on over to Woody's Lunch Box, where you'll find tasty eats and treats! Check out the BBQ Brisket Melt, Smoked Turkey Sandwich, Grilled Three-Cheese Sandwich for a hearty entrée. We're especially fond of their "Totchos," which are a lot like nachos except with potato barrels (aka 'tots') instead of chips! The stars of Woody's Lunch Box, however, are the Box Tarts. These yummy desserts are a rite of passage for this fun-filled land. Wash it all down with some Mystic Portal Punch or Grown-Up's Lemonade. While the outdoor seating here is super cute and colorful to match the theme of the land, seating is limited, so you may want to Mobile Order your food and plan to move elsewhere to eat.
1 – Docking Bay 7 Food and Cargo
"Galactic grub" takes the top of our best counter service options at Disney's Hollywood Studios! Star Wars: Galaxy's Edge isn't just home to two headliner attractions but also knows how to serve up some out-of-this-world grub. The atmosphere is set to feel like an actual working hanger bay with an industrial atmosphere and sounds as you dine. You can either dine inside the hanger or find a seat outside amidst the crumbling walls of the market. The food is anything but what you're used to seeing in a counter-service spot. Instead, you'll find menu items such as the Batuuan Beef Pot Roast, Smoked Kaadu Pork Ribs, Surabat Shrimp & Noodle Salad, Roasted Endorian Chicken Salad, and Endorian Fried Chicken Tip Yip. And theirs more where that came from. Far different than the burgers and fries typically associated with counter service spots, right?! Docking Bay is also a trending place for breakfast with their popular Mustafarian Cinnamon Roll (delish!) and more. When you dine at Docking Bay, you never leave the theme of Galaxy's Edge; instead, it only enhances it!
Alright, now we're hungry! We'll see you at one (or more!) of these delicious counter service spots in Disney's Hollywood Studios.
For a no obligation, FREE Quote on a Disney vacation package, please contact our travel partner Magical Vacation Planner at 407-442-0227 (407-442-0215 for Spanish). You can also request a FREE quote online by Clicking HERE.