As we forge ahead in this time of being at home, many of us are looking for special things to do that bring some magic to our days. We're excited that Disney is creating lots of ways to bring magic into your days at home with #DisneyMagicalMoments. We've already shared some posts such as the Imagineering in a Box, learning how to draw the true original Mickey Mouse, learning about the amazing animals at Disney's Animal Kingdom, and a virtual view of the all-new "Magic Happens" parade at Disneyland. Now there is an opportunity for a free eBook and more online videos. Catch all the details below!
Here are all the details from Disney Cast Member Allison Citino:
Disney Publishing Worldwide authors are joining forces to provide a free eBook, drawing workshops and online videos sharing their favorite excerpts.
For all the young adult fiction fans asking, 'What might have happened if Anna and Elsa never knew each other?', we have a free download of Conceal, Don't Feel: A Twisted Tale by Jen Calonita, available from March 30 through April 4 via Apple Books, Google Play, Amazon, Barnes & Noble and Kobo.
As the future Queen of Arendelle, Princess Elsa's life is full of expectation and responsibility—not to mention, questions. What type of ruler will she be? When will she have to pick a suitor? Elsa as she answers all these questions and more. Check back here to see how you can enjoy more Disney Books for free in the coming weeks.
Emmy Award–winning writer and New York Times best-selling Disney Hyperion author, Mo Willems invites you to join him in the studio for virtual lunchtime doodling sessions, weekdays at 1 pm ET/10 am PT. Recent videos include a DIY board game and lessons on fun drawings to make for a birthday celebration. To draw along live, visit the Kennedy Center website and to binge the entire series, head to the Kennedy Center YouTube channel.
Already downloaded Conceal, Don't Feel, and crave more? Don't miss Twisted Tales on @DisneyBooks Instagram. Authors Liz Braswell, Elizabeth Lim, and Jen Calonita will share passages from several Twisted Tales books – the series that dives into alternate "what-if" scenarios inspired by familiar animated Disney films.
For more content from Disney Publishing Worldwide authors, follow @DisneyBooks on Instagram.
RELATED ARTICLE: Disney Magic at Home: 12 Best Disney World Kitchen Souvenirs
by Mike and Jamie Sylvester
Since our kitchen is decorated with Disney items, we feel like this article was made for us! If you or someone in your family wants a touch of Disney in their kitchen, here is a list of 12 items we feel shares the best Disney World kitchen souvenirs!
1 – Mickey Teapot
Enjoy your hot tea with boiled water from your Mickey Teapot! Our personal favorite is the teapot with the blacktop and Mickey pants at the bottom. The bright red and yellow against the black pops! We especially like the little Mickey head handle. We find ours very useful and super cute in the kitchen.
2 – Various Dish Towel Sets
A perfect gift for yourself – pick out a dish towel set for your kitchen. There are several options of dish towels, including icons from theme parks (Cinderella Castle), characters (Mickey, Minnie, and more), and even specific attractions (Haunted Mansion!).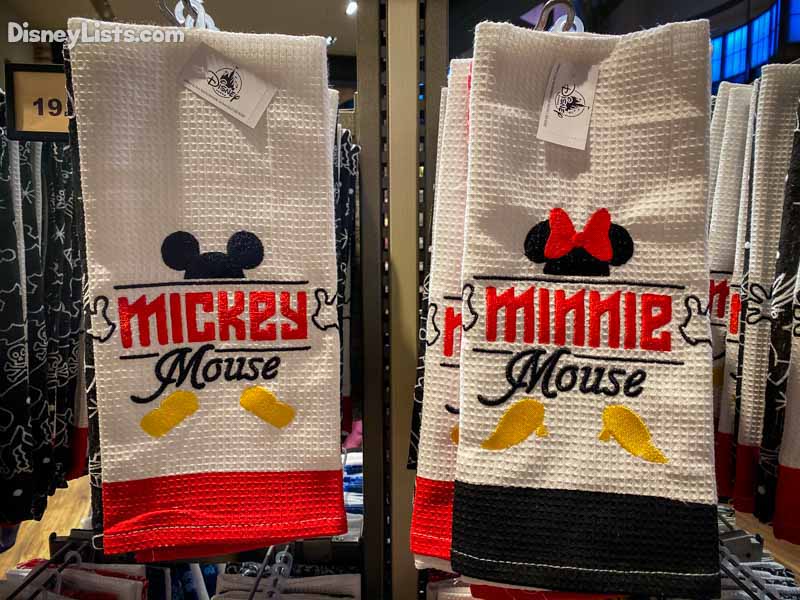 3 – Salt and Pepper Shakers
Super collectible and so many unique options, Disney Salt and Pepper Shakers are among the best souvenirs. Salt and Pepper shakers come as different assortments of Mickey and Minnie, Haunted Mansion selections, and even trash cans from several different specific areas within a park such as Main Street U.S.A. or Adventureland! These are excellent, fun gifts.
4 – Mickey Bamboo Rolling Pin
Disney "rolled out" with several kitchen bamboo accessories that are clean and modern. A great souvenir out of the bamboo mix of items would have to be the bamboo rolling pin that has a Mickey design on the end. It's unique and would look great on display in any kitchen!
5 – Mickey Trivet
There are a few trivets within the parks to choose from. These trivets are perfect to bring out when you have a hot dish when dining with family and or to simply put on display in your kitchen. The aluminum Mickey face is our favorite to go great with stainless steel appliances. We also must mention the flexible trivets such as the Mickey shorts or Mickey ears that are useful and cute!
6 – Minnie or Haunted Mansion Apron
Of course, what good would this list be without mentioning Disney's fantastic aprons! Whether you actually use an apron or hang it in the pantry for display, this will be a cute addition to your Disney kitchen collection. The Minnie Mouse apron you see almost everywhere kitchen items are sold is one of our favorites, but have you seen the Haunted Mansion apron?? It looks just like what the Cast Members wear at the attraction. Creepy, yes, but awesome!
5 – Mickey Mouse Cookie Jar
Who stole the cookies from the cookie jar? Ok, it was me! But who can resist these Mickey Cookie Jars? Whether you prefer the black, red, and yellow Mickey's pants jar or the black and white classy Mickey jar, you'll find they somehow make your cookies taste a little more magical! Better yet, give a cookie jar souvenir as a gift and fill it with treats from the park, and you're sure to make someone's day.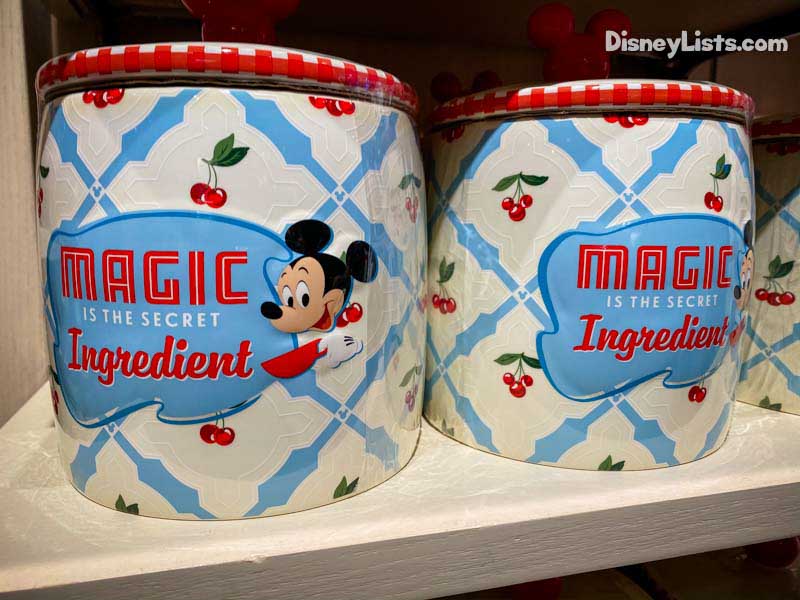 8 – Character Canisters
Our dream here is to collect several types of Disney canisters and have them line our pantry while holding helpful items like flour, sugar, and more! Disney recently came out with new, bright canisters in the colors of some of their most famous characters. Goofy, Donald, Mickey, Minnie, Chip 'n' Dale – so many to collect. We just love how bright they are!
9 – Wine Bottle Stoppers / Bottle Openers
Disney's wine bottle stoppers and/or bottle openers are great souvenirs that won't break the bank! We love the variety available in the parks and the price tag makes it easy to purchase as a gift. Mickey ears, Disney icons, Haunted Mansion gargoyles – definitely unique and a fun conversation piece when sharing a bottle of wine with friends.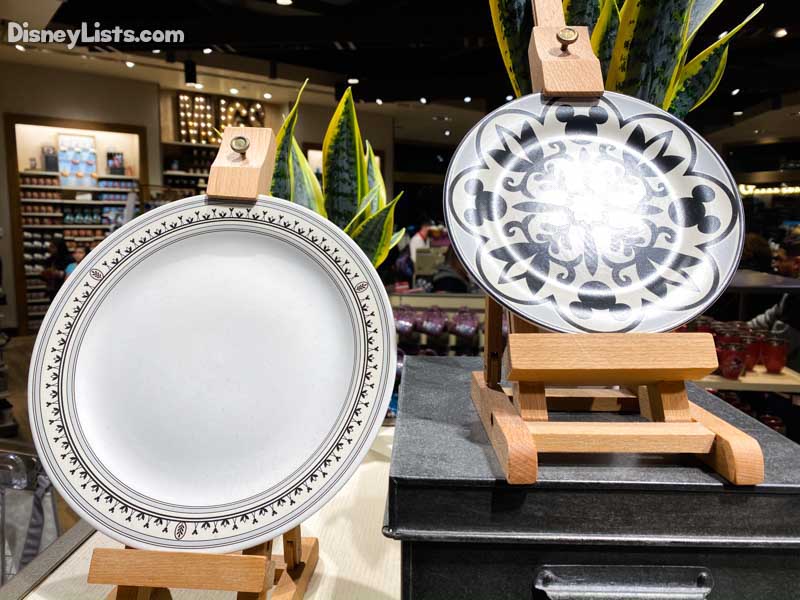 10 – Serving Sets / Trays
Another Disney kitchen accessory is the colorful yet, sophisticated serving sets and trays. These little plates and bowls are perfect for holding appetizers, snacks, desserts – you name it! Different styles are available but the ones we see the most are of Magic Kingdom park or have Mickey's on them in black against an all-white dish. They are beautiful!
11 – Measuring Utensils
Super cute, lightweight, durable – these are a must-have in a Disney kitchen. There are few different types of Disney measuring utensils available at the moment including Mickey's hands, variety of characters, and Minnie Mouse themed. Not only are these great for your personal use in the kitchen, but kids love them too! Our daughter just loves baking with a little help from these fun souvenirs!
12 – Mugs and Shot Glasses
Our list wouldn't be a true Disney kitchen list if we didn't mention the mugs and shot glasses! Chances are if you've been in any of Disney's gift shops either in resorts, parks, or at Disney Springs, you've seen a wall of mugs and/or shot glasses. Typically, an overwhelming display – the options are endless and it's tempting to try to collect them all. Fun and bright or simple and classy, you'll find a mug or shot glass for just about everyone in your family making them excellent souvenirs.
We'd love to hear what your favorite/best Disney kitchen souvenir is!
For a no obligation, FREE Quote on a Disney vacation package, please contact our travel partner Magical Vacation Planner at 407-442-0227 (407-442-0215 for Spanish). You can also request a FREE quote online by Clicking HERE.