A Walt Disney World vacation is not cheap, and many families assume that the trip of a lifetime is out of reach because of the cost. That does not need to be the case. Here are ten tips to help you save money on a Disney World holiday. You just might be surprised by how affordable your dream vacation can be.
10 – Bundle
You can often save quite a bit of money by bundling together several different needs. You might pay less for airfare, hotel, and car rental if you buy them together than you would pay if you purchase each separately. You can also bundle together the things that you're looking for at Disney World. You can purchase a Magic Your Way Package that includes your room, theme park tickets, and other services that you will want while you're there. Make sure you don't order things that you don't really need, even if it seems like a good deal. It is possible to add too much to your bundle or package.
9 – Wait for Free Dining
Editor's Note: Disney Dining Plans are temporarily suspended. However, Disney has confirmed that they will return for vacation packages beginning January 9, 2024. Those packages are now on sale.
The Disney Dining Plan allows guests who stay at a Disney World Resort hotel a chance to include their meals in their package. Sometimes, the Quick Service Plan is included for free. The plan will give each member of your party two counter-service meals and two snacks per day. There are no set dates, but traditionally the free Disney Dining Plan is offered in the fall, and it is announced several months in advance. There are plenty of requirements that need to be met for free dining, and Disney could discontinue the program at any time. Free dining is so popular that many families plan their vacations around the offer.
8 – Buy One Annual Pass
Annual Passes are not cheap, but they come with lots of benefits. For some families, purchasing an Annual Pass for one member makes sense, and then everyone can take advantage of it. Some of the benefits are free theme park parking, merchandise discounts, discounted dining at some restaurants (mostly outside of the parks), special activities savings, and more. The passholder needs to be present to use the benefits. The amount saved could be worth the price. Read our article 11 Reasons You, Yes You, Should Get an Annual Pass.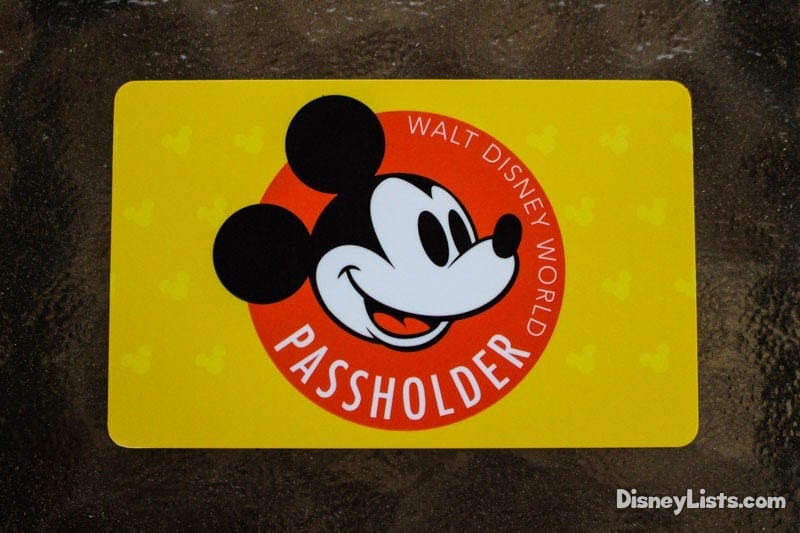 7 – Use a Travel Agent
Don't assume that doing it all yourself will save money or that a travel agent will cost you more money (100% untrue). Travel agents are paid by Disney, not you. Booking your trip through a travel agent can actually help you to save. Travel agents know where to find deals and the current Disney sales and will pass those savings along to you. They know the best times of year to travel when to book the flight, and how to pay less for the hotel. He or she will know many tricks of the trade that the general public won't know about. Best of all, they get paid by Disney, so your price is the same if you book with them or Disney directly (and then someone else does all the work)!
We highly recommend booking with an Authorized Disney Vacation Planner to ensure you are well taken care of and get all the discounts available to you. We personally book all our Disney trips (and we do Disney a lot) with Magical Vacation Planners because they are the best, and we trust them. For more details and help booking your vacation, call 407-442-0227. You can also get a no-obligation, FREE vacation quote by clicking here. Their services are free to you, and they can answer any questions you may have.
6 – Skip Park Hopper
Park Hopper is a great option that you can add to your ticket. With it, you can enter more than one park per day while you're at Walt Disney World, after 2:00 p.m., and after you've entered the park where you have a park reservation. The problem with Park Hopper is that it is expensive, especially if you're traveling with a large group. It can add hundreds of dollars to your ticket costs. Don't purchase Park Hopper unless you're sure you will use it. If you don't buy it and realize you want it, you can always add it at Walt Disney World.
5 – Limit Souvenirs
It is all too easy to overspend on souvenirs. You might not even think twice about pulling out your credit card or swiping your MagicBand because you're on vacation. When you return home, you don't want to be hit with a huge credit card bill, so set a souvenir budget. Limit each family member to one T-shirt per park and one set of Mickey Ears. One great way to ensure you don't overspend is to buy Disney Gift Cards and use those for souvenirs. Give one card to each child, or use one per day. Also, buy your souvenirs at the end of the day instead of making impulse buys. You'll be able to control your spending better and end up with the souvenirs you really want.
4 – Bring in Snacks
You are allowed to bring snacks into the parks with you, so do it! Granola bars, crackers, trail mix, apples, and similar items are easy to carry and will help keep hunger away. Peanut butter sandwiches or bagels can replace a meal. Remember to only pack things that will travel well in the Florida heat. Instead of buying drinks, bring in water bottles and keep refilling them, or ask for a free cup of ice water at a quick-service restaurant. It is possible to keep your food budget under control with a little advance planning.
3 – Stay off Property
There are thousands of hotel rooms in Orlando and Kissimmee that cost less than those at Walt Disney World. For many people, staying off property makes good financial sense. You might find a hotel with free breakfast, which is one less meal that you'll have to pay for each day. Many of the hotels that are close to Disney have shuttles to the parks, so you won't have to pay for parking. Off property, hotels need to fill their rooms, so ask about discounts when you book. Also, ask about any other fees that might not be part of the initial price that you're quoted. You don't want to be surprised by a resort fee or anything similar. Read our article 7 Reasons to Stay Off Property.
2 – Stay on Property
There are benefits to staying at a Walt Disney World Resort hotel, such as Early Theme Park entry and free theme park parking. Always ask about discounts when booking your room. Staying on property doesn't have to be too expensive. Read our article 10 Reasons You Need to Stay on Property.
1 – Travel off Season
The time of year that you visit Central Florida will have a huge impact on how much your vacation will cost. A good rule of thumb to follow is that if schools are out, the price will be up. Mid-June through mid-August are some of the busiest weeks of the year, so your room (on or off property) will cost more. The holidays can be insane as well. Spring Break weeks, especially the weeks before and after Easter, are usually packed, and three-day weekends are also popular. The more people in the parks, the more you will pay for your vacation. If you can avoid the peak times, you'll pay less. It's as simple as that.
For a no obligation, FREE Quote on a Disney vacation package, please contact our travel partner Magical Vacation Planner at 407-442-0227 (407-442-0215 for Spanish). You can also request a FREE quote online by Clicking HERE.