It's finally time for the Disney trip of your dreams! Are you one of those that pulls out the suitcases and starts to feel overwhelmed? No worries – we have you covered! Here are 7 categories to key in on when deciding what to bring to Disney.
1 – Access Info
Staying at Disney Resort? You may have received your MagicBands via mail, so keep these on the top of your packing list. Hopefully, you've had a chance to set up a MyDisneyExperience account. By doing so, you'll have all of your resort and dinner confirmation numbers on hand, plus your FastPass selections to keep those times in check. Flying? Don't forget about your boarding passes and Magical Express information. Your ID, credit card, cash, and any other confirmation numbers or hard tickets may be needed when you reach Disney.
2 – Prep for the Weather
"…Summer, and sun, and all things hot…" – Olaf must have been talking about Disney World in his "In Summer" song! When packing for Florida, there are few must have weather items we suggest you add to your packing list. Sunscreen, hats, lip balm with sunscreen, rain gear, and sunglasses for everyone in your family will save you a lot of grief in the long run. Who knows, maybe you'll have one of those rare Florida cold fronts blow through – you'll still want these items as the Florida weather is very unpredictable!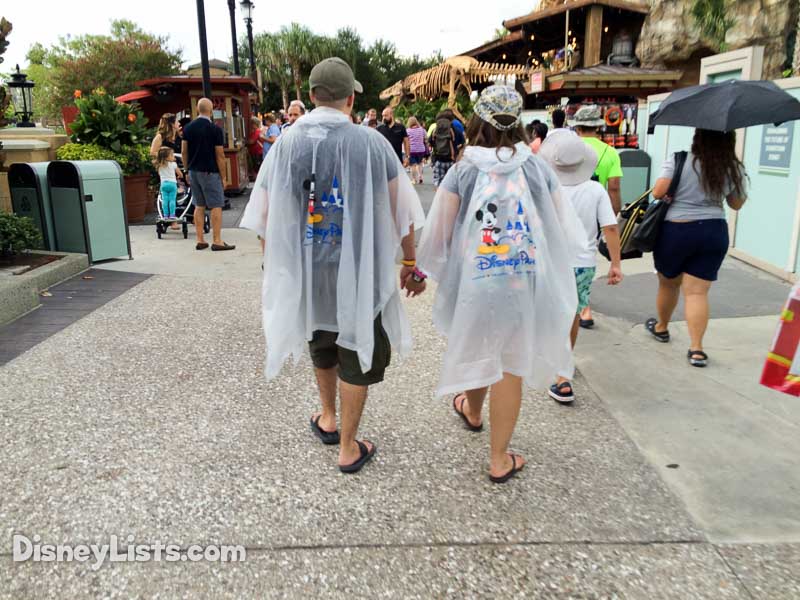 3 – Light and Comfy
Get that Fitbit charged because you will definitely be doing plenty of walking at Disney! Be sure to pack great walking shoes and/or comfortable sandals. Light and comfortable clothing for the family is critical. Plus, don't forget to pack the swimsuit and other swim gear as you'll certainly want enjoy the incredible Disney resort pools! Disney isn't a fashion show so focus on comfort, not on looks.
4 – Disney Merchandise Items
Well, of course, don't forget to bring your beloved Disney items! Disney t-shirts, backpacks, jewelry, hats, Mickey ears, and more! Chances are you have some Disney gear stashed away somewhere to bring with you. If you haven't had a chance to purchase those Disney items yet, just wait till you step foot in the parks! Tip – planning on staying for a night parade or shop? Head to the dollar store for some glow sticks/necklaces. Instead of purchasing these fun items for the kids or for yourself at Disney, you can save a money by just bringing them with you from home!
5 – Face Coverings
During the phased reopening of Walt Disney World, all guests 2 years of age and older, along with cast members, are required to wear an appropriate face covering while visiting the theme parks. They must be worn over the nose and mouth at all times, except when eating and drinking while dining. We recommend bringing extra to switch them out throughout the day, especially if one gets wet from rain or a water ride.
6 – Collectors' Items
We love the variety of collector items available at Disney. Don't forget your pin trading/lanyard, pressed pennies, and/or autograph book/pen! Whatever you collect, you'll want to bring your collectibles along with you so you can add to your collection or trade as much as you'd like. Haven't started a Disney collection just yet? No worries – you'll have plenty of chances on your vacation! Tip – we suggest if you are interested in starting a pin trading collection, check out a starter kit on Amazon. This will give you trading options as soon as you arrive, plus you'll save a bunch of money on purchasing pins.
7 – Distractions
Attention Parents! This one is especially for those folks with children. Do yourself a huge favor and pack some small and simple distractions for your kids. Maybe this includes small action figures, a Rubik's Cube, fun crayons/markers… really any handheld item that will distract your kids while you wait in lines, on the bus, while you dine or just for whenever! Snacks and water bottles are also super helpful. Someone gave us this tip on our first Disney trip and it was a life saver! We also suggest a large towel and clothes pins to place over your child's stroller to minimize distractions so they can nap!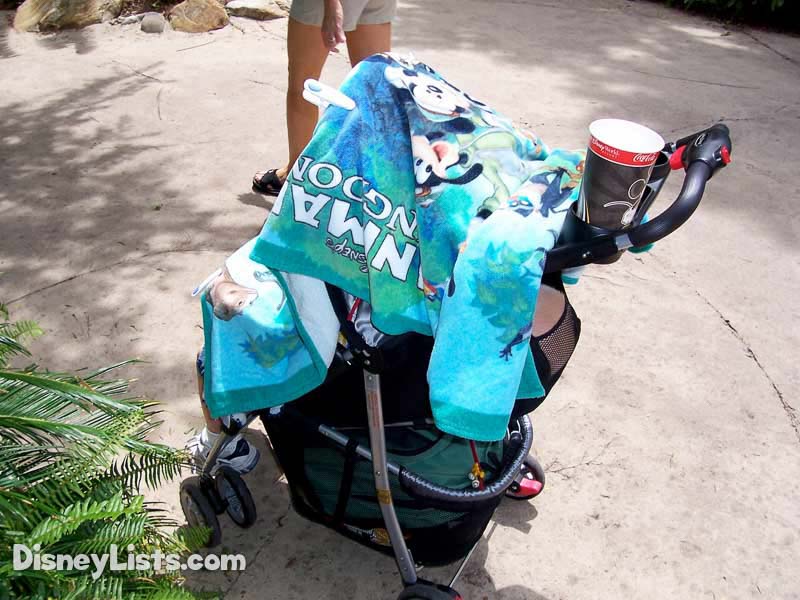 8 – The Extras
It seems like some of the items that get left off the packing list are the ones we miss the most when at Disney. Here are a few extra items we suggest you double check your Disney packing list for that we have found helpful to have: Medicines, cell charger and power pack/portable charge, watch, travel wipes/hand sanitizer, travel Kleenex packs, and extra batteries. These are just a few extra items that we find are easy to forget but are some of the most valuable in addition to the items we listed above.
There is no need to stress when packing for your Disney trip! If there is anything you happen to forget, Disney has sundry, merchandise, food items and more available at their parks and resorts. Plus, Disney is close to areas such as pharmacies and department/grocery stores. Make your list, check it twice, then get ready for a magical experience!
For a no obligation, FREE Quote on a Disney vacation package, please contact our travel partner Magical Vacation Planner at 407-442-0227 (407-442-0215 for Spanish). You can also request a FREE quote online by Clicking HERE.