Grab that leather jacket, grease up that hair-do, and get ready to twirl in that poodle skirt… now you'll begin to feel like you are ready to dine at 50's Prime Time Café located in Hollywood Studio. Here are 6 reasons why we love 50's Prime Time Café!
1 – Fantastic Location
The location of 50's Prime Time Café is our favorite among the Hollywood Studios restaurants. Just steps from Echo Lake and somewhat out of the way of the hustle and bustle, 50's Prime Time Café makes it easy for guests to swing in and swing out of the restaurant. We also like to use 50's Prime Time as a great meet up place, as it is just off the main path – Hollywood Boulevard.
2 – Roll Back Time
Are you ready to roll back time? The articles of clothing we mentioned above most definitely are not required to dine at 50's Prime Time, but they would however match the atmosphere of the restaurant! The vintage 50's theme is set to make guests feel as if they have been transformed back to their Mama's kitchen. Checkered floors and old school Formica tables and vinyl chairs set the stage. 50's Prime Time even has that Mama style decoration on the obnoxious wallpapered wall – just like the ones you wish your Grandmother would take down but they have been up there forever. Plus, to top it off, the retro TVs display old prime-time 1955 television shows such as "Leave It to Beaver" and "Topper" – not to mention the display of the initial opening of Disneyland theme park in 1955. We love the vibe at 50's Prime Time… it's simply "too cool for school"!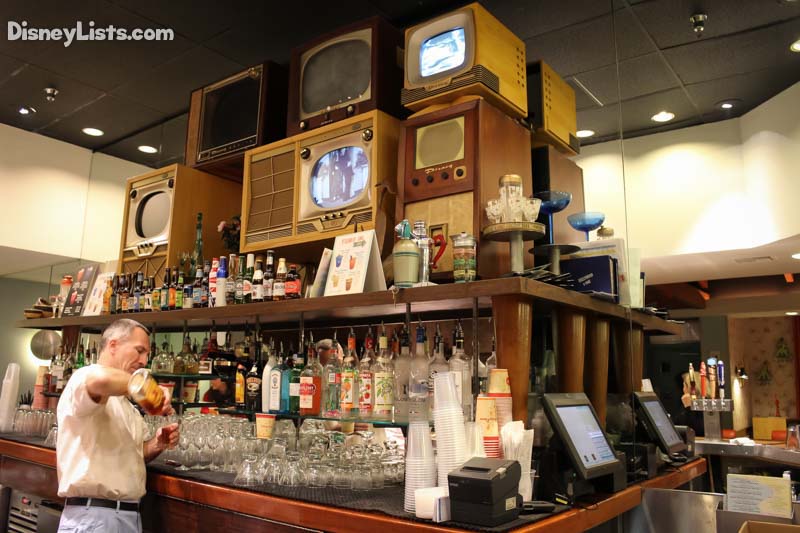 3 – Mind Your Manners!
You've been warned, so don't act like you didn't know! Set the table, keep your elbows off it, and eat your vegetables. If you don't mind your manners, these highly trained Cast Member servers known as Mama, Papa, Auntie, Uncle, or Cousin might just have to give you a talking to. Need an example? One of the exceptional Cast Member servers, known as "Mama", noticed that my brother did not eat his green beans but instead pushed them under his napkin hoping they would go unnoticed. "Mama" bused our table as usual, but in just a short time came back with a surprise dessert for my brother! He was so excited to see his whipped cream filled plate with a cherry and sprinkles on top. But what do you suppose was under the whipped cream? Green beans! Of course, he didn't have to eat them, but it was all part of the fun.
4 – Home Cooked Meals
Mama might want you to mind your manners, but it's totally worth it when you take a bite of the delicious home cooked American food at 50's Prime Time. For an appetizer, we recommend a batch of the Beer-Battered Onion Rings or Fried Herb and Garlic Cheese. Our favorite entrees include Grandma's Chicken Pot Pie, Cousin Ann's Traditional Meatloaf, and Aunt Liz's Golden Fried Chicken. Or try a sampling of some excellent entrée items with the Sampling of Mom's Favorite Recipes. We really haven't tried anything at 50's Prime Time that we haven't enjoyed. If you've visited before, be aware that the lunch menu that used to include a few yummy sandwich options has been changed slightly to match the dinner menu. There is no shortage of great kids' meals with macaroni and cheese, chicken nuggets, chicken pot pie, and more.
5 – Diner Style Desserts
You can't go wrong when trying to select a dessert for 50's Prime Time Café's dessert menu. Dad's Brownie Sundae is top of the dessert list with a chocolate brownie with vanilla ice cream, hot fudge, caramel sauce, whipped cream, and toppings. We especially love the 50's Pineapple Upside Down Cake, Peanut Butter and Jelly Milk Shake, and Mom's Favorite Chocolate-Peanut Butter Layers Cake. We purposely try not to fill up on our meal so we can enjoy these tasty treats!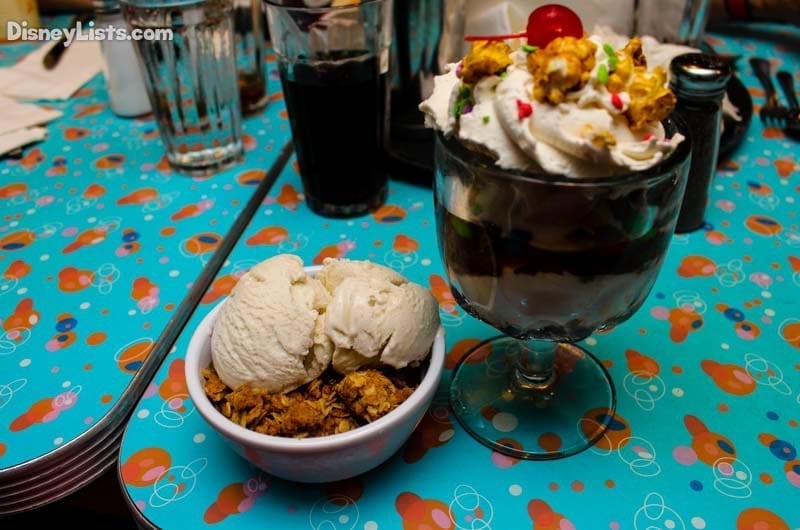 6 – Tune-In Lounge
What would a Mama's kitchen be without a section of Dad's favorite drinks around? Known as a retro hot spot, the décor in the Tune-In Lounge matches that of the restaurant side but with a fancy twist. Just like Mama's house, all the "cool" furniture is saved for the adult area with high stools to pull up at the bar and retro couches to hang out on. Guests can order off of the restaurant menu or select a beverage. Our favorites are Dad's Electric Lemonade and the Ultimate Long Island Iced Tea. Several wine and beer selections are also available.
Have you had a chance to experience a meal at 50's Prime Time Café? If so, we'd love to hear your stories! If you haven't had a chance just yet, but sure to put this restaurant on your list for reservations on your next trip to Hollywood Studios.
For a no obligation, FREE Quote on a Disney vacation package, please contact our travel partner Magical Vacation Planner at 407-442-0227 (407-442-0215 for Spanish). You can also request a FREE quote online by Clicking HERE.