Planning
6 Things You Need to Know About Wheelchair and ECV Rentals at Disney World
Don't let mobility challenges hold you back from enjoying the most magical place on earth! Disney World has you covered with rentals for both wheelchairs and ECVs (Electric Conveyance Vehicles, also known as a "Scooter") available. As you begin to plan your vacation, however, here are a few things you need to know about renting a wheelchair or ECV at Disney World.
1 – Where Renting is Available
Guests can rent wheelchairs from all four Disney World theme parks (Magic Kingdom, Epcot, Hollywood Studios, and Animal Kingdom), the two water parks (Typhoon Lagoon and Blizzard Beach), as well as at Disney Springs. ECV rentals are available at all four theme parks and at Disney Springs but are not available at the water parks. Wheelchair/ECV rental areas are located at the front of each park, so you will have the ability to rent and be on your way! If you require a wheelchair/EVC rental while staying at a Disney Resort outside of the locations mentioned above, Disney recommends looking into an outside vendor such as Buena Vista Scooter Rentals.
2 – Daily vs. Length of Stay
For wheelchair rentals, Disney offers two options, which are Daily Rentals and Length of Stay Rentals. Unfortunately, for ECV rentals, only daily rentals are available. Here is a breakdown of the two wheelchair rental options below:
Daily Rentals

 are to be used for one day only. Guests pay a one-day fee.

Length of Stay Rentals

 are not always available during the peak season and are only transferrable between Disney theme parks. These Length of Stay rentals do, however, save money and time by purchasing one rental ticket for the entire length you plan to visit Disney World theme parks.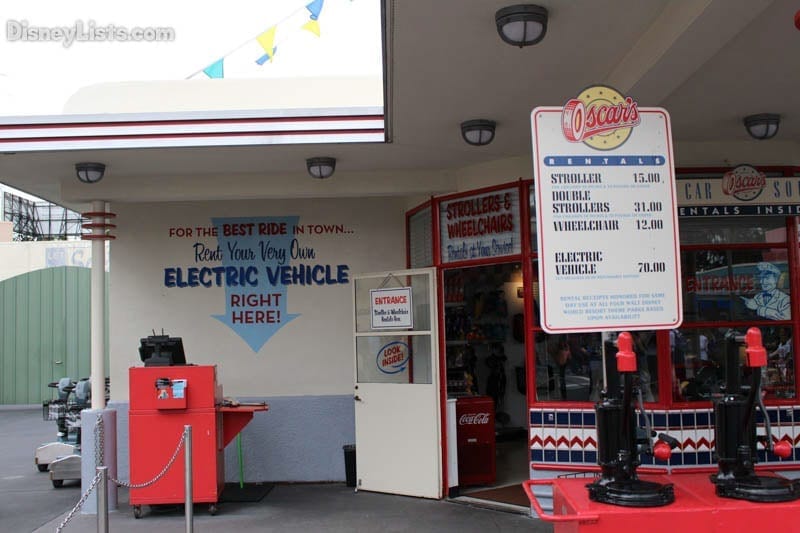 3 – How Much to Budget
Be sure to put the line item of wheelchair/ECV rental on that budget spreadsheet so you'll have no surprises upon arrival to the parks. Here's a rundown of prices for both wheelchairs and ECVs as of October 016:
Wheelchairs – A refundable $100 deposit is required at both the water parks and at Disney Springs.

Daily Rentals are both theme parks, water parks, and Disney Springs – $12
Length of Stay (multi-day) – $10 per day
ECVs

Theme Parks: $70 daily (includes $20 refundable deposit)
Disney Springs: $50 (plus $100 refundable deposit)
4 – First-Come, First-Serve
As much as we like to plan ahead, guests are not able to make advanced reservations for wheelchairs and ECVs in the theme parks, water parks, or at Disney Springs. Disney World follows the first-come, first-serve basis, so we recommend planning to arrive early to rent an ECV or wheelchair. There are several vehicles available, but during peak season, particularly, Disney can run out of ECVs and wheelchairs to rent. Vehicles can be held if guests need to leave the park but still plan to return to the park on the same day. The only way to ensure that you will have an ECV or wheelchair is to make a reservation for one with an outside vendor such as Buena Vista Scooter Rentals, among many other companies that serve the Disney World area.
5 – Park Hopping
ECVs and wheelchair rentals are not to be removed from the park they were rented from. Rentals are made easy, however, when park hopping between Disney's theme parks. Let's say you've spent the morning at Magic Kingdom and now decide you would like to head over to Epcot for the evening. Simply return your ECV or wheelchair as you exit the park and be sure you've held on to your rental receipt. Upon arrival to Epcot, show the Epcot rental location your receipt, and you will be on your way with a vehicle! You'll pay one fee per day – not per park, so park hop until your heart is content. Unfortunately, if the park you hop to is all out of wheelchairs/ECVs, you may be without a form of transportation. Keep in mind that water parks and Disney Springs are slightly different from theme parks in that your deposit will be returned when you exit the park regardless of if you would like to park hop or not. If mobility assistance is needed continuously, such as when traveling from one park to the other – you'll likely want to explore the options of an outside vendor (Buena Vista Scooter Rentals, for example) so you will have your ECV or wheelchair with you always.
6 – Good to Know
Whether you decide to rent a wheelchair or an ECV, you must be at least 18-years-old and have a photo ID. The maximum weight for a wheelchair is 350 pounds and/or 450 pounds for an ECV. Of course, when renting a wheelchair or ECV, understand that it is only to be used by one person at a time (sorry – no riding with your honey!). Lastly, if you have a wheelchair or ECV at home you would like to bring with you, you are of course welcome to do so.
We hope this has given you a better understanding of what you need to know about wheelchair and ECV rentals at Disney World. Now go and have the most spectacular vacation ever!
For a no obligation, FREE Quote on a Disney vacation package, please contact our travel partner Magical Vacation Planner at 407-442-0227 (407-442-0215 for Spanish). You can also request a FREE quote online by Clicking HERE.