Your baby isn't so much a baby anymore! As our children grow, an adjustment in what they like and dislike seems to change on a daily basis. So, as you plan your incredible trip to Disney, here are 6 tips and tricks for traveling with children between the ages of 5-12 at Walt Disney World.
1 – Include Them in the Planning
Our top tip and what we find the most important to be sure your 5-12-year-old gets the most out of Disney is to simply include them in the planning of your trip! As adults, it's easy to rush through the planning process as we add our preferences, but we tend to forget to ask our child what he or she would like. Our daughter is almost 8 now and absolutely loves being included in our Disney trip planning. She likes all parts of the planning process – from picking out which park to go to on which day, looking over restaurants and making selections, and deciding which FastPasses to choose. Of course, not every decision she makes comes to fruition because she would have every day packed with wild excitement and no stopping! She does make some great selections, and most importantly, she's heard.
2 – Let Them Be a Kid
Editor's Note: During the phased reopening of Walt Disney World, FastPass and character greetings are temporarily suspended. Chef Mickey's, Topolino's Terrace's Breakfast a la Art, Minnie's Seasonal Dine at Hollywood & Vine, and Garden Grill offer modified character dining experiences. 
While, yes, your child may be ready for those big attractions – that doesn't mean they don't want to do all the "kid" stuff still! We've seen parents not make FastPass selections for characters or not bother with character dining options because they think their child is coming to that age when they won't enjoy the characters. This is where it's so important to include your child in the planning process. Yes, in some cases, your child may not have an interest in the characters, but in others, these moments could be the highlight of their trip! We say let them be a kid and hug all the characters they want. We pretend like we just go along with them, but really we can't wait to hug the characters either!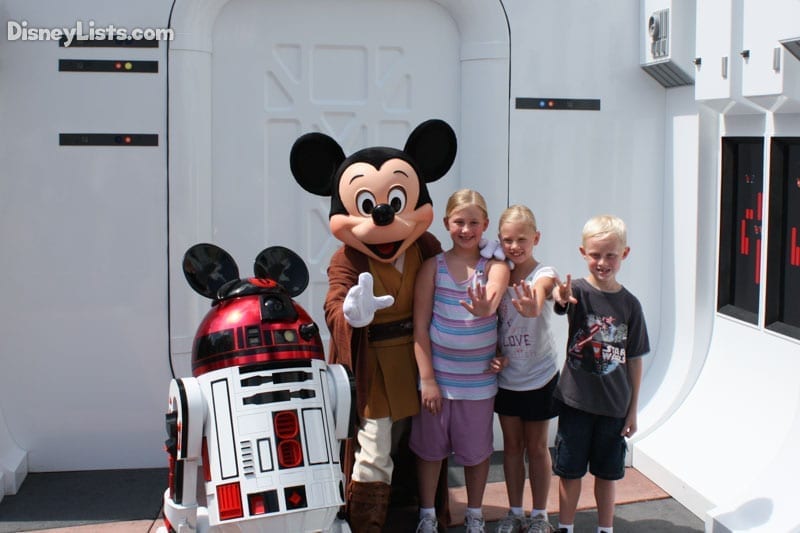 3 – Don't Underestimate Them
This was a parent fail on our end, so take it from us! In our minds, our daughter is still a wee little one, and in her mind, she's on her way to college! We were sure rides such as Space Mountain at Magic Kingdom and Tower of Terror at Hollywood Studios would simply be too much for her, even though she met the height requirement. We were wrong! Our little lady rides every thrill ride possible with sheer excitement and wishes to do it over and over again. We completely underestimated her, and if she hadn't spoken up, she may not have experienced some of these awesome attractions. On the flip side, we have a family that has a 10-year-old that prefers not to ride any sort of wild and crazy attraction. As parents, we like to say, "oh, you're fine – you'll get over it!" and force them on the ride. (Enter loud, negative buzzer sound here). You've worked so hard to make this Disney trip magical, don't force them.
4 – Explore the Adult Menu
Some kids, especially those closer to 12-years-old, are likely ready to start ordering off the adult menu. This is such an exciting time for kids as they get to check out all the same food options the adults have! Go ahead and let them browse the menus before your visit once you've selected your dining location. While they might have a larger appetite, they may miss the doodling and coloring that comes along with a kid's menu. One trick is to either ask for a kid's menu so they can color at the restaurants or bring your own crayons and something to color on.
5 – Stop to Read
As you pass by different areas at Disney World, you may come across quotes or little write-ups that we adults read as we breeze by. For example, when Disney has construction taking place, they put up walls and have neat quotes from Walt. Now that your child is reading, you may want to give them a moment to read these signs if they seem interested. Another example is an attraction, such as Nemo and Friends, that has an awesome aquarium to explore with lots of different plaques and signs to read. This is something simple, but try not to rush by. They may even learn something they didn't know!
 6 – Quick Tricks and Tips
Here are a few more quick tricks and tips to help your 5-12-year-old get the most out of your Disney trip! First, don't forget to schedule swim time. Kids this age love time to swim! Another suggestion is to take a look at pin trading. This is especially great to socialize and maybe get that shy child greeting others in a simple yet fun way! We also recommend you limit screen time. It's crazy to think that children ages 5-12 are already hooked on phones and gaming devices, but many are. Whether you typically offer your phone at a restaurant or they have one of their own, we recommend you put them away whenever possible. Even when waiting in line, we understand the desire to distract your child, but at this age, this time can be a spectacular time to talk about all their favorite things about Disney, what they have and haven't enjoyed so far, and what's to come. Don't miss these moments to spend time conversing with your not so little one. Lastly, try to surprise them with something spontaneous! Maybe they mentioned something they would like to do while you were planning together. Surprise them with a great memory!
Do you have a young one between the ages of 5-12? We'd love to hear what tricks and tips work for your child at Disney!
For a no obligation, FREE Quote on a Disney vacation package, please contact our travel partner Magical Vacation Planner at 407-442-0227 (407-442-0215 for Spanish). You can also request a FREE quote online by Clicking HERE.