Everyday at Disney World is a celebration. Some days are just more of a celebration than others. When it comes to making you feel special on your special day, Disney World pulls out all the stops. That's why there's no better place in the world to celebrate than the Most Magical Place on Earth. In the long list of celebrations, the one every single person has in common is a birthday. We think every guest should celebrate their birthday at least once at Disney World. If you're fortunate enough to be at Disney World on or close to your birthday (we define close as being within 364 days either way), then plan to make one day of your visit a celebration of you. Here are our 7 favorite ways to make a big deal about birthdays at Disney World.
7 – Get a Birthday Hat
Where else in the world is it not only socially acceptable but totally encouraged to wear strange, loud hats? Disney sells fun birthday hats for those daring to stand out even more on their special day. Consider also "Happy Birthday" Mickey ears!
6 – Splurge with a Disney Floral Birthday Package
Unknown to many guests is the ability to purchase special floral, balloon, and gift packages from Disney Floral and Gifts. There are over 50 different options listed under Birthdays. Some are as simple as a cake and balloons, but others are more elaborate. There are choices for any budget. The ultimate splurge is the "Mickey and Friends Ultimate Birthday Wish" priced at $550!
5 – Enjoy a Special Treat or Experience
Editor's Note: During the phased reopening of Walt Disney World, many of the items listed below are temporarily unavailable.
While you may not need an excuse, a Birthday celebration may be the perfect time to splurge on a special treat or Disney experience. There are so many options here. You could do a backstage tour, rent a boat, become a pirate at The Pirates League, become a princess at Bibbidi Bobbidi Boutique, see Cirque du Soleil at Disney Springs, etc. Adults might enjoy a round of golf or a trip to one of Disney's Spa's for a massage or salon service. It's your birthday. Treat yourself right!
4 – Have a Special Birthday Meal
Editor's Note: During the phased reopening of Walt Disney World, the reservation window has been reduced to sixty days. Chef Mickey's, Topolino's Terrace's Breakfast a la Art, Garden Grill, Tusker House, and Hollywood & Vine offer a modified character dining experience.
With the wide variety of dining choices at Disney, you'll definitely want to visit a table service restaurant for a special birthday meal. Disney has a way to make everyone feel magical when it's your birthday. Adults may want to splurge on a nice dinner at one of Disney's signature restaurants. Kids may want to have a character meal so the characters can wish them a happy birthday! Simply let Disney know while making the dining reservation and upon checking in that you have a guest in your party celebrating a birthday.
While not guaranteed, most restaurants will bring out some type of dessert in the end for the guest celebrating a birthday. We've seen cupcakes, ice cream, etc. If not, you can order a cake for the end of the meal (see tip #3). Cast members have timed it for us so that a character is present while we sing "Happy Birthday" to our child during a character meal. We've also received birthday cards from the characters. At Chef de France, my sister was serenaded by four French young men who sang to her. Again, while not guaranteed, you can usually expect some type of Disney magic at your birthday meal!
Be sure to make your advance dining reservations well ahead of time. If you are dining at Chef Mickey's or Cinderella's Royal Table, you'll want to make your reservations 180 days out from the day you check-in or 180 days out from the meal if you are not staying on Disney property. Call 407-WDW-Dine or make your dining reservations online. You don't want to miss out on a birthday meal because you didn't make dining reservations!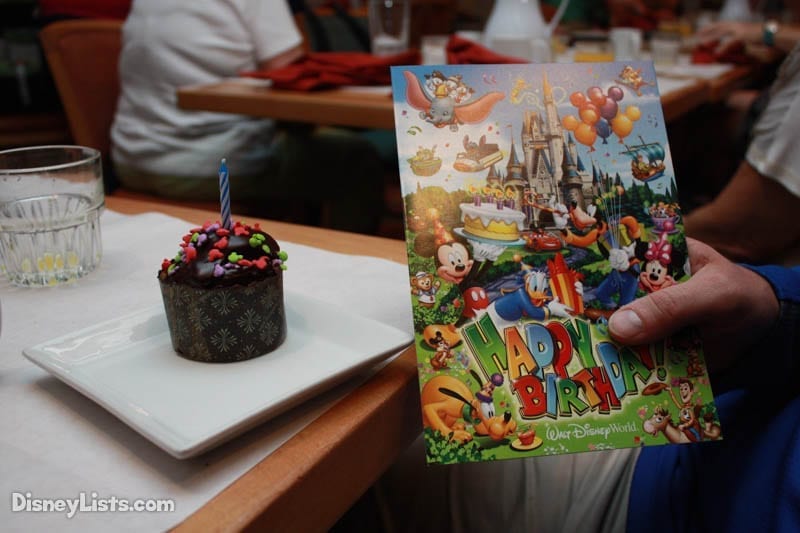 3 – Let Them Eat Cake
What would a birthday celebration be without a cake! Fortunately, you don't need to go off property to purchase a birthday cake. You have a couple of options here. First, if you would like a small cake at the end of your meal (see tip #4), then you can order your 6 inch "Celebrate Today" cake upon your arrival at most table service restaurants. If you would like a more elaborate or personalized cake, you can choose from a variety of cakes and shapes that will be customized for your special occasion. Note that 72-hour advance notice is required and that these cakes are available at most table-service restaurants. To order any custom bakery cake, call Disney at 407-827-2253. Certain cakes can be delivered to your room through Disney Floral and Gifts (see tip #6).
Disney World is also famous for incredibly elaborate cupcakes. Found throughout the parks, resorts, and Disney Springs, if a gigantic cupcake is your thing you won't be disappointed.
2 – Get a Birthday Wish from a Disney Character
Disney Resort guests can receive a Birthday wish from a Disney character! Children especially will love this, and even adults can feel extra special when they receive a phone call and birthday card from Mickey Mouse or other Disney characters! Simply let the cast member at the front desk know that you have a birthday celebration in your party and what time you would like the call to be made.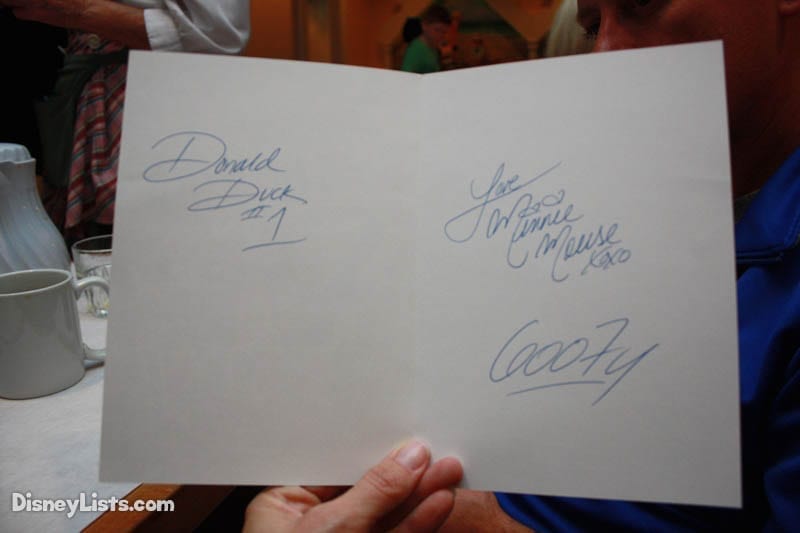 1 – Get a Birthday Button
To start your birthday celebration, be sure to pick up a "Happy Birthday" button. This is a birthday must! These are free to guests and can be found at a variety of locations. Pins can be found at any resort concierge, guest relations at Disney Springs and the parks, and most gift shops. Don't feel like you can only wear your pin on your special day. If we are going on a trip to celebrate a family member's birthday, we have them wear the pin all week. It's fun to receive, "Happy Birthday" from cast members and guests alike.
For a no obligation, FREE Quote on a Disney vacation package, please contact our travel partner Magical Vacation Planner at 407-442-0227 (407-442-0215 for Spanish). You can also request a FREE quote online by Clicking HERE.