Guests who visit Walt Disney World for a vacation are sure to leave with wonderful memories that will last a lifetime. In addition to making memories and taking lots of pictures, guests are always on the lookout for items to help them remember their amazing Disney vacations. Luckily, Walt Disney World is full of countless shopping locations that sell unique and interesting items that are sure to appeal to all kinds of guests. No matter when a guest visits Walt Disney World, they are sure to be on the lookout for the perfect souvenir to bring home with them and are guaranteed to find the perfect item in one of the many stores throughout the four theme parks, two water parks, Disney Springs, and Disney Resorts. In fact, there are so many fantastic items for sale in Walt Disney World that guests might have trouble choosing just one and return home with many souvenirs! Here are the best souvenirs for Walt Disney World fans!
1 – Mickey Ears
The ultimate souvenir that guests can bring home from a Walt Disney World vacation are classic Mickey Ears. These special headpieces feature the iconic Mickey ears with the Mouseketeer logo on the front and guests' names embroidered on the back. While the classic Mickey Ears are black, there are several other color options that guests can choose from, including pink. In addition to the classic style Mickey Ears, Walt Disney World offers dozens of varieties of ears to choose from, including ones that look like Chip and Dale, Figment, Buzz Lightyear, and even R2D2. With so many unique options to choose from, guests are sure to find the perfect Mickey Ears to rock during their vacations and bring home as a souvenir.
2 – Mugs
A great souvenir that Walt Disney World fans can use in their everyday lives at home is a coffee mug. Adding a touch of Disney magic to each cup of coffee at home, mugs that are sold in Walt Disney World can feature everything from characters and attractions to park logos and the year.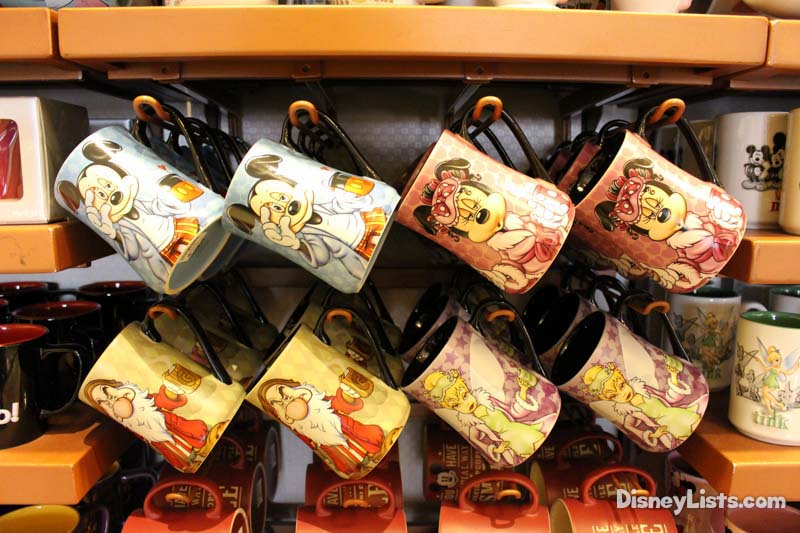 3 – Clothing
The stores throughout Walt Disney World feature countless clothing options for guests of every age. Guests who are looking to purchase the perfect souvenir are sure to be able to find a t-shirt, sweatshirt, or pajamas featuring their favorite characters, attractions, artwork, or park logos to wear at home. In addition, children can purchase Disney Princess costumes or pirate costumes, making their days at home magical thanks to their perfect souvenirs.
4 – Accessories
For guests who want more subtle souvenirs to wear in their everyday lives at home, Disney accessories are a great choice. Guests can purchase jewelry, watches, scarves, or socks to add a hint of Disney magic to their ensembles without being over the top. With unique accessory options that are only available in Walt Disney World, guests are sure to have plenty of options to choose from when searching for an item to bring home.
5 – iPhone Cases
For technology fans, Walt Disney World sells many different iPhone case options in the shops throughout the parks, Disney Springs, and Disney Resorts. Guests can purchase cases that work on several different models of phones and feature everything from Disney Princesses and characters to attractions and special event logos. No matter what personality a person has, they are sure to find the perfect iPhone case to bring home as a souvenir from their memorable Walt Disney World vacation.
6 – Books
In addition to Disney Parks CDs, guests can also choose from many different options of books that are sold in the stores of Walt Disney World. These books range in topic from Hidden Mickey guides to in-depth looks at the Disney Parks and offer unique ways for guests to learn more about their favorite vacation destination after returning home.
7 – Pressed Pennies
Guests who are looking for the perfect souvenir to bring home from Walt Disney World while maintaining a budget should consider collecting pressed pennies. There are many pressed penny machines found throughout the theme parks and Disney Resorts. Each machine features several design options to choose from that coincide with the area that the machine is located in. For example, guests who find a pressed penny machine in Frontierland might find a design featuring Mickey dressed as Davy Crockett. Pressed pennies make for a fantastic way to bring home a collection as a souvenir without breaking the bank in Walt Disney World!
For a no obligation, FREE Quote on a Disney vacation package, please contact our travel partner Magical Vacation Planner at 407-442-0227 (407-442-0215 for Spanish). You can also request a FREE quote online by Clicking HERE.