Dinner at Cape May is definitely a must try.  Breakfast is also delicious and you get to meet characters, but dinner is definitely my favorite.  There are no characters, but the food is fantastic and it is a very unique restaurant.  If you are considering this one, here are 8 things that you definitely need to know:
8 – The beautiful location.
The restaurant is located over at the beautiful Disney's Beach Club Resort.  The resort is completely beach and nautical themed with its own beach at the back section of the resort.  I love the feel of this resort right when you walk in.  The restaurant is located right within the main area of the resort close to the main lobby, so it is also very easy to get to and close to the beautiful beach and pool area.
7 – The meal is all you care to enjoy.
At this location, you get to enjoy an all you can eat kind of meal.  After a long day in the parks, you will need to re-fuel and re-energize and what better way to do that than with a full meal.  This also means that you can try a little bit of everything and won't have to pick only one entrée for your meal.  Sometimes it is really nice to know that you can sample everything, since it is all so amazing!
6 – Children under 3 eat free.
If you have small kiddos in your party, this is a great location since you won't have to pay for them to eat and they can have their own plate.  All you care to enjoy locations are all free for kids under three, so this may help make dining location decisions when you can save money in the budget and not have to share a plate or order something extra for the younger kiddos.
5 – The restaurant is a little pricey, but worth it.
The restaurant is definitely not on the low priced list, but given the value of the meal and that you can eat as much as you want it makes it well worth the price.  The price for the adult meal runs around $60 depending on the season (prices are typically increased at Walt Disney World Resort during peak seasons).  Disney applies the adult price for ages 10+.  The price for the kids' meal is around $30.  Kids' prices are applied for ages 3 – 9.
4 – Gratuities are not included in the price.
The restaurant may be an all you care to enjoy place, but there are still servers.  Your servers will bring beverages and keep them filled.  They will also clear excess plates and dishes to help keep the table clean and ready for you to go back.  If you have any special dietary needs, you also alert the server and they will get the chef to walk through the buffet with you and whip up any special items that may be needed to help make sure you have a delicious meal.  They definitely earn their gratuity, so don't forget to add that at the end of the meal for them.  It isn't included in the price of the meal and will need to be added on the receipt.
3 – The meal has tons of amazing seafood options and dishes.
Given the location at Disney's Beach Club, the restaurant is beach themed and the menu is full of delicious seafood options.  The buffet menu includes things like shrimp cocktail, seafood salad, crab legs, paella, steamed mussels, clams and more. Then you have fried clam strips, shrimp and calamari that are only offered Tuesdays and Fridays in addition to the other menu items.  If you aren't a huge seafood fan, then don't worry.  There are still several other menu items available like salad, potato salad, vegetables, corn on the cob, potatoes, pastas, chicken, soups, carved strip loin and more.  The kids' station (which is open for anyone) also has macaroni and cheese, cod nuggets, fried chicken and cheese pizza.  There is definitely food for everyone even if you aren't a seafood lover, and it is all delicious!  I can't wait for my next visit back!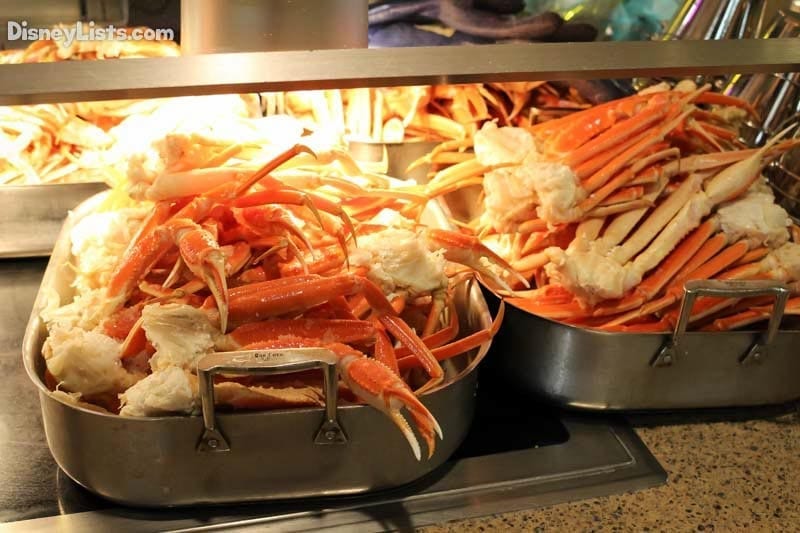 2 – You should make dinner reservations as early as possible.
Since this is a table-service location you are able to book an Advanced Dining Reservation at this location.  We definitely recommend that you do that since the restaurant can get quite popular.  You are able to make reservations 180 days prior to the date (starting from the first day of your trip and you can make them for your entire trip on the same day if you are staying at a Disney resort).  If you haven't been able to get a reservation, then keep trying even in the days leading up to your vacation.  You may be able to find a reservation on a cancellation.
1 – You will want to save room for dessert.
We mentioned all of the great dinner options that are served, but there are also a ton of great desserts, too.  The dessert buffet includes items like cheesecakes, flourless chocolate cake, key lime cake, caramel flan, cookies, cupcakes, brownies, fruit and more.  If you have a sweet tooth and love dessert, then you are definitely going to want to save a little room if you can.  Plus dessert is included in your dinner price, so you might as well get your sweet tooth cravings managed while it is already paid for rather than buying something sweet later!
For a no obligation, FREE Quote on a Disney vacation package, please contact our travel partner Magical Vacation Planner at 407-442-0227 (407-442-0215 for Spanish). You can also request a FREE quote online by Clicking HERE.