Known for adult-friendly entertainment, international culture, and innovative science, Epcot provides an abundance of activities for Walt Disney World fans of all ages. Every year, guests create their personal must-do lists for spending time in this popular theme park. However, when the sun dips below the horizon, many families head back to their resorts without considering what Epcot offers in the evening. The following nine must-do nighttime activities at Epcot will produce memorable experiences that your family will cherish for years to come.
9 – Enjoy The Atmosphere
The atmosphere at Epcot after sunset sparks the imagination, making a tour through the park a must-do at night. The buildings assume an almost magical quality as colorful lights tint their walls. In particular, dazzling colors illuminate Spaceship Earth and the Mexico Pavilion wonderfully. However, the modern buildings in Future World and the traditional structures featured in the World Showcase provide lots of visual delight, too. Twinkling lights also speckle the sidewalks of Future World while mock fireflies dot the trees. During the International Flower & Garden Festival, the scenery increases in beauty as landscaping wonders, and character topiaries fill the park. Children and adults alike find themselves amused by the evening displays in Epcot.
8 – Nighttime Photos
Since Epcot lights up with so much color at night, guests should grab their cameras and capture images of the architecture, fountains, and landscapes that transform the park. A portrait in front of Spaceship Earth, tinted in blue, purple, red, and gold, tops the list of must-have photos. PhotoPass photographers stand ready at both of these locations to shoot family portraits. Pictures throughout the park assume a majestic quality in the evening, making your personal photoshoot at this time a must-do while visiting Epcot.
7 – Date Night
If you're traveling with children, then designating one evening at Epcot as your "date night" is a must-do during your vacation. Ask an adult family member to watch your kids for an evening or arrange in-room babysitting at your Walt Disney World Resort while you enjoy a date with your significant other. Imagine a date "around the world" with a delicious meal at a world-class restaurant from one of the ten international pavilions. Follow up your meal with cocktails, an entertaining show, and a stroll around the promenade to really enhance your evening.
6 – Drink Around the World
Taking the Drinking Around the World (DATW) challenge requires an all-day commitment from responsible park guests, but slow pacing ensures that you can continue well into the evening. Epcot's World Showcase features many beverage stations and restaurants that serve drinks of all types, but landing in one of the three premium lounges in the evening is a must-do for avid DATW fans. Check out Rose & Crown Pub, Tutto Gusto Wine Cellar, or La Cava del Tequila where you can taste a variety of snacks, meet new people, and enjoy the best beers, wines, and cocktails at Epcot. Naturally, if you aren't interested in DATW, you can still enjoy a refreshing drink to cap off your day.
5 – Meet Characters
Editor's Note: During the phased reopening of Walt Disney World, character greetings are temporarily suspended. You'll see characters come through each park in short parades. Click here for more information on how to see characters during the phased reopening.
The evening hours present a perfect time for Disney fans to visit characters since the crowds thin out as children tire or families scramble to watch the fireworks. This can result in shorter wait times and longer interactions with your favorite characters. You'll find Mickey and friends at Epcot Character Spot, Donald in Mexico, and Anna and Elsa in the Royal Sommerhaus in Norway. Snow White usually appears in Germany during the early evening, so don't wait too long if she's on your list. In addition to typical meet-and-greets, you can enjoy character dining at The Garden Grill with Chip 'n' Dale and friends or Akershus Royal Banquet Hall, where a host of Disney Princesses circulate throughout the dining room.
4 – Extra Magic Attractions
Editor's Note: During the phased reopening of Walt Disney World, there are no Extra Magic Hours.
Riding your favorite attractions at night is a must-do for those staying at a Walt Disney World Resort. During scheduled Extra Magic Hours, Disney Resort guests have exclusive access to all the best attractions. The throngs of people usually packing the lines at Frozen Ever After, Mission SPACE, Test Track, and Soarin' shrink significantly as day-trippers and off-property guests leave. In many cases, entire families can fly through their must-do attraction list in less time than it takes for them to ride Frozen Ever After once during the day. Schedules for Extra Magic Hours can be found at Guest Relations or on your My Disney Experience app.
3 – Evening Concerts
Editor's Note: During the phased reopening of Walt Disney World, the concert series has been temporarily suspended.
Nighttime concerts at Epcot are must-dos for the music lovers in your family. During the day, performances pop up all over the World Showcase, but the crowds and the heat can make sticking around unbearable. Evening performances somehow electrify the audience, so that Musique Aramenco or British Revolution feels more enjoyable and comfortable. During summer evenings, tribute bands perform everything from Tina Turner to Bruce Springsteen at American Gardens Theatre. However, you'll find the best concert series during the two seasonal festivals, when musical acts like The Guess Who, Gin Blossoms, Sugar Ray, Chaka Khan, and Boyz II Men entertain you with popular songs.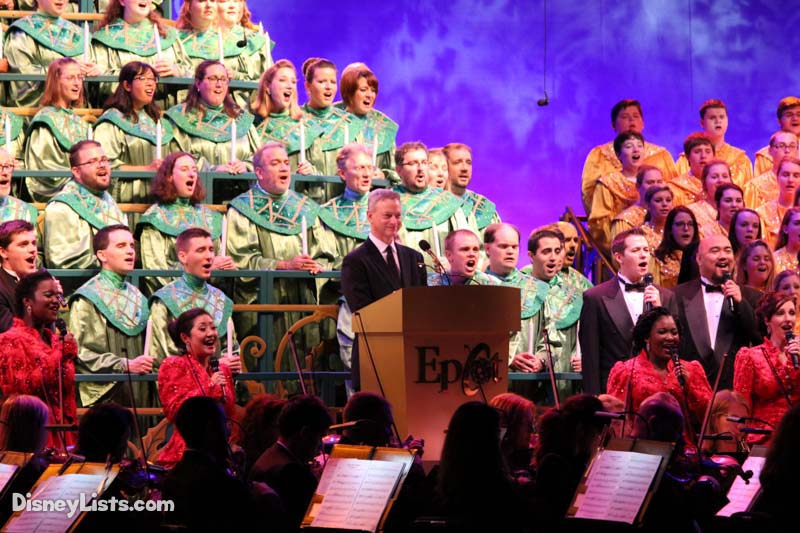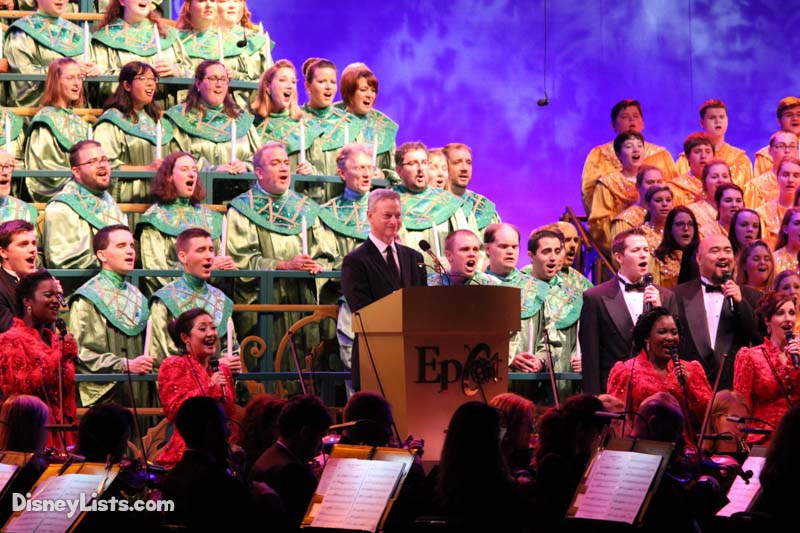 2 – Candlelight Processional
Editor's Note: During the phased reopening of Walt Disney World, the Candlelight Processional has been temporarily suspended.
Technically, this activity doesn't qualify as a "must-do" for the typical visit to Epcot, since it emerges during the winter holiday season only. However, the Candlelight Processional draws so many guests to the park that it's worth mentioning. The performance includes a celebrity narrator sharing the Christmas story, a fully packed orchestra, angelic choirs, and a ton of candles. The American Gardens Theatre fills up quickly for this event, so you'll need to arrive early to wait in line or purchase a Candlelight Processional Dining Package to guarantee seats for your party.
1 – Epcot Forever
Editor's Note: During the phased reopening of Walt Disney World, Epcot Forever is temporarily suspended.
This show ranks as the number one must-do experience in Epcot at night. "Epcot Forever" nighttime spectacular celebrates the past, present, and future of Epcot. The new show is a showcase of soaring fireworks, inspiring music, lasers, and colorful glowing kites flying above and around the park's World Showcase Lagoon. Finding a comfortable spot with a clear view can prove difficult, so consider using FastPass+ for a preferred location. Tables with a view can be reserved in advance at La Hacienda de San Angel, Spice Road Table, or the Rose & Crown patio, but if you're only desiring sweet treats and beverages, then try the IllumiNations Sparkling Dessert Party. You can obtain the best view possible by booking a fireworks cruise, your pontoon anchors just inside the lagoon, near the France Pavilion. No matter how you watch Epcot Forever, you won't be disappointed.
For a no obligation, FREE Quote on a Disney vacation package, please contact our travel partner Magical Vacation Planner at 407-442-0227 (407-442-0215 for Spanish). You can also request a FREE quote online by Clicking HERE.