Do you ever feel like breakfast and/or dinner buffets all start to taste the same? Well, look no further! With African and American flavor, Boma might just become your new favorite place to enjoy breakfast and/or dinner on Disney property!
1 – Vibrant Atmosphere
Sit back and take in the vibrant colors and creative details that surround you at Boma, located at the Jambo House at the Animal Kingdom Lodge. Check out the thatched roof, massive wooden beams, mixture of wood carved chairs and booths, and unique table designs that fit together as if they were giant puzzle pieces! This exceptionally bright and airy restaurant is wonderfully inviting. We love the ability to see outside the huge windows with a view of the Jambo House Uzima Pool through the lush greenery. While Boma is relatively large in size, the layout works well to make guests feel as if they have escaped the crowds as they dine. Boma, which means an African safety enclosure, is truly a slice of paradise!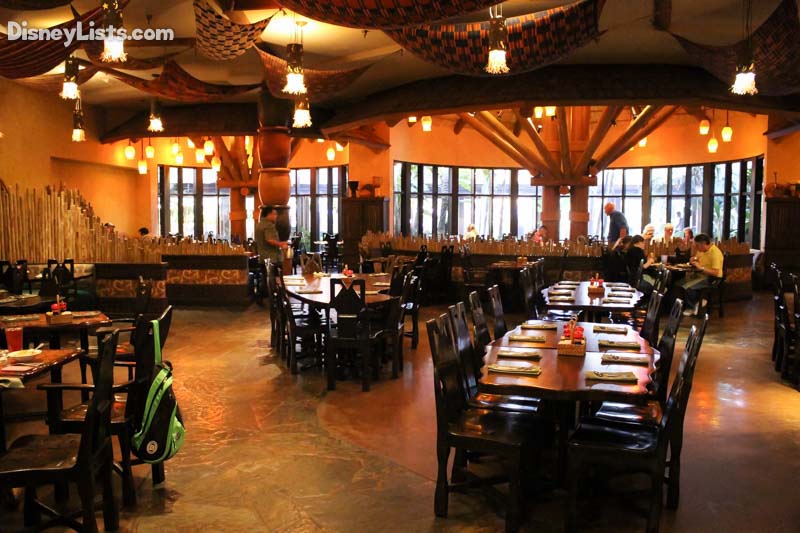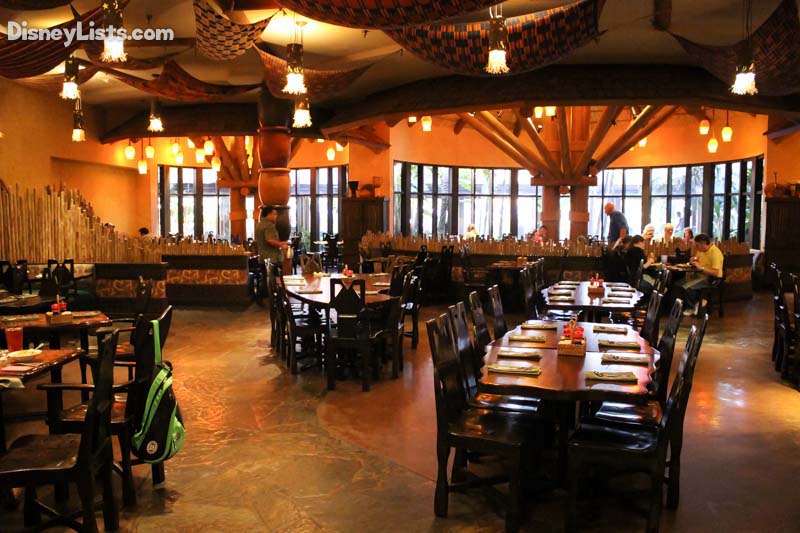 2 – African and American Cuisines
Boma serves up a vast all you can eat buffet for both breakfast (7:30 am-11 am) and dinner (4:30 pm-9:30 pm). Take your pick or plan on dining at both – you won't be disappointed. One of our favorite parts about the food selections was the variety between the unique African items and American items. If you didn't want to eat anything besides the standard American cuisine, you would have no problem filling your plate with American goodies. The breakfast buffet includes items such as fruit, African flare pastries, French toast bread pudding, made to order omelets, oak-grilled tomatoes, turkey bobotie, carved meats, waffles, smoked salmon, and much more! Our top tasty recommendation would have to be the French toast bread pudding, carved ham, and omelets. Our daughter, however, highly recommends the glazed donuts! Servers at breakfast will also ask you if you are interested in trying their signature drink – Jungle Juice (Passion fruit juice, guava juice, and orange juice) – just say YES! It's amazing! The dinner buffet includes items such as unique soups/stews, salads, roasted turkey/chicken/salmon, pork ribs, cabbage, potatoes, rice, a variety of amazing desserts, and more. As with breakfast, you really can't go wrong with dinner selections. Try a little bit of everything – but especially their unique soups and stews.
[smartslider3 slider=68]
3 – Excellent Service
One of our favorite parts about Boma is their excellent service! From the hostess crew to the wait staff, these Cast Members know how to project and display Disney's superb service. Our waitress was very attentive to us, right down to the small details of trying to predict what our children may need next. There wasn't a moment we had an empty glass, and she was continually clearing plates. When it came time to pay, we gave her our Disney Visa Card. When she returned, she had noted we received a discount when paying with a Disney Visa and provided us with our discounted receipt. We completely forgot to ask, but she took her time to have that discount applied anyway. These may be little details, but they go a long way in our book!
4 – Take Advantage of the Location
Whether you are staying at Animal Kingdom Lodge or driving in to dine at Boma, don't forget to take advantage of this great restaurant's location. If you are staying at Animal Kingdom Lodge, what better way to enjoy a delicious breakfast than to roll out of bed and head downstairs for a feast! Or maybe you have had an excellent resort day and don't feel like leaving your resort to go to dinner anywhere else – no worries, you have a top of the line restaurant awaiting your arrival! For those that are not staying at Animal Kingdom Lodge, having a reservation at Boma allows you to browse the beautiful amenities Animal Kingdom Lodge has to offer. Explore the lobby, huge gift shop, and catch a view of the animals out on the safari. Whether you explore before and/or after you dine at Boma, you're sure to enjoy the continued African environment the surrounds you throughout Animal Kingdom Lodge.
5 – A Couple of Tips!
While we understand being spontaneous is just part of the fun sometimes, we do recommend advanced dining reservations at Boma. Especially during the busier seasons, you'll want to be sure you and your family have a chance to enjoy Boma without a long wait. Lastly, go to Boma hungry! Strange to say, but with all of the delicious food, you'll find you will quickly fill up. We like to plan a meal around 10:30 am or so and get breakfast and lunch into one meal. You could do the same on the lunch and dinner side of things by dining around 4:30 pm when the dinner buffet opens. Save those stomachs and money on consolidating two meals into one!
We'd love to hear from Boma fans out there! What is your favorite part about Boma?
For a no obligation, FREE Quote on a Disney vacation package, please contact our travel partner Magical Vacation Planner at 407-442-0227 (407-442-0215 for Spanish). You can also request a FREE quote online by Clicking HERE.