Any churro fans out there? Now you can enjoy this delicious Disney Parks recipe at home! Catch all the details below!
Here are all the details from Disney Cast Member Alex Dunlap:
These past few weeks, we've seen many of you sharing Disney recipes and creating your very own magical moments right at home. Being a BIG fan of Disney Parks snacks myself, this has inspired us to share one of my favorite recipes so you can continue creating #DisneyMagicMoments.
While our parks are temporarily closed, you can still enjoy a delicious Disney churro – because you can make them yourself at home!  This recipe is inspired by the delicious snack that can be found at all of our parks across the globe. The recipe serves four people.
Disney Parks Churro Bites
Click here for a print-at-home version of this recipe!
Ingredients
1 cup water
8 tablespoons butter
¼ teaspoon salt
¾ teaspoon ground cinnamon, divided
1 ¼ cups all-purpose flour
3 eggs
1 ½ cups vegetable or canola oil
½ cup sugar
Instructions
Combine water, butter, salt, and ¼ teaspoon cinnamon in 1 ½-quart saucepan over medium heat. Bring pot to rolling boil.
Reduce heat to low.
Add flour and stir vigorously until mix forms a ball. Remove from heat and let rest for 5-7 min.
Add eggs, one at a time, and stir until combined. Set aside.
Heat oil in medium skillet or 1-quart saucepan over medium-high heat or until temperature reaches 350˚.
Spoon dough into piping bag fitted with large star tip. Pipe 1-inch strip of dough over saucepan, cut with knife, and drop into hot oil. Repeat until churro bites fill saucepan with room to fry.
Fry churro bites until golden brown. Remove with slotted spoon or mesh spider strainer.
Drain churro bites on paper towel.
Mix sugar and ½ teaspoon cinnamon in medium bowl. Toss in churro bites until coated. Place on serving plate and serve with favorite dipping sauce.
From our family to yours, we hope you enjoy this little taste of Disney magic. Keep checking back for even more #DisneyMagicMoments in the near future and perhaps a few more magical recipes. Happy snacking, Disney fans!
RELATED ARTICLE: Best Junk Food at Walt Disney World
by Ryan Miller
When visiting Walt Disney World, it's a good idea to remind yourself that you're on vacation, and the time for worrying about calorie counting can wait until after you return home. While you're in the parks, you have the opportunity to indulge in whatever your heart (and stomach) desire in the form of snacks and junk food. If the idea of limitless possibilities seems overwhelming to you, here's a guide to some of (but not all of) the junk food at Walt Disney World.
11 – Coconut Patties
Fans of coconut rejoice because there is a perfect snack waiting for you. The Coconut Patty is shaped like Mickey Mouse and then coated in chocolate. In the heat of the Florida summer, they have the perfect soft consistency for you to enjoy first thing in the morning, mid-afternoon, or right before bed. There's a reason why they come in packs of two and packs of twelve. Pick up a two-pack to try them out and then stock up on the value packs to bring back to the resort and maybe a few to take home with you.
10 – Crispy Rice Treats
While avoiding any infringement on the trademark of a popular cereal, the Crispy Rice Treats at Walt Disney World are full of the same marshmallow goodness you remember from your childhood, albeit with a Mickey twist. The ears are coated in chocolate and covered in sprinkles, but whether you start eating at the ears or from the bottom up, you're sure to enjoy every bite of it. If you want a challenge, the Main Street Confectionery in the Magic Kingdom makes an enormous version of this snack that would probably require a knife and fork to make a dent in this delectable treat.
9 – Popcorn
For a salty snack, popcorn is a fan-favorite, especially when it comes in a souvenir container depending on the store and season. From park-specific buckets to special Halloween Mickey containers, these popcorn buckets are a great souvenir for you to use even after you get home. For the Star Wars fans, Disney has issued popcorn buckets in shapes like R2-D2 and even Han Solo frozen in carbonite. A sweet twist on the classic snack can be found over at Karamel Kuche in the Germany Pavilion of Epcot, where they coat the popcorn in their famous caramel, making for a decadent snack.
8 – Cotton Candy
Whether it's memories of the carnival, county fair, or baseball games, Cotton Candy is a favorite snack for many Disney guests. While the standard colors of pink and blue are available for most of the year, certain seasons bring out different colors. Orange is a Halloween staple, while Candy Cane Cotton Candy in a red and white swirl has made it out during Christmas time (as well as the standard red and green). Regardless of color, enjoy the sugar rush as you pull it apart to devour piece by piece.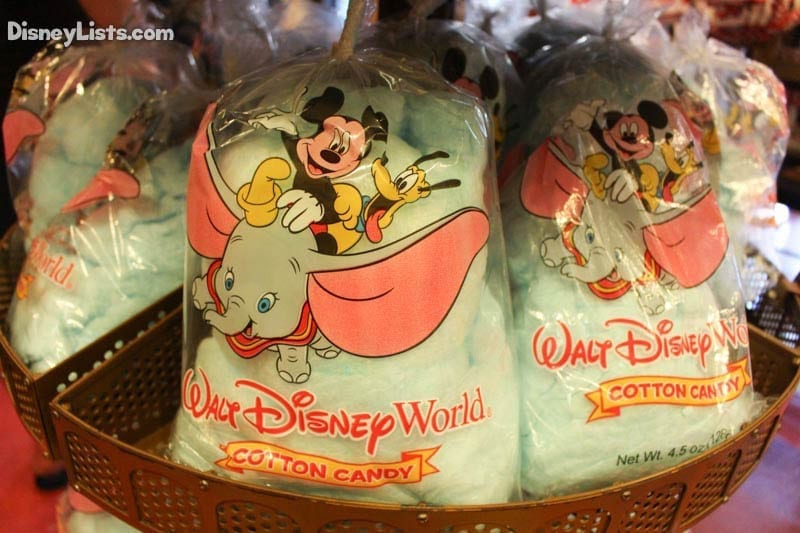 7 – Cake Pops
If you've ever wondered how to make a delicious cake and make it bite-sized, the Cake Pop is your solution. A Cake Pop is a round disc of vanilla, chocolate, or red velvet cake covered in white or milk chocolate or sprinkles with two marshmallows under that coating to make the iconic Mickey shape. The cake is always perfectly moist, and because of the different flavor combinations available, it's tempting to try them all during your visit.
6 – Churros
As one of the most iconic snacks in Walt Disney World, the Churro has a huge fan-following. Fried dough rolled in cinnamon and sugar is all that makes up this tasty treat. You can find them throughout the parks, and depending on where you dine, you can enjoy them with a dipping sauce like warm caramel. Crispy on the outside and soft on the inside, churros make for a great snack without leaving you feeling too full or sluggish after you're done.
5 – Funnel Cakes
Much like the Churro, the Funnel Cakes at Walt Disney World are a blissful experience of fried dough. With additional toppings of chocolate, ice cream, cinnamon, and sugar, it's hard to decide what combination is best. Easily one of the best places to find Funnel Cakes is at Sleepy Hollow in the Magic Kingdom. There, you can get a Funnel Cake topped with Strawberries and Whipped Cream – true doughy bliss.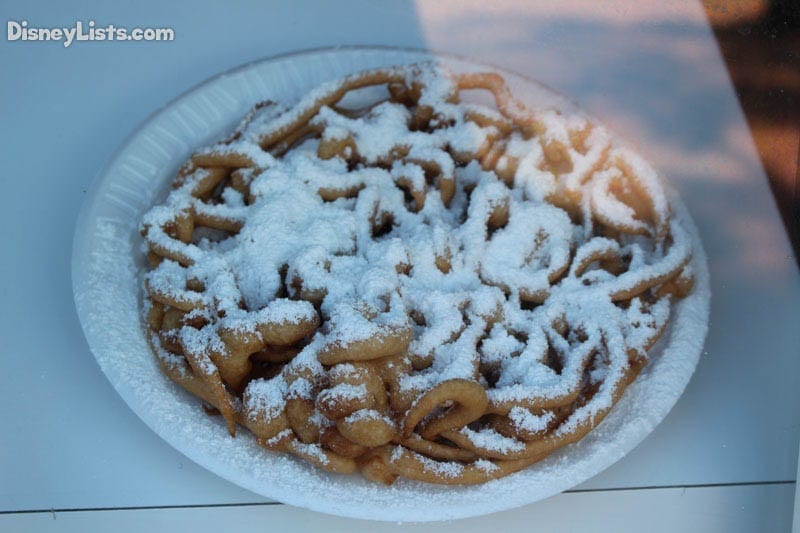 4 – Pretzels
Another salty treat is the Mickey-shaped soft pretzel. Available in every park at a number of different pop-up stands and carts, the soft pretzel has a nice balance of soft, almost sweet dough with a salty kick that leaves your taste buds tingling. While you'll want to make sure you have a drink to help keep you hydrated, but it's definitely worth it to enjoy this delicious snack. For an exciting twist on the pretzel, the Harambe Fruit Market at Animal Kingdom offers a Jalapeño Cheese-Stuffed Pretzel that is highly sought after.
3 – Ice Cream Bars
The Mickey's Premium Ice Cream Bar is another iconic snack with a huge fan-following. The beauty of this snack is its simplicity – vanilla ice cream with a chocolatey coating on a stick for you to enjoy. There is a certain amount of skill involved, especially during the hot summer months, as the ice cream will begin melting immediately, so plan your strategy around making sure to catch every drip.
2 – Cupcakes
There is no single defining cupcake in Walt Disney World. Instead, there are an incredible variety of cupcakes available depending on where in the parks you've found them. Cupcakes change seasonally, and the decorating changes depending on the latest movies, but regardless of what kind of cupcake you pick, you know it will be moist, sweet, and delicious. Typically, vanilla and chocolate cupcakes are the go-to flavors, but there are tons of hidden gems to be discovered throughout Disney Property. If you're a fan of icing, the Disney cupcakes have a perfectly balanced cake-to-icing ratio.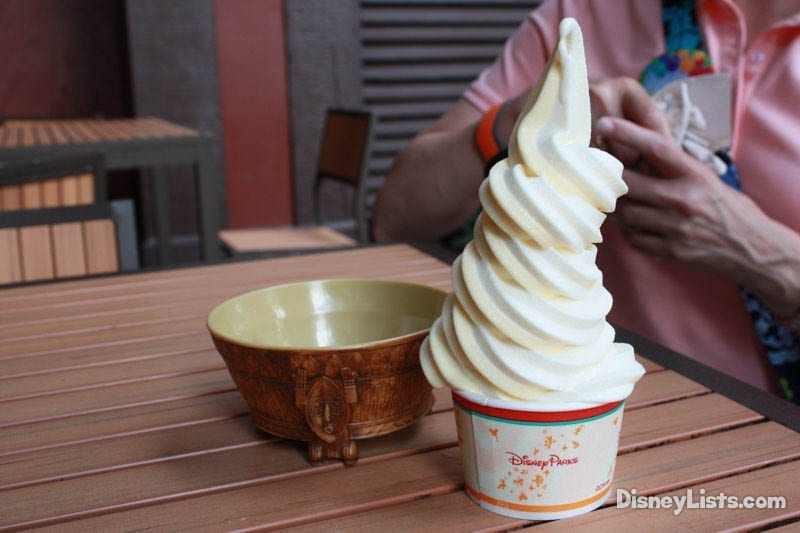 1 – Dole Whips
No list of snacks can be complete without mentioning the Dole Whip. With quite possibly the largest fan following, this snack is actually not too bad for you, since it's a pineapple soft-serve frozen dessert. Get it floating on top of pineapple juice, and you have the iconic Dole Whip Float. It's refreshing, especially on a hot day, and every guest should try one at least once. It's a great use of a snack credit on the dining plan, but you may have to get to Aloha Isle early. Even though they moved the location to accommodate more people, it can still get quite busy heading into the hot afternoon. If you haven't tried one before, it needs to be priority number one on your must-do list the next time you visit Walt Disney World.
For a no obligation, FREE Quote on a Disney vacation package, please contact our travel partner Magical Vacation Planner at 407-442-0227 (407-442-0215 for Spanish). You can also request a FREE quote online by Clicking HERE.