News
Disney Magic at Home: Explore the Science of Rock 'n' Roller Coaster at Home
Disney has created lots of ways to bring magic into your days at home with #DisneyMagicalMoments. These small things really help us bring magic to our days, whether you're looking for educational content or entertainment. Now we get to learn all about Rock 'n' Roller Coaster! Catch all the details below!
Here are all the details from Disney Cast Member Thomas Smith:
Have you always wanted to learn how roller coasters work? For Disney Mechanical Engineers, Angel and Josh, it was their curiosity at a young age in STEM-based subjects where they found their passion for roller coasters. Angel and Josh work behind-the-scenes at Disney and had the opportunity to put their math, science and engineering skills into action on one of Disney's fastest coasters – Rock 'n' Roller Coaster at Disney's Hollywood Studios.
You may have always wondered how the super stretch limo launches down the alleyway and into the gravity building where the coaster twists and turns. In just a matter of seconds, the car travels up to 60 mph, and Angel and Josh tell us about the science behind it all! Check out the video below for a lesson in magnets and how they are used to propel this extreme coaster to extreme speeds.
While so many families are virtually learning right now, we thought this was the perfect time to share an activity to use during your next at-home science class. Using the instructions below and a few materials, you can apply the lessons learned from Angel and Josh to create a model roller coaster launch system right at home.
Share your videos and photos with us on social media by tagging @DisneyParks.
RELATED ARTICLE: 10 Facts and Secrets about Rock 'n' Roller Coaster at Disney World
by Christy Caby
This is definitely one of the most thrilling and exciting attractions at Walt Disney World, plus the only one that has upside-down loops! Plus, who doesn't love Aerosmith?!? It is actually a really unique ride with a lot of interesting details and facts that you might be aware of. Here are several facts and secrets about this fantastic attraction.
10 – How long is the attraction?
The ride itself makes up about 3,403 feet of track, which you go through in nearly a minute and a half. The ride gets to speeds at 60 mph, so you definitely fly through that track while you are rockin' out!
9 – Aerosmith actually came and opened up the ride.
The attraction opened in 1999 at Disney-MGM Studios (now Disney's Hollywood Studios), and Aerosmith actually came to be there and open the attraction for the guests at the official opening. I am sure the guests that were there have some pretty amazing stories to tell!
8 – The iconic guitar at the opening of the attraction is crazy tall.
When you first walk toward the attraction, look up, and you will see the neck of a guitar above your head. If you keep following it, you will see the huge red base of the electric guitar that makes up the front of the building for the attraction. This guitar base it a whopping, impressive 40 feet tall. It makes a great photo backdrop to have the huge guitar behind you in the picture.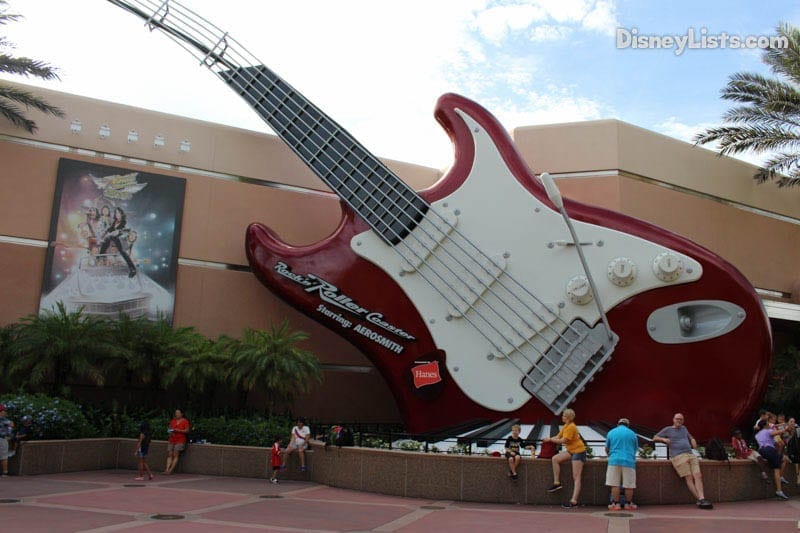 7 – To say it a thrill ride is an understatement!
This "limo" coaster launches you from 0 to 60 in only 3 seconds!  If that wasn't enough, during your quick drive to the show you experience 4.5G forces, if you don't have any idea what that means, think about astronauts.  This is more than the force they experience when they launch a space shuttle!  So if you want to know what it feels like to be an astronaut, you get that on this attraction!
6 – What car was the "super stretch" limo modeled after?
The cars that you ride in are your "super stretch" limo that is out in the alley and ready to take you to the big show. The design for these cars were influenced by the 1962 Cadillac. So you definitely get to ride in style on your trip!
5 – More than just license plates.
You will notice that each limo has a different license plate. There are 5 different ones, and they each read 1QKLIMO, 2FAST4U, BUYBYE, H8TRFFC, and UGOGIRL. Very clever! And if you can get a good look, you would see that there is also a hidden Mickey on each one with numbers. Those numbers are the birthdays of Imagineers that worked on the attraction! I just love when Disney does special stuff like that!
4 – There are over 900 speakers throughout the entire attraction.
It is just crazy to think about that many speakers being within one attraction. For starters, each guest is surrounded by 5 speakers, which are 4 around the head and 1 subwoofer under the seat. When you multiply that across all of the guests in each limo and then by the number of limos in circulation, it is easy to see how there are that many speakers throughout! Crazy!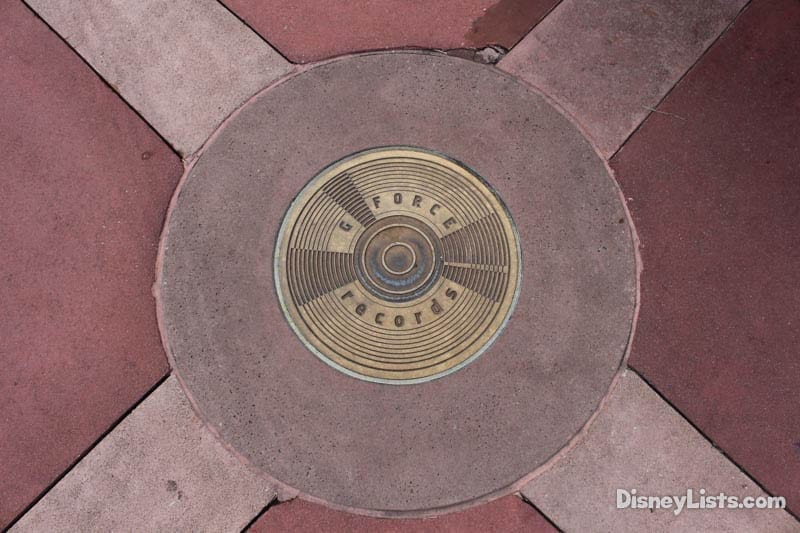 3 – The song you hear will vary.
Each limo plays a different track, so depending on which limo you get will dictate the song(s) that you hear while you ride. They are all Aerosmith songs, of course! Here are the song that you might hear: "Young Lust"/"F.I.N.E."/"Love in an Elevator" medley, "Nine Lives", "Sweet Emotion", "Back in the Saddle"/"Dude Looks Like a Lady" medley and "Love in an Elevator"/"Walk This Way" medley. You can't go wrong with any one of them!
2 – This attraction is the fastest roller coaster in Paris.
A version of this attraction opened at Disneyland Paris in 2002. It holds the title as the fastest roller coaster in all of Paris! So I guess that means you shouldn't go to Paris if you are looking for super-fast rides!
1 – There are 6 limos in operation.
Well, there are actually only 5 limos that are used at a time (this is why there are only 5 license plates and 5 different song loops). The 6th limo is used to change out when one of the limos need to be taken down for maintenance or any kind of issue. They change the license plate from one of the limos over to the backup limo so that the change out is unnoticed. The limo that isn't in circulation always sits with no license plate. The appropriate song is also added to match when the limos are changed out, so it really is a seamless change.