If you are looking for a truly unique dining experience at the Walt Disney World Resort, we have the answer for you! The Hoop-Dee-Doo Revue is a dinner show held at Disney's Fort Wilderness Campground and has become a favorite for guests of all ages. Here are 6 things you need to know about the Hoop-Dee-Doo Revue Dinner Show.
1 – Family Fun Show
This show features an ensemble cast who are dubbed "The Pioneer Hall Players." Some are serious, and some are funny. This show has musical numbers and corny jokes. Be prepared to roll your eyes at some of the one-liners, in a good way! There is a wide variety of humor, so guests of all ages will enjoy the show. Guests may even be selected to participate in different parts of the show, so you never know what will happen.
2 – All You Care To Eat And Drink
The food at the Hoop-Dee-Doo dinner show is served family-style and is all you care to eat. Your meal starts off with some delicious cornbread and a mixed salad. Your server will come around and take drink orders. Beverages such as Coke products, coffee, tea, milk, and ice tea are included. For guests 21 years of age and older, Sangria, select wines, and draft beers are also included in the price. Specialty beverages are available for an additional cost. The show begins, and shortly it is time for the main course where you will find fried chicken, BBQ pork ribs, baked beans, mashed potatoes, and a seasonal vegetable. If you have a picky eater, additional children's meal items are available if you ask your server. Dessert is strawberry shortcake. Guests with food allergies or dietary restrictions should notate this on their reservations and ask to speak with a chef once seated. Kosher meals are available but need to be ordered 48 hours in advance.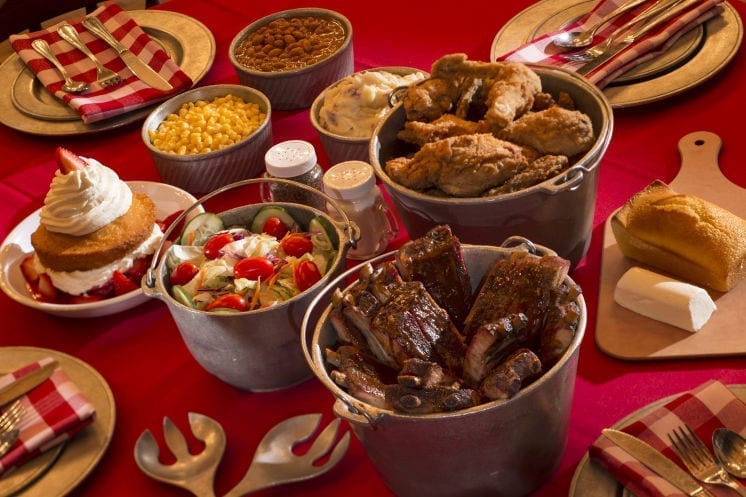 3 – Different Categories – Different Prices
There are three different seating categories for each show. Prices will vary based on your seating category and your showtime. Category 1 seats are located on the main floor and near the front of the stage. Category 2 seating is located on the main floor behind category 1 and underneath the balcony. Category 2 seating is also located on the second-floor center balcony. Category 3 seating is located on either side of the balcony on the second floor. All seats will offer a great view of the show, but some seats may require you to turn your chair. One essential thing to note is that if you book category 2 or 3, you may be required to take the stairs to the second floor, there is no elevator. Additionally, if you are using the Disney Dining plan, this experience requires two table service credits per person. Dining plan credits can only be used on category 2 or 3 for the 4 pm or 6:15 pm show time but can be used for category 1 during the 8:30 pm show.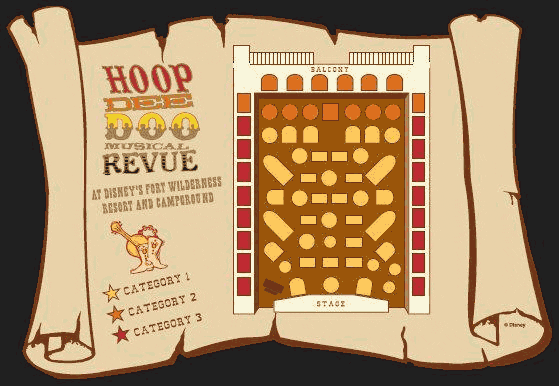 4 – Seating Assignments Are Based On Time Of Booking
Your table assignment is based on when you make your reservation, meaning it is first come, first served. It is not possible to make seating requests for specific tables or areas. You should indicate if you will be traveling with someone in a wheelchair or other special needs. Reservations can be made up to 180 days in advance and booking early will get you access to the best tables.
5 – Location & Transportation
The Hoop-Dee-Doo Revue is located at Disney's Fort Wilderness Campground at Pioneer Hall. It is requested that you arrive at the location to check-in 30 minutes before your showtime. There are several options to get there. If you drive your own vehicle or take a taxi to the resort, you will need to park at the front of the resort and take the internal resort bus labeled Settlement Orange, Purple, or Yellow back to where Pioneer Hall is located. Just inform the bus driver you are going to the Hoop-Dee-Doo, and they will direct you when to exit the bus. Pioneer Hall is just a short walk from where the bus drops you off. The other option is to travel there by boat. There are boat launches from the Magic Kingdom, Disney's Wilderness Lodge, or Disney's Contemporary Resort. Most guests will be taking the boat from the Magic Kingdom. Give yourself ample travel time to arrive. Disney recommends 1 and ½ hours to travel from another resort to the Hoop-Dee-Doo when using Disney transportation. After the show, you can travel by bus back to the Magic Kingdom bus loop where you can board a bus to your Disney Resort, or you can take the boat back to Magic Kingdom. Internal buses will still be available to take you back to the main parking area at the front of the resort.
6 – Pick Up Your Ticket Ahead Of Arrival
The Hoop-Dee-Doo Revue is unlike other dining reservations in that it requires you to pick up a ticket from the concierge. Also, you will need your reservation confirmation number to pick up your card, so be sure to have that handy. You can pick up your ticket at any concierge or guest relations location. There is a concierge location near Pioneer Hall at Disney's Fort Wilderness; however, it is not recommended to pick up your ticket there as they get swamped at showtime. If you do need to pick up your ticket there for some reason, plan to arrive 50 to 60 minutes before showtime.
Most importantly, be ready to have a lot of fun. The Hoop-Dee-Doo Musical Revue is a great dinner show option at Walt Disney World. If you love great entertainment, corny jokes, and hearty comfort food, this experience is for you! Kids and adults alike are sure to enjoy themselves, so be sure to try it out with your family or friends at least once!
For a no obligation, FREE Quote on a Disney vacation package, please contact our travel partner Magical Vacation Planner at 407-442-0227 (407-442-0215 for Spanish). You can also request a FREE quote online by Clicking HERE.
Photo Credit: Disney