With so much to see and do at Magic Kingdom, it's impossible to do it all in one, or maybe even two days. To make sure you do all that you can on your next visit, we have put together a list of 10 tips to help you make the most out of your day at Magic Kingdom.
Editor's Note: We understand that with the phased reopening of Walt Disney World, some of the advice in this article may not apply if you visit while park hours are reduced, capacity limits and physical distancing are in place, and some of our favorite experiences—fireworks, parades, and character greetings—are temporarily suspended. (You can read everything you need to know about the phased reopening by clicking here). We will continue to share articles that give guidance on a "normal" vacation to Walt Disney World, along with any special changes or instructions you may need to be aware of during the phased reopening to provide the best tips we can regardless of when you are visiting. ~ Chad & Cindy
10 – Opening Ceremony – "Let the Magic Begin
Editor's Note: During the phased reopening of Walt Disney World, Let the Magic Begin is temporarily suspended.
"Let the Magic Begin" opens the park 5 minutes before the posted opening time. A Royal Herald invites you to join Mickey and friends as they open the park in a magical way. This stage show takes place at the Castle Forecourt Stage. It's a fun show that kicks off a magical day at Magic Kingdom and you don't want to miss it!
9 – Make Reservations
Editor's Note: During the phased reopening of Walt Disney World, the dining booking window is 60 days.
The table service restaurants in Magic Kingdom tend to fill up quickly, so it's a good idea to make your dining reservations for the restaurant of your choice as early as you can. If you are staying on property, you can make dining reservations 180 days in advance. Having dining reservations removes the stress of trying to find somewhere to sit down and eat when you're tired and hungry. Having reservations also help you plan your day at Magic Kingdom.
8 – Plan Ahead
Maps of Magic Kingdom are available online or at the front desk of the resorts and all the theme parks. It's a good idea to take a look at the map and make a list of the attractions you want to do, and even plan out your day a little bit. Even having a very simple and loose plan of what to do and when will help you avoid wasting time at the park deciding where to go next, or missing attractions entirely.
7 – Character Dining Experiences
Editor's Note: During the phased reopening of Walt Disney World, character dining experiences at Magic Kingdom are temporarily suspended. 
There are a number of character dining experiences at Magic Kingdom. They allow you to sit down with your family or friends and enjoy a meal, all while meeting and interacting with characters without having to wait in line or use a FastPass+. Restaurants with character dining experiences fill up very quickly, so a reservation is a must. You can meet Winnie the Pooh and friends at The Crystal Palace, the Beast appears at Be Our Guest dinner, and the princesses are at Cinderella's Royal Table. Most of the characters will come to you, stop for a photo, a little chat, and they'll sign autographs too, making for a very memorable dining experience at Magic Kingdom. Character dining is the perfect way to combine two terrific Disney experiences into one: meeting characters and having a delicious meal!
6 – Disney Photographers
Photos are the perfect way to ensure that your memories of Magic Kingdom will not be forgotten. There are photographers located throughout Magic Kingdom, and there are a number of them on Main Street and around the castle to ensure that you get that iconic photo with the castle in the background. Photographers are also by attractions like the Haunted Mansion, Space Mountain, and Big Thunder Mountain. Make use of this amazing service. It's the perfect way to get everyone in your group in the photo, and they will take photos on your own camera or phone, which means you get great photos for free!
5 – Festival of Fantasy
Editor's Note: During the phased reopening of Walt Disney World, the Festival of Fantasy Parade is temporarily suspended.
The Festival of Fantasy Parade only happens once a day, and it is definitely worth seeing. The parade features many Disney characters, like Anna and Elsa, Merida, Aerial, a steampunk-inspired dragon version of Maleficent, Rapunzel, and of course, Minnie and Mickey. The costumes are beautiful, and the floats are spectacular. This is a great way to see many popular characters all in one spot. So grab a mid-afternoon snack, like a Mickey ice cream bar or a Dole Whip, and a spot to watch and enjoy the Festival of Fantasy.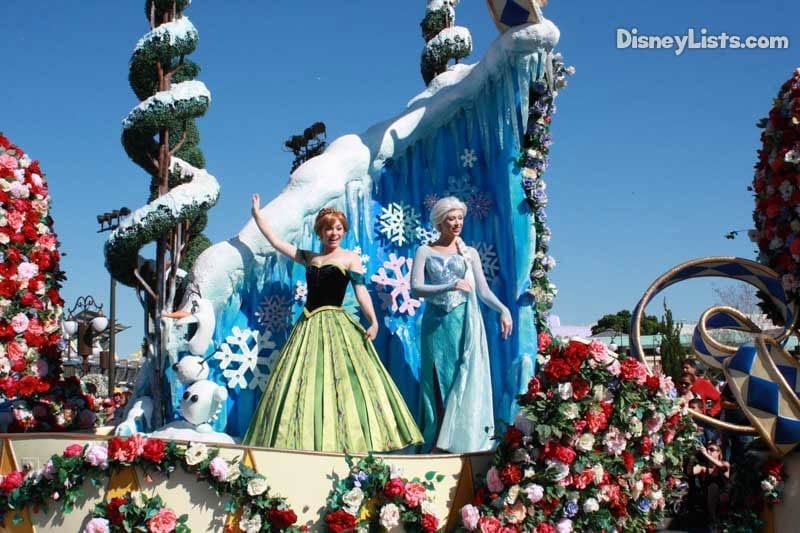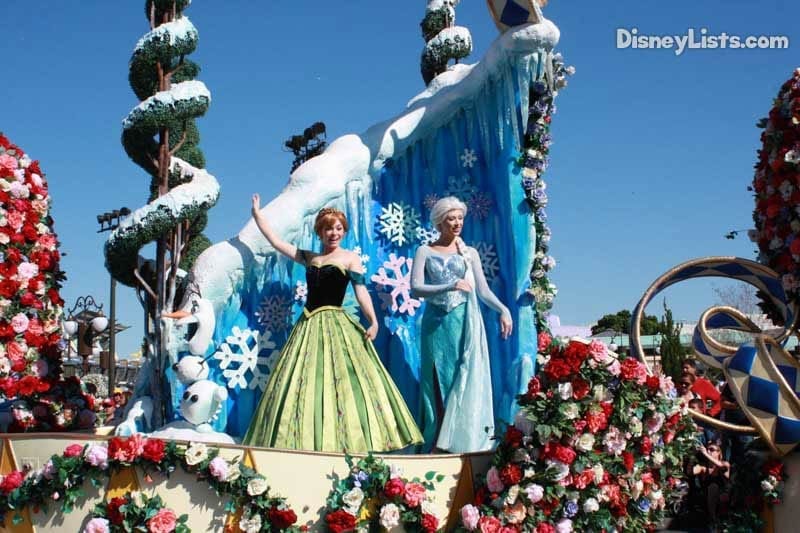 4 – Attractions at Night
Riding some of the attractions at night offers an entirely different experience than riding them during the day. If you have time during your stay, try to ride some attractions during the day and then again once the sunsets. The Jungle Cruise is a great attraction to ride at night. You may get a few different puns from your Skipper, and everything looks slightly different when illuminated by that spotlight on the boat. Big Thunder Mountain is also fun at night, and you may be able to spot a few things that you can't see during the day. (Hint, keep an eye on the windows of the saloon). The Peoplemover at night gives you a good view of Tomorrowland, and the castle lit up at night. And sometimes the line-ups for rides are a little shorter at night as well, especially if you happen to be taking advantage of the Extra Magic Hours.
3 – Breakfast at the Park
Editor's Note: During the phased reopening of Walt Disney World, Crystal Palace and Be Our Guest are not offering breakfast.
Getting to the park early really helps you pack more into your day. The crowds are smaller in the morning, the sun isn't as hot, and the line-ups are shorter. A couple of the restaurants in Magic Kingdom open for breakfast at 8 am, which is before the rest of the park opens. The Crystal Palace and Be Our Guest open for breakfast, though reservations really are recommended. Having a breakfast reservation at Magic Kingdom is great motivation for getting to the park early.
2 – FastPass+
Editor's Note: During the phased reopening of Walt Disney World, FastPass+ is temporarily suspended.
Making FastPass+ reservations is key to getting the most out of Magic Kingdom. There are so many attractions and rides to fit into one day at this park, and having FastPass+ reservations really does help. Try to book your FastPasses for attractions that typically have long lines, like Peter Pan's Flight, Seven Dwarfs Mine Train, The Jungle Cruise, or Space Mountain. It's also important to take into consideration the attractions that are on your must-do list. Try to avoid using it on attractions that have multiple showings, like Mickey's Philarmagic, which is typically only a 10- minute wait, or the Mad Tea Party. Make choices that will either save you time waiting in lines or ensure that you do something at the top of your must-do list.
1 -Meet Mickey Mouse
Editor's Note: During the phased reopening of Walt Disney World, character greetings are temporarily suspended. You'll see characters come through each park in short parades. Click here for more information on how to see characters during the phased reopening.
One of Walt Disney's most famous quotes was, "I only hope that we don't lose sight of one thing – that it was all started by a mouse." No day at Magic Kingdom is complete without meeting the one the started it all, the Big Cheese himself, Mickey Mouse! This is also a great way to end a trip. Make this your very last stop before heading home to say goodbye to Mickey, and don't forget those autograph books!
For a no obligation, FREE Quote on a Disney vacation package, please contact our travel partner Magical Vacation Planner at 407-442-0227 (407-442-0215 for Spanish). You can also request a FREE quote online by Clicking HERE.