MagicBands provide a wonderful combination of services at Walt Disney World. They can become our room keys, park tickets, credit cards, and links to FastPass+ and PhotoPass services. We receive them free-of-charge when staying at a Walt Disney World Resort, or we can purchase them at Disney retail outlets. They come in eight colors and can be personalized a bit, if we link them to an online Disney account at least 11 days in advance of our arrival at Walt Disney World. Nevertheless, if we're going to wear MagicBands throughout our entire vacation and possibly during future trips, how can we make them reflect our own identities? Below are the top nice ways to transform MagicBands into a personal fashion statement.
9 – Stickables
Not everybody can decorate their new MagicBand like a Rembrandt, so for them, craft stores offer an array of stickable art to peel and attach. Search the scrapbooking aisles or look online to find stickers, decals, and other self-adhesive items that will beautify your band in any way you choose. Rub-on decals and temporary tattoos create clear images on your MagicBand that serve as short-term options for those who want to change designs often. However, if you want stickers, decals, or tattoos to last, then simply apply a layer of clear fingernail polish to your MagicBand for protection. You can always clean off the design with nail polish remover later if you change your mind.
8 – MagicBandits
Consider buying Disney's MagicBandits if you want to add beloved characters and items to your MagicBand but don't have the artistic chops to do it yourself. These delightful, charm-like images come in various designs, from Darth Vader to Cinderella's glass slippers. Simply fasten them into the unused holes on the side of your wristband to give your MagicBand some style. Be careful when using them, however, as they have been known to fall off; parents of active children should pay particular attention. Visit the Disney Store's website or Walt Disney World retail shops for more information.
7 – Paint
Hand painting your MagicBand requires steady hands and a good sense of design. You may produce your artwork with acrylic paints, paint pens, permanent markers, nail polish, spray paint, or whatever else you desire. Just don't use water-soluble materials, otherwise a good rain shower will turn your wristband into abstract art. Some MagicBand artists keep their work simple with stripes, polka dots, basic shapes, and such, while others craft masterpieces. Either way, you can protect your design with a coat of clear nail polish or a water-resistant sealant like polyurethane.
6 – Glittering, Gluing, and Bedazzling
This method of decorating MagicBands can include just about any shiny material and a generous supply of glue. Make sure the glue is strong enough to hold whatever you attach to your MagicBand so that items don't fly away while you're whipping around Space Mountain or the Rock 'n' Roller Coaster. A bead flying into a screaming rider's mouth in the middle of a loop can cause a serious problem. You can add bling to your band by gluing glitter, beads, rhinestones, gems, crystals, or any other sparkly object to it. Avoid using studs when bedazzling, as your MagicBand contains an RF chip and circuitry inside, which you don't want to destroy. 
5 – Bows and Ribbons
Those who are fascinated with bows and ribbons will love attaching them to their MagicBands. Naturally, you can tie or glue them, depending upon your tastes. Some MagicBand artists wrap the ribbon around the band; others just tie a bow and let the ends dangle. Gluing a little bling to your ribbon or bedazzling it with studs will give it some flair, but realize that your design will become bulky and uncomfortable if you attach too much. Additionally, you can find bows for sale online that are specifically designed for MagicBands and handmade by experienced crafters.
4 – Secure "Belts"
Retailers selling wristbands designed for fitness trackers and watches usually offer small secure bands or "belts" to keep the loose end from accidentally breaking away during exercise. Perhaps, you or someone you know has lost a MagicBand due to scraping or banging it against another surface. You can purchase or create a rubber or plastic belt to secure your MagicBand and provide personalization at the same time. These belts are available in many colors, and you can easily embellish them with markers, paint, glitter, bows, etc.
3 – MagicSliders
The MagicBand section of gift shops in Walt Disney Word features a selection of MagicSliders. Some of these accessories imitate famous Disney-affiliated characters, such as Mickey Mouse, Stitch, or R2-D2, and feature cut-out screens to display the color and design of your MagicBand underneath. Other MagicSliders feature a Disney character, item, or movie scene. To use them, insert your wristband through the slit of the MagicSlider and slide it into your preferred position. Artistic Disney fans may want to create their own "slider" instead, using a leather, rubber, or plastic band and whatever they want to glue to it. Some savvy entrepreneurs even sell their own sliders online, so if you don't want to pay for a Disney MagicSlider, you can always spend less for handmade versions.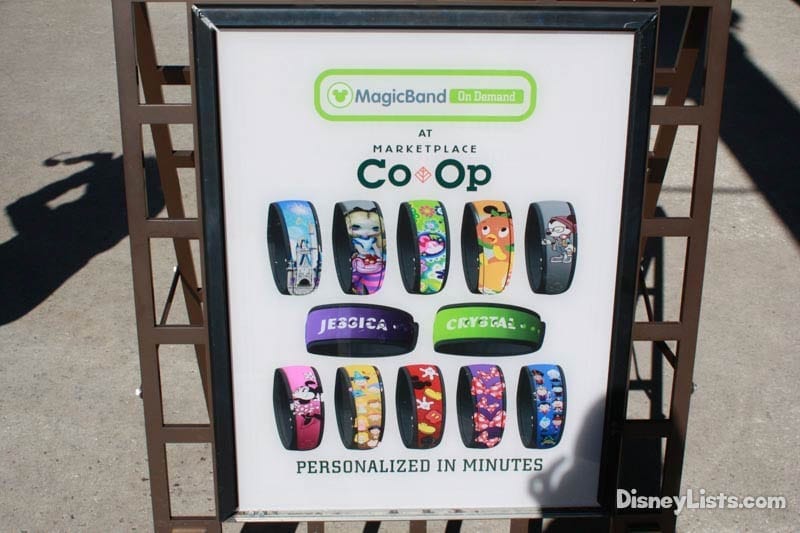 2 – CoverBands
Disney offers another way to decorate your band with the creation of CoverBands, which you can find alongside other official MagicBand accessories at Walt Disney World. Slip your band into these cloth coverings to add some alternative colors, patterns, and images to your MagicBand. A cut-out window fits neatly over the Mickey Mouse emblem on your band, giving everyone a glimpse of the color and design beneath. Homemade covers also appear online on a variety of arts and crafts websites; you can buy them for less than standard Disney prices or research them to get ideas for creating your own cover with a little fabric, needle, and thread.
1 – Graphic MagicBands
If you're not the artistic type, but you love wearing fashionable accessories, then you may want to consider customizing your MagicBand at the Tomorrowland Light & Power Co. in Magic Kingdom. The cast member takes your order and prints your MagicBand on the spot with little wait. This location offers a variety of customization options for color, graphics, and text. Also, Disney Parks sell an assortment of preprinted, graphic MagicBands at shop locations throughout Walt Disney World and on the Disney Store website. Spending the extra money on your band can provide you with a lot of pizazz without the hassle of designing and crafting it yourself.
For a no obligation, FREE Quote on a Disney vacation package, please contact our travel partner Magical Vacation Planner at 407-442-0227 (407-442-0215 for Spanish). You can also request a FREE quote online by Clicking HERE.