Moms and Dads have no fear – Disney has you covered! Crying, hungry, sleepy, grumpy baby (sounds much like the Seven Dwarfs) and you feel like you have no place to go at a crowded Disney World? Check out these four theme park Baby Care Centers and what you may find helpful to know about each one.
1 – Magic Kingdom
You will find Magic Kingdom's Baby Care Center next to the Crystal Palace Restaurant. You are required to leave your stroller outside in the stroller parking area, which makes sense when you see the size of the space. Our trick to knowing if the center is busy or not is checking out how many strollers are parked. If you see 10 or more strollers, you'll know to expect a busy baby care center. Inside, you will find a nursing room, kitchen/baby needs shop, play center with a movie playing, diaper changing space, and a bathroom. When we first used the Magic Kingdom Baby Care Center, we were surprised at how small it seemed. First thing in the morning is super quiet, but as the crowds pick up in the park, they also pick up in the baby care center. We did, however, enjoy the quiet room for nursing moms. There are four rocking chairs and dim lighting. The décor actually cracks me up because the best way I could describe it to my husband is it looks like the haunted mansion décor with the lights on! Antique in style, maybe, but definitely useful when needing a moment to feed your little one. During the summer months, we found this space to be very warm, which isn't fun when trying to nurse. Our helpful hint is to purchase a stroller clip fan before your trip. Use it for your baby when you are outside and for the both of you in the nursing room! There are also plugs if you need to charge your phone while tending to the little one. A Cast Member stays near the entrance door for the most part and will guide you to the appropriate place for your baby's needs. Cast Members also seem to be very aware of the privacy of the women in the nursing location by keeping the door shut and watching who enters. Maybe you aren't nursing, but you need a quiet spot with your baby to feed – you are welcome to soothe your baby in this space as well. The baby sundry items are helpful if you forget to bring food, formula, diapers, wipes, sunscreen – really anything you could think of they have it! We also enjoy the baby changing room with several changing tables. This space allows you to change a diaper without having to deal with the hassle of changing your baby in a busy restroom. Need to warm something up? The microwave is very helpful! While we wish updates would be made to this particular baby care center, we still find it to be a lifesaver when in need.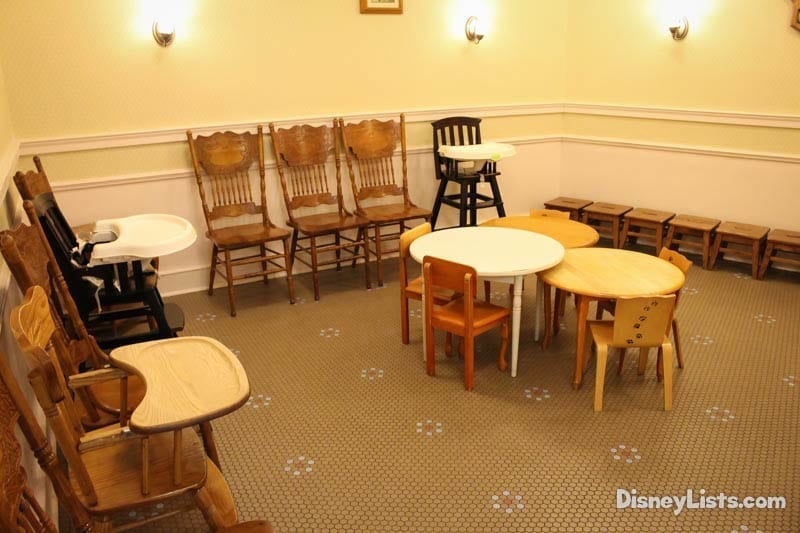 2 – Hollywood Studios
Nobody puts baby in a corner… except for Hollywood Studios! We are reasonably certain the Baby Care Center at Hollywood Studios was an afterthought. The smallest of the baby care centers, we use the center as a last resort. Headed toward the Guest Services building located to the left as you enter the park. Bypass the Guest Services line and walk straight in. When you are in Guest Services, you will see a door to the left labeled Baby Care Center. Most of the time we've used this space, the door is left open, which is noisy for Guest Services and noisy for folks in the Baby Care Center. Enter directly into a small space to sit with a few benches and a cartoon playing on the TV. To the left of this space are two rooms that provide privacy as you can draw a curtain closed. In each of the two rooms is a rocking chair and a small bench. It's easy to miss one of the rooms, as it is behind the entrance door that is usually left open. You are welcome to bring your stroller in at this Baby Care Center, but it's rather tricky trying to fit in one of these rooms with it. The best way to describe these rooms… a changing room you would find in a department store. Our tip, if possible, is to leave the stroller outside to give yourself more room. The changing center has a few tables and a small bathroom. No baby sundry items are available in this location, but a small kitchenette if you need to rinse something or warm something up in the microwave. Hollywood Studios doesn't have the same draw for small children like the other parks do, so we assume this is why the Baby Care Center didn't need to be very large. Privacy and quiet is tricky in this location, but again we are thankful at least it's available when necessary.
3 – Epcot
Epcot's Baby Care Center is located between the front of the park and Mexico. Look for the low-traffic bridge that jets out around the water as you walk from Test Track to Mexico. You will see signs for First Aid and the Baby Care Center. Whenever we go to the Epcot Baby Care Center, we feel like we've been invited to a secret location! It is off the regular walking path and seems to be the quietest, least crowded baby care center of them all. Strollers are to be parked outside before entering. Inside, you will find the same spaces offered at the Magic Kingdom Baby Care Center, but they all seem much larger. Our tip for this one would be to enjoy the air-conditioned space. There is space for my husband and daughter to come with me if they want to rest. While they don't come in the nursing space, they can sit in the area with a TV and enjoy a quiet moment while I nurse. They also have great restrooms for everyone in your family if needed. With space to spread out, this baby care center ranks in as our second favorite center.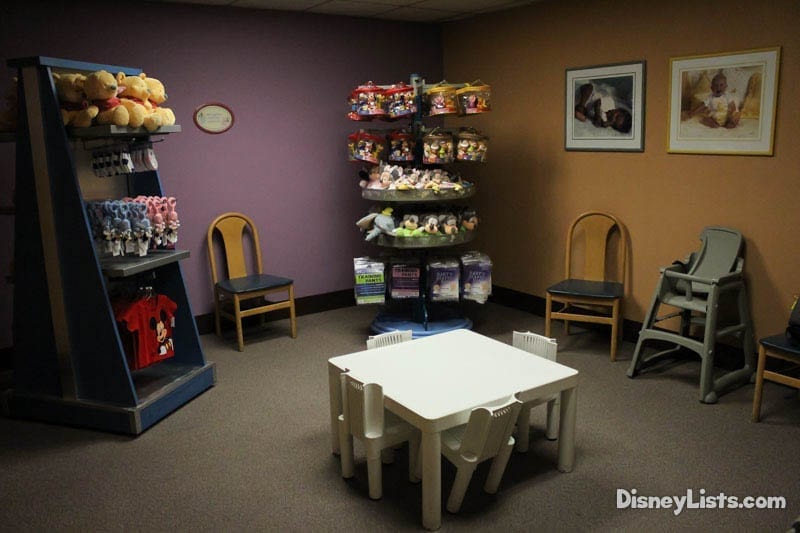 4 – Animal Kingdom
Oh, baby! Finally, hands down, our favorite Baby Care Center is at Animal Kingdom. As the newest theme park at Disney World, Imagineers heard parents' requests and built this Baby Care Center accordingly. This center is located in the middle of the park next to "Creature Comforts" and close to the Starbucks, which is rather convenient in our opinion! You will see Cast Members ready to direct you as needed as you enter. In the entrance space are the baby care items for purchase if required. Off to the left is an open space for sitting down and relaxing, with a TV for the little ones. Keep walking straight, and you'll enter what looks like a car lot of baby changing tables! Then our absolute favorite part – located around the large changing table room are several individual rooms. Each room has a changing table of its own and a rocking chair. Pick a room, shut the door, and make yourself at home with your baby. As a nursing mom, I love this space! The colors in the rooms are bright, but you can also turn off one of the lights if you are seeking a dimmer space. Plus, you will notice just how wonderfully cool it is in there when you need it the most. The best part is even in the busy months, this place never seems to get too busy, maybe because of its large size. We have even taken the stroller several times and navigated through the center with no issues. I'm fairly certain that if I ever meet an Animal Kingdom Imagineer with a hand in this design, I think they'll get a hug or two from this happy mom!
We hope this article helps you know what to expect out of the Baby Care Centers during your amazing trip to Disney World with your little mouse. Here is a great link to view locations and more details about the Baby Care Centers at Disney: https://disneyworld.disney.go.com/guest-services/baby-care-centers/.
For a no obligation, FREE Quote on a Disney vacation package, please contact our travel partner Magical Vacation Planner at 407-442-0227 (407-442-0215 for Spanish). You can also request a FREE quote online by Clicking HERE.