Souvenirs are things we buy on vacation to remember our time away when we get home. Souvenirs from Disney World are a little bit different though. We want souvenirs that will not only remind us of the great times we had on vacation but will also help us get to remember the magic at Disney. The magic of Disney is difficult to describe, but you know that feeling and some souvenirs can help you hold onto that feeling. Here are 10 of the best souvenirs to keep the magic going at home.
10 – Pens
Pens are a simple, inexpensive and easy-to-pack souvenir. They can be purchased in a multi-pack, you can pick from multiple styles and buy just one single pen. They are way a way to incorporate a little bit of Disney into your every day, whether it's writing your grocery list, something you always keep in your purse, or the pen at your desk that you use every day. It's something small that can be a subtle reminder of the magic of Disney.
9 – Magnets
Disney has a wide array of fridge magnets. You can get magnets of particular rides or characters, there are Mickey ice cream bar, churro and Mickey pretzel magnets, and even picture frame magnets. They are an easy way to add Disney to your day, a little magic to catch your eye every time you open the fridge.
8 – Coffee Mugs
What better way to hold onto the Disney magic from your vacation than by drinking tea or coffee from your Disney mug every morning? Mugs are a great souvenir to bring home, they pack easily in your luggage and they are practical. And if you ask me, coffee and tea just taste better in a Disney mug.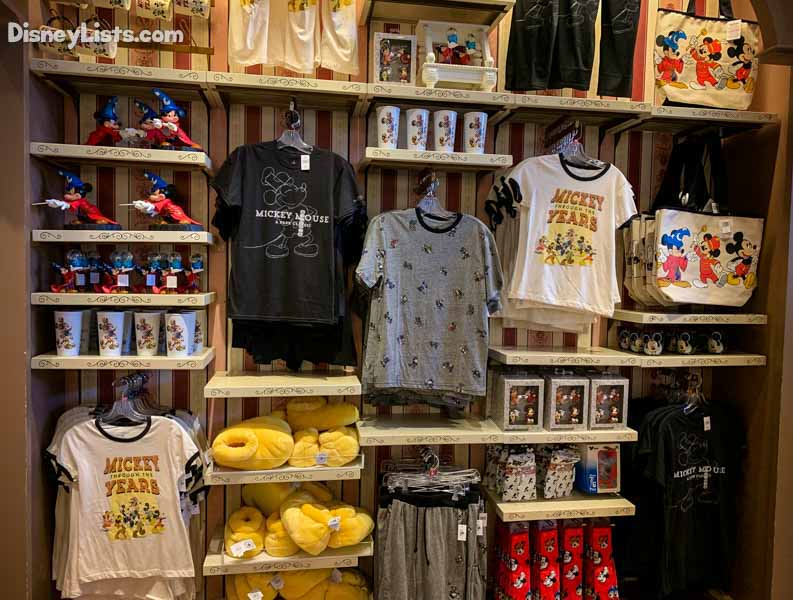 7 – T-shirts
T-shirts are fun and very practical. They're a great way to show your Disney side when at home and they show everyone you see that you're a Disney fan! T-shirts are an easy way to express which rides are your favorite, which park you love the most or who your favorite characters are.
6 – Art
There are stores all over Walt Disney World that sell only Disney art. These stores, especially The Art of Disney at Disney Springs, are full of beautiful art in all different styles. There are figures and collectibles, intricately designed decorative pill boxes, Jim Shore figures, postcards, prints, and original art. They range in price from affordable to not-so-affordable. When you get your piece of art home and hang it on your wall or display in on a shelf, it's like sprinkling a little pixie dust all over your home.
5 – Accessories
There is a whole wide and diverse world of Disney accessories and in a wide price range. The Dooney & Burke purse and bag line is very popular and stylish, there is jewelry for children and adults, both everyday jewelry and more dress-up jewelry. Disney watches are also a collectible and popular accessory for adults, as well as children. Accessories are another souvenir that can be easily incorporated into your every day, reminding you of the magical times you had at Disney.
4 – Music
Some stores around Disney, especially The World of Disney at Disney Springs sell Disney music, ranging in film soundtracks to attraction and park music. This is one of the best ways to transport yourself back to the parks. In the past, Disney has made attraction music available such as the soundtrack from The Haunted Mansion and Pirates of the Caribbean. There are also CDs available that feature parade music, and nighttime spectacular music. This souvenir isn't always the easiest to spot in the stores, but a cast member will happily help you find it. Nothing makes a bad day better like listening to the music from Wishes or hearing Yo-Ho, A Pirate's Life for Me!
3 – Christmas Ornaments
It might seem silly to purchase Christmas ornaments or decorations if you're visiting Disney during the warmer months, but they are a fantastic souvenir. Pulling them out at Christmas time adds extra magic to the holiday season, reminding you of the warmer days you spent at the most magical place on earth. Some people like to pick up one decoration per trip to add to their Disney Christmas ornament collection.
2 – Mickey Ears
Mickey ears, or a variation on the ears, are probably one of the most fun and classic souvenirs there are. They are the best way to show your Disney side at the parks and they can be put on display when you bring them home. One look at those ears will bring a smile to your face, and you can't help but feel that warmth that we all know is Disney magic.
1 – Memory Maker
Memory Maker is a service that gives you some of the best souvenirs you can take home from your time at Disney. The Memory Maker gives you access to all the photos you've had taken by Disney photographers during your stay. The photos include shots of you and your family or party in some of the most picturesque spots in all of Disney, and all the photos you had taken with characters and of course ride photos and even some ride videos. Having access to these photos online, on your computer or printed and framed, will help you remember all the magical moments, big and small, that you had the parks. Looking through photos from your time at Disney is easily the best the way to keep that Disney magic alive at home.
For a no obligation, FREE Quote on a Disney vacation package, please contact our travel partner Magical Vacation Planner at 407-442-0227 (407-442-0215 for Spanish). You can also request a FREE quote online by Clicking HERE.