There are so many fantastic dining locations on property. Sometimes the character dining experiences can be exhausting, or maybe your kiddos don't enjoy the characters. If you are looking for an overview of the best restaurants that don't have characters, then this list is for you! Here are my top 10 table service meals with no characters that are also great for families.
Editor's Note: During the phased reopening of Walt Disney World, some restaurants will not be operating or will be modified. Before your trip, check your My Disney Experience app for up to date hours for restaurants.
10 – Liberty Tree Tavern: Magic Kingdom, Liberty Square
This location is in a fantastic location toward the center of Magic Kingdom in the very patriotic area, Liberty Square. The restaurant has services at Lunch and Dinner, and both are great for families. At lunch, you order from a menu with many delicious options, including dishes like pot roast, a turkey feast with all the trimmings, burgers, and more. I have to say that dinner is our favorite, though! At dinner, the meal is served family-style with a prix fixe menu. The menu is the epitome of comfort food, starting with a delicious salad and followed by turkey, pot roast, and ham. They are accompanied by stuffing, mashed potatoes, vegetables, and more. The dessert is a delicious tart that the family will love. Even better, kids under 3 are completely free and don't have to share a plate with you. The meal is all you care to enjoy, so you can order more of any component to the meal that you want more of. I recommend you come for dinner and skip lunch or eat a light lunch, so you save money, and you get the most value out of the meal.
9 – Yak & Yeti: Animal Kingdom, Asia
Nestled in Asia within Animal Kingdom, the restaurant serves Asian-inspired dishes. There is a little bit of everything with a little spin on the items. You can get items like sushi, potstickers, a bento box, noodle bowls, rice dishes, ribs, and so much more. The restaurant has a lunch and dinner service each day, and the menu is the same, so you can't go wrong either way. We feel that the restaurant has something for all tastes, and our kids love their options. Be sure to save room for dessert and have the Fried Wontons. They are delicious sweet cream cheese wontons on skewers with fresh pineapple, plus ice cream and honey. Such a unique dessert and absolutely delicious! Try to get seated upstairs if you can, too. We feel like it is a little bit quieter upstairs, and you have great views overlooking the area!
8 – Sci-Fi Dine-In Theater: Disney's Hollywood Studios
This restaurant is so much fun! As soon as you enter the dining room, you will be amazed. The entire restaurant is set up to look like you are in the drive-in theater complete with the ceiling looking like the sky and a fence around the perimeter. It is amazing! There is a huge screen where clips from old sci-fi movies are playing, complete with old school commercials you might have actually seen at the drive-in. Lined up in front of the screen are "cars" that are actually tables! This place doesn't just have your normal nachos and hot dogs type of food from the drive-in either. The steak with horseradish potatoes is my absolute favorite! You can also get items like shrimp pasta, shepherd's pie, deluxe burgers, and so much more. Kids absolutely love this place since there is so much to keep them entertained. You have the huge screen playing films, and you have all of the neat décor. You also may even see a server on roller skates. It really is fun and delicious for the whole family.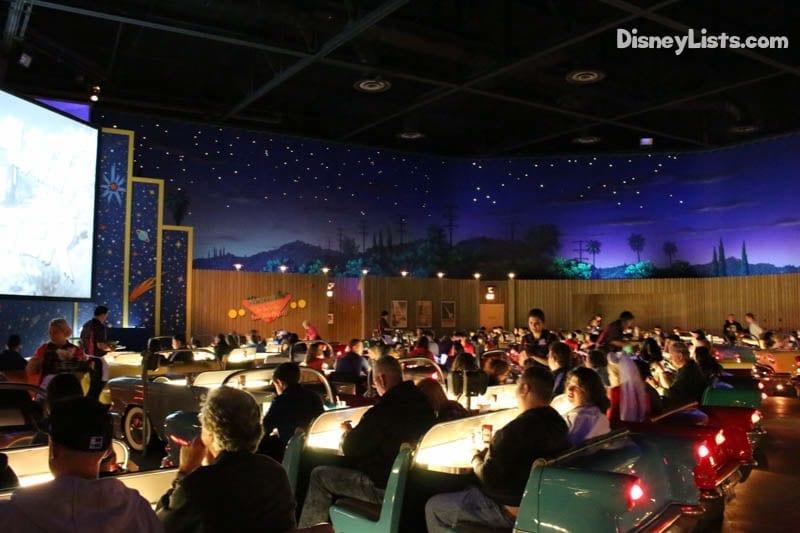 7 – Coral Reef: Epcot, The Seas Pavilion
If your kids are anything like mine, they are mystified by aquariums and getting to see sharks, turtles, and other aquatic life. At this restaurant in Future World at Epcot, you actually dine right up next to the amazing tank at The Seas Pavilion. You get to enjoy all the action while you dine. It definitely keeps the whole family entertained and engaged in the experience. The food is also just as impressive. The steak is always good, as well as the shrimp and grits. If you are in the mood for fish, the Mahi Mahi is a favorite for our crew. For dessert, the Bailey's and Jack Daniels Mousse is a must-have. It is definitely as rich and decadent as it sounds and a chocolate lovers dream. Lunch and dinner services are available, and both are equally as good!
6 – Tony's Town Square: Magic Kingdom, Main Street USA
This restaurant is absolutely adorable! It is themed after Tony's from the classic Disney movie, Lady and the Tramp. The movie is even playing on the TV in the lobby while you wait to be seated. The menu is, of course, all Italian inspired, which is great for the whole family, especially if your kiddos enjoy pasta dishes. Everything that we have had there has been great. You also can't beat the location at the front of the Magic Kingdom, which makes it great to have lunch or dinner and then head out to get ready for an upcoming parade or fireworks depending on your reservation time. There are also so many character meet and greets up in this area, so there are many things to do before or after your reservation around the area. We love this one!
5 – Rainforest Café: Disney Springs or Disney's Animal Kingdom
We are so happy that there are two different Rainforest Café locations, and they are both equally as great! This restaurant is so much fun, with a thunderstorm happening in the rainforest every 15 minutes or so. From the moment you walk in, it is like you have been transported to the heart of the rainforest with beautiful aquariums and animatronic rainforest animals around the restaurant that have lifelike movements. They go crazy during the thunderstorm, and it is so much fun! The menu is quite extensive with a little bit of everything, including pastas, steaks, burgers, wraps, and so many more options, so it is great for all taste buds. Be sure to take a stroll through the gift shop before you leave, too! There are usually some great deals and a lot of neat souvenirs.
4 – Teppan Edo: Epcot, Japan Pavilion
This is another favorite for our family. The restaurant is deep in the World Showcase at Epcot in Japan. It is served and prepared hibachi-style right in front of you. The show is a blast for everyone, as the chefs are high energy and bring a little Disney magic to the show that they put on while they impress you with their mad cooking skills. Everyone in our family is mesmerized and can't wait until the next time we get to go back and enjoy the show and meal. The food is just as delicious and is a huge meal. You get salad to start, fried rice, vegetables, Japanese noodles, and the entrée protein of your choice if you order the meal. There is definitely plenty to share with the under 3 kids, too. You definitely don't want to miss this one!
3 – 50's Prime Time Café: Disney's Hollywood Studios
Speaking of fun restaurants, this one also fits the bill. At this restaurant, you are going to dinner at "Mom's" house, and one of your aunts, uncles, or cousins will be your server for the evening. They will be sure to remind you to mind your manners, too! No elbows on the table! You start your meal by "setting the table" to get ready for tasty "Mom's" home cooking. You have items like pot pie, fried chicken, stuffed pork chops, etc. I definitely recommend that you try the peanut butter and jelly milkshake! I know it sounds weird, but it is so delicious! The prices at this restaurant are pretty reasonable from a price perspective, too, especially as far as table service restaurants at Disney World go. Be sure to eat all of your vegetables, or you might have them fed to you!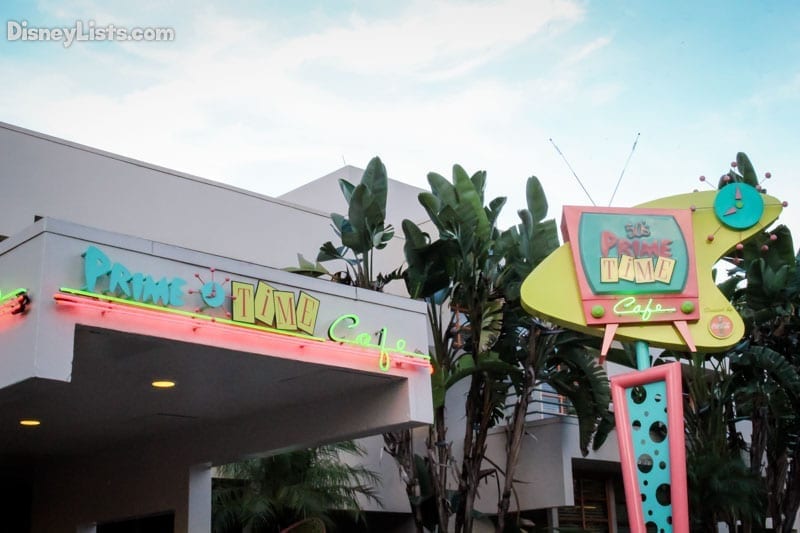 2 – T-REX: Disney Springs
If you have dinosaur lovers in your group, you have to go here! You are greeting by a huge, moving and roaring T-Rex as soon as you walk into the restaurant. You will also find many other dinosaur breeds all over the dining room. The restaurant is broken up into different sections, like fire and ice. The fire room is red, while the ice room is a blue color that changes during the meteor shower that occurs every 15 minutes or so. During the meteor shows the dinosaurs go crazy and make the whole restaurant come to life. You can see the meteors on the ceiling in the fire room, and it's really cool. The menu is very large, with options from all of the popular types of cuisines. This keeps it very diverse to tailor to all palates and cravings. Plus, the kids can even get dinosaur-shaped nuggets, which is a definite favorite for our kids! It is so much fun, and after dinner, you could head on over to the gift shop and do the Build-A-Dino experience, which is definitely a blast!
1 – O'hana (Dinner): Polynesian Village Resort
This is our absolute favorite meal on property for our family. The restaurant is absolutely gorgeous with lush greenery and wrapped in windows that offer views of the pool area, the beach, and the Magic Kingdom, particularly Cinderella's Castle, in the background. It is a beautiful view and a great setting. The dinner is served family-style and is all you care to enjoy. This also means that you don't have to pay anything for kids that are under 3 or share a plate with them! The meal starts with their traditional bread. Then the rest of the food starts coming out. You'll have a fresh, delicious salad. Then the potstickers and glazed wings. The main course is meat passed around on skewers (which is grilled in the center of the restaurant in an open kitchen over the fire) and accompanied with noodled and vegetables. The dessert is one of the best desserts in all of Walt Disney World, so make sure you save room. It is a decadent bread pudding topped with vanilla bean ice cream and a caramel banana sauce. Don't forget that you can order more of anything you want, including dessert, so come hungry! My biggest tip is to plan your reservation so that you are dining in the restaurant during the fireworks at the Magic Kingdom. You have a great vantage point to see the entire show over the castle from the restaurant, and the music is piped in. It is the perfect evening minus the crowds!
For a no obligation, FREE Quote on a Disney vacation package, please contact our travel partner Magical Vacation Planner at 407-442-0227 (407-442-0215 for Spanish). You can also request a FREE quote online by Clicking HERE.