Toy Story Midway Mania is still one of the most popular attractions in all of Walt Disney World, and the opening of Toy Story Land has only brought more attention to this attraction. The FastPass+ selections go quick for this one, and the standby line is almost always long. It is one of the few attractions that guests of all ages can experience within Disney's Hollywood Studios. Plus, let's face it… we are all still VERY obsessed with Toy Story! All of the movies are great, and we can't get enough of those beloved toys. Here are ten facts and secrets about Toy Story Midway Mania that you may not know:
10 – The story behind the attraction.
There is always a story behind Disney attractions to help immerse guests in the experience. You may not know the full story behind Toy Story Midway Mania. In this attraction, Andy got a carnival game for his birthday. His toys have come to life and put together the game, and they invite you to take part in and try the different games. Of course, you "shrink" down to the size of toys and become toys to participate because the toys won't come to live when humans are around. You will notice during the attraction that there are empty boxes for the carnival game in Andy's bedroom to support the story for the attraction.
9 – Attraction opened in May 2008 and Made Disney history.
May 31, 2008, was the official grand opening for the attraction at Disney's Hollywood Studios. The California version of the attraction opened on June 17, 2008. Why is this Disney history? This is the first attraction that Disney created at two different Disney parks at the same time. The attractions are mostly the same and opened less than a month apart. We have repeat attractions at other parks, but they were never built and designed simultaneously. Pretty cool!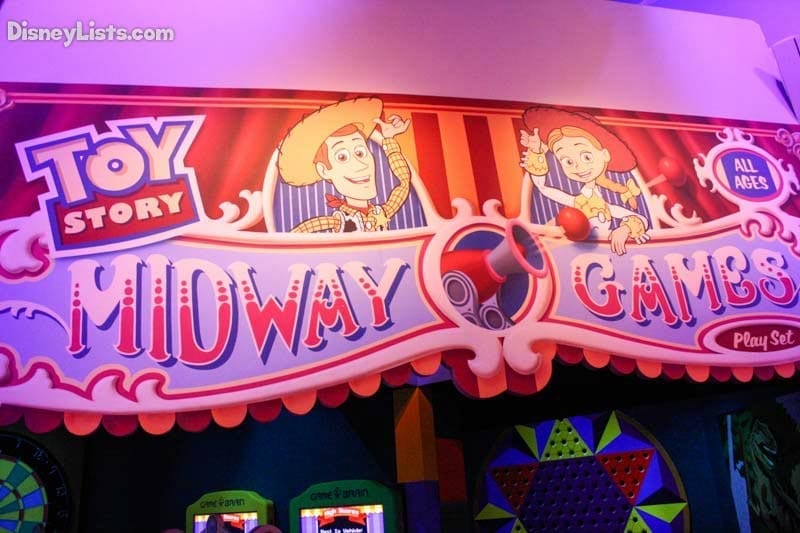 8 – The artists wore 3D glasses while they painted.
Look around at the walls when you are spinning between the different games. You will notice that there is a lot of artwork that looks amazing in the black lights and with the 3D glasses that you wear during the duration of the attraction. This artwork was actually designed and painted while each of the artists wore 3D glasses. They wanted to ensure that they looked perfect from the guests' perspective. Love this extra care and detail!
7 – Update to attraction to include Toy Story 3.
The attraction opened before Toy Story 3 was released in June of 2010. So on May 21, 2010, just before the movie opened, Disney changed the mini-game, "Bo Peep's Baaa-loon Pop," and replaced it with "Rex and Trixie's Dino Darts." Trixie was a new character introduced in Toy Story 3, and guests that visited around that time got to see her before the movie was released. Buttercup was also later added to the "Hamm and Eggs" game as another Toy Story 3 character that was introduced to the attraction, so incorporate Toy Story 3 into the attraction.
6 – Mr. Potato Head was the first in the newer versions of animatronics.
The impressive nature of Disney's animatronics never ceases to amaze us. Mr. Potato Head was the first of the generation of audio-animatronics whose mouth appears to form vowels and words as he speaks. It really looks like he is doing the talking and perfectly matches his dialogue. The Mr. Potato Head animatronic can also speak more lines of dialogue than any other figured of his kind. Walt Disney Imagineering continues to work hard to outdo themselves with each attraction and technology that they build!
5 – It costs how much to make?
One of the Toy Story Midway Mania locations cost Disney $80 million from start to finish. This is a pretty expensive attraction, but based on the volume of guests that it attracts and the never-ending popularity, it was definitely worth it.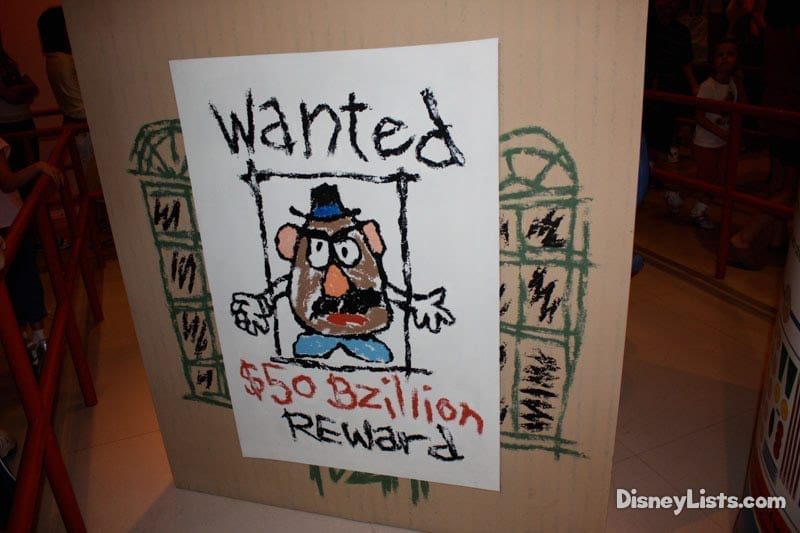 4 – If you want to be a top scorer during the attraction, look for the Easter eggs.
In each of the mini-games that you play, there is an Easter egg hidden that will allow you to score more points during the game if you find it. You have to find it and shoot it so that higher point targets will appear for you and your partner to target during the game. The earlier you find it, the more time you have to get these higher point targets.
3 – That's a lot of broken plates.
Cast members that support that attraction have said that there are typically over one million of the virtual China plates broken during 1 day. That is just for one of the mini-games, so you can imagine how many total targets are hit each and every day, plus all of the shots that miss!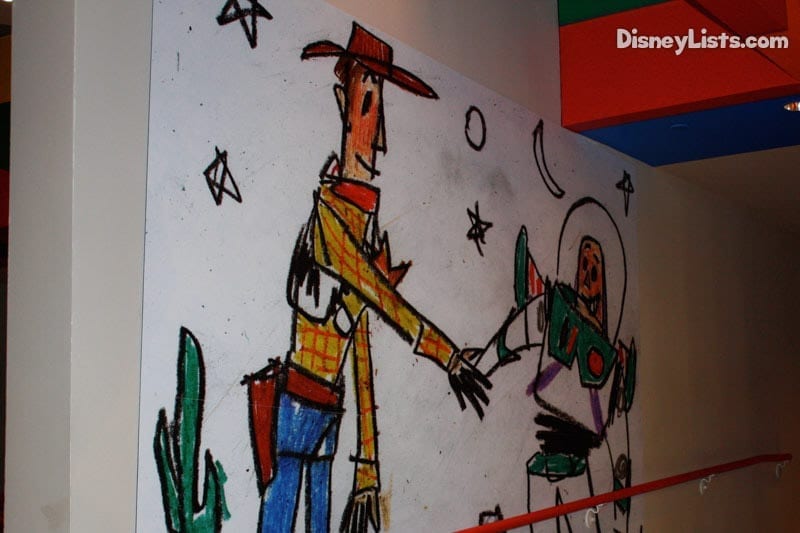 2 – A couple of cool ride facts.
It has been said that you would need to line up 5,026 toy soldiers end-to-end to equal the length of the track. Part of me really wants to invest in a lot of toy soldiers to try that! There are also more than 150 computers that communicate with each other to keep all of the games and ride components functioning. The ride is also around 4.5 minutes long, with each mini-game lasting about 30 seconds each for a lot of shooting fun!
1 – There are 6 mini-games, plus a bonus.
The mini-games appear in order as follows:
Pie Throw – You throw pies at targets that Buzz and Jessie are holding. It is more of a practice game, and no points are awarded.
Hamm and Eggs – You are trying to toss eggs at targets in a barnyard-themed mini-game. You are knocking down targets like cows, ducks, etc.
Rex and Trixie's Dino Darts – You shoot darts at balloon targets to earn points.
Green Army Men Shoot Camp – You try to break as many of the plates, with the highest point values as possible.
Buzz Lightyear's Flying Tossers – You are tossing rings around the aliens from the claw game.
Woody's Rootin' Shootin' Gallery – You throw suction cup darts at targets.
Bonus: Woody's Roundup Game – You shoot targets at rolling mine carts, and then you try to hit the last target as many times as you possibly can, so shoot fast!
For a no obligation, FREE Quote on a Disney vacation package, please contact our travel partner Magical Vacation Planner at 407-442-0227 (407-442-0215 for Spanish). You can also request a FREE quote online by Clicking HERE.