Packing is a vital part of your Disney vacation.  You will want to find that balance between making sure that you have everything you need for your vacation, what you can buy when you get there and what is completely unnecessary.  It can be difficult to make that call, but here are 10 tips and tricks that I hope will help you make sure you have it all covered:
Editor's Note: During the phased reopening of Walt Disney World, face coverings are required for guests ages two and over. Be sure to pack extras!
10 – Pack comfortable shoes for the whole family.
This is extremely important.  Everyone will need comfortable shoes that they can spend hours standing and walking in each day.  These shoes should be broken in, so that you know they are comfortable and won't be as likely to cause blisters.  It may even be good to have a backup pair of shoes just in case you do have blister problems, and consider bringing blister supplies, since they can be expensive at the resort.
9 – Don't forget the sunscreen and ponchos.
In Florida you can pretty much guarantee two things:  the sun is very hot and it is extremely likely to rain at least for a little bit during your stay.  It is a good idea to pack your own sunscreen and ponchos since they are much more expensive once you get to Walt Disney World.  This will also help make sure you are ready and get to having fun as soon as you arrive.
8 – You will want a bathing suit.
I know we all hate the idea of being in a bathing suit in front of tons of total strangers, but don't let that be a reason why you fail to pack one.  You will definitely want one, especially when you see how amazing the pools are!  Make sure the whole family is prepared for a pool day and packs for it!  Don't worry about being self-conscious and just focus on having a fun, relaxing time!
7 – Check the weather, and plan for rain.
Check the weather before your trip.  Depending on the time of the year, you may actually find that you will want a light hoodie or even pants for after the sun goes down.  Unless you are visiting in the summer, you may want to plan a mix of clothing options so you can adapt based on any weather changes.  Don't underestimate how hot it can be in Florida and definitely wear shorts and light tops.  You will be miserable in the middle of summer in blue jeans and heavy clothing!
6 – Always consider comfort first.
When making clothing selections, don't worry about dressing to impress!  Pick clothing that is light, breathable and extremely comfortable.  You will be doing a lot of walking, and likely in the heat, so you won't want to be miserable in your clothing.  If you plan to dress up for a few meals, pack those clothes, but consider going back to change before your meal, rather than wearing them all day long.
5 – Don't over pack.
This should go without saying, but I think that we all need a good reminder.  Don't over pack and go crazy packing way too many outfits or things that you are unlikely to need.  It is just more that you have to haul around and unpack when you get home.  It takes up room in your suitcase that could be used to bring home souvenirs from your vacation!
4 – Bring a park bag to carry what you need.
Don't forget a comfortable bag to carry around your sunscreen, water bottle, wallet, etc. while you are in the park.  I don't recommend carrying a ton of items with you, and I totally recommend going bag-less if you can.  I know that isn't feasible for some of you, especially if you have small children, so be sure you remember to bring a bag that will hold your supplies.  It should be comfortable to carry around, too!
3 – Pack an extra bag for souvenirs.
If you are a shopper and plan to buy a lot of souvenirs during your trip, then you should pack an extra bag that you can use to carry everything back.  You don't want to risk it not all fitting in your suitcases.  We like to pack and empty duffle bag in our suitcase so that we can put all of the souvenirs in there.  Depending on the airline and what souvenirs we buy, we make a decision as to whether we check the bag or carry it on.  It can save you a lot of stress and help make sure that you get everything home!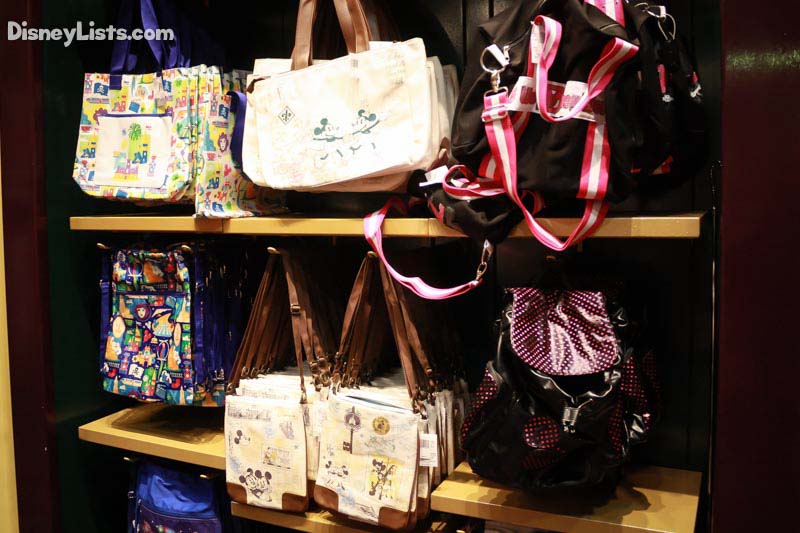 2 – Determine if Amazon or grocery delivery services are more efficient than bringing your own items.
If you know that you will need snacks, waters, etc. for your trip, then be sure to check all of your options.  It may be more costly in baggage fees to bring these items with you.  You may also have a hard time finding room to bring it all with you.  Amazon can be a great, affordable option to ship these items to the resort and the resort can hold it for you to pick up at the front desk.  You can even utilize one of the various grocery delivery services.  Compare all of your options so you know which would be the best bet before you immediately try to pack it all.
1 – Have a plan for if you get separated.
I list this in the packing tips, because depending on your plan you may need to buy supplies to pack on your trip.  Many families do the brightly colored matching shirts.  You could also try brightly colored ball caps, ribbons, etc.  You may want to make identification bracelets, necklaces, etc. for your kids in case they get separated, so that a cast member has all of the necessary information in order to help them get back to you.  These plans should be planned out before you get there so that you can be sure that everyone knows the plan and everything is packed.
For a no obligation, FREE Quote on a Disney vacation package, please contact our travel partner Magical Vacation Planner at 407-442-0227 (407-442-0215 for Spanish). You can also request a FREE quote online by Clicking HERE.