The Parks
10 Underrated Attractions at Walt Disney World That Shouldn't Be Missed
Walt Disney World is a favorite vacation destination of thousands of guests each year as it features four theme parks that are filled with attractions that are both classic and thrilling. Guests love to spend plenty of time in the parks enjoying the different types of attractions, and there are definitely some that can be considered super popular. Attractions like Space Mountain, Slinky Dog Dash, Avatar Flight of Passage, Soarin' Around the World, and Expedition Everest are extremely popular with guests and considered must-dos on every Walt Disney World vacation. While popular attractions are all fantastic, there are plenty of other attractions in the four theme parks, which are often overlooked by guests and can be considered underrated. While these underrated attractions might not attract the same attention as popular alternatives, they are wonderful experiences that should not be missed on any vacation. Here are ten underrated attractions at Walt Disney World, which should not be missed by guests!

1 – Walt Disney's Enchanted Tiki Room
Adventureland in the Magic Kingdom is home to the very popular attraction Pirates of the Caribbean as well as another experience that often goes overlooked. Walt Disney's Enchanted Tiki Room invites guests into a small theater where they can look up and enjoy a tropical serenade by birds, flowers, and tikis. With beautiful music, entertaining jokes and dialogue, and unique experience they won't soon forget, guests should definitely not skip Walt Disney's Enchanted Tiki Room.
2 – Country Bear Jamboree
Also found in the Magic Kingdom is an entertaining show which combines country classics with unique bear performers. Country Bear Jamboree is found in Frontierland and brings guests into a theater where many different bear performers put on a show-stopping performance with catchy tunes and good humor. Guests who enjoy Country Bear Jamboree are sure to find themselves clapping along to the finale and loving characters like Henry, Big Al, and Teddi Berra.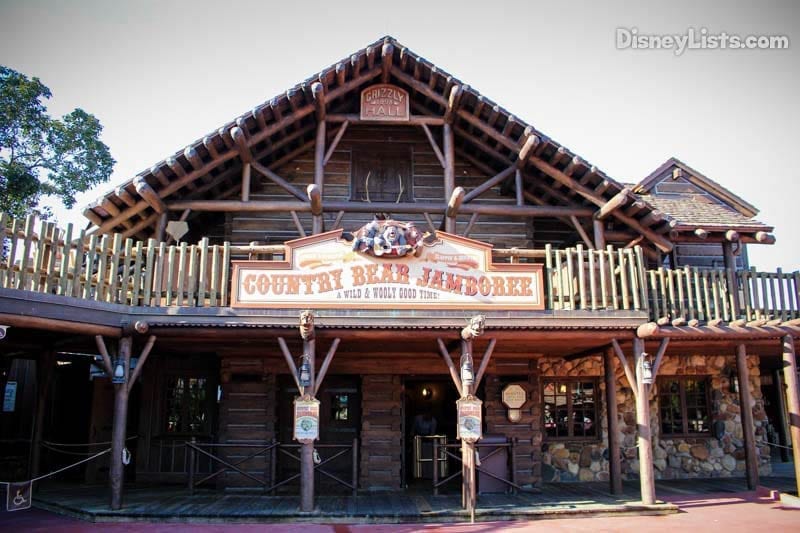 3 – Hall of Presidents
A patriotic attraction that is definitely considered underrated can be found in the Magic Kingdom's Liberty Square. The Hall of Presidents resides in a stately brick building, which many guests overlook on their way to the nearby Haunted Mansion. The attraction brings guests into a theater where the presidents of the United States are brought together on stage as one collective group. The impressive showing is sure to leave guests feeling patriotic after hearing Abraham Lincoln recite the Gettysburg Address.
4 – Tomorrowland Transit Authority PeopleMover
Tomorrowland in the Magic Kingdom is home to one of the most underrated attractions in all of Walt Disney World. The Tomorrowland Transit Authority PeopleMover brings guests on a journey along the high way in the sky and offers unique views of the land as well as glimpses into nearby attractions like Buzz Lightyear's Space Ranger Spin and Space Mountain. With gentle breezes, amazing views, and a quiet ride, guests should not skip the Tomorrowland Transit Authority PeopleMover!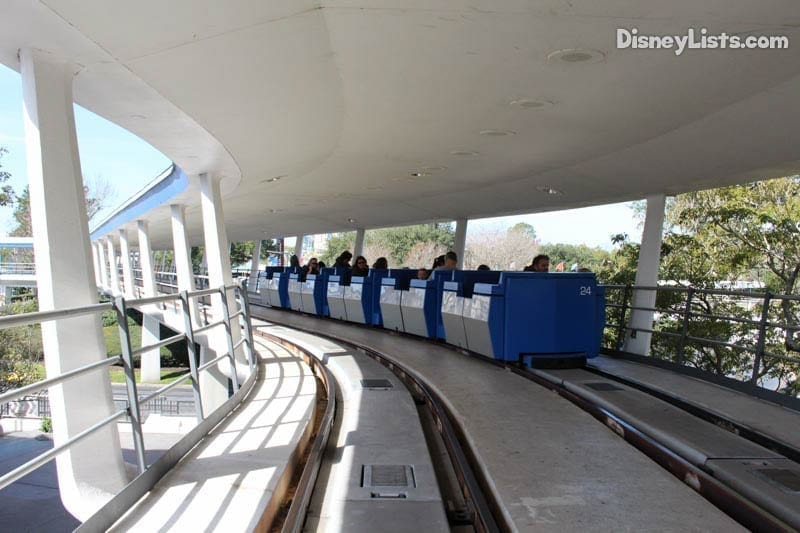 5 – Walt Disney's Carousel of Progress
Also found in Tomorrowland is an underrated attraction that goes back to the 1964 New York World's Fair. Walt Disney's Carousel of Progress is a unique stage show in which the audience rotates around scenes features on a central stage. Guests follow the same family as they move through the century enjoying new technologies and progress along the way. With the catchy theme song "There's A Great Big Beautiful Tomorrow" and innovative experience, Walt Disney's Carousel of Progress is a fantastic attraction to enjoy.
6 – Gran Fiesta Tour
At Epcot, hidden inside the pyramid in the Mexico Pavilion, the Gran Fiesta Tour takes you on a boat ride alongside Panchito and José Carioca as they try to find Donald Duck. It's a fun and whimsical ride that rarely has a long wait time and makes for a relaxing way to give your feet a break from walking. Taking you past the San Angel Inn Restaurante and through several different scenes with the Three Caballeros, this is a must-do attraction for many Disney guests.
7 – Journey into Imagination with Figment
Another underrated attraction in Epcot's Future World tends to go overlooked by guests who instead head towards nearby Soarin' Around the World. Journey into Imagination with Figment invites guests into the Imagination Institute for a tour of their sensory labs led by Dr. Nigel Channing. Figment the dragon soon interferes with the tour to showcase how imagination works best when set free. With plenty of whimsical and imaginative moments, humor, and fun with Figment, guests definitely can't miss out on Journey into Imagination with Figment.
8 – Muppet Vision 3D
Disney's Hollywood Studios is home to an attraction that is sure to leave guests cracking up. Muppet Vision 3D is an underrated show which brings the chaos and humor of the Muppets to life in 3D glory. Guests who enjoy the experience will find themselves laughing along as the Muppets demonstrate how they have discovered the spirit of 3D, put on show-stopping musical numbers, and nearly tear the theater down. While Muppet Vision 3D is underrated, it shouldn't be missed!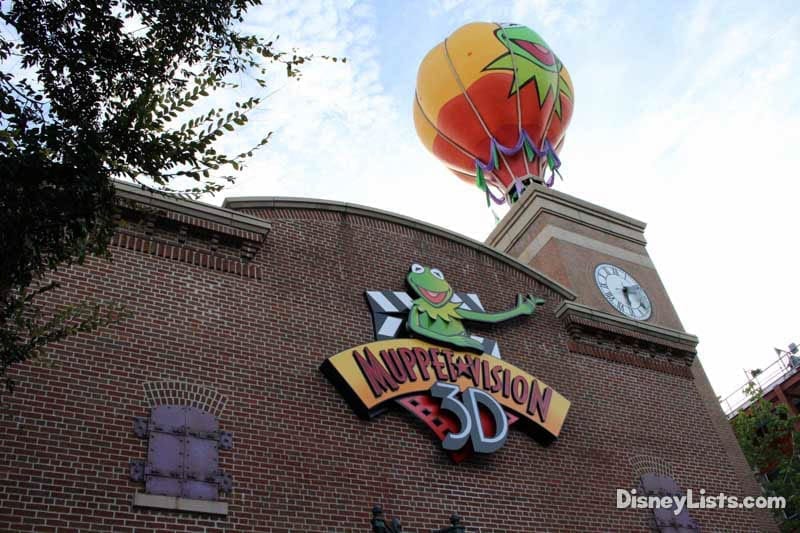 9 – Gorilla Falls Exploration Trail
Guests who visit Disney's Animal Kingdom tend to head directly for popular experiences like Kali River Rapids, Expedition Everest, Dinosaur, or Kilimanjaro Safaris. Still, they are missing out on two wonderful experiences along the way. The Gorilla Falls Exploration Trail (formerly Pangani Forest Exploration Trail) can be found near the exit of Kilimanjaro Safaris and is a self-guided walking trail that invites guests to discover beautiful scenery, plant life, and animals. The highlight of the Exploration Trail is the gorilla habitat, which offers guests the opportunity to enjoy the beautiful creates in their natural habitat of grassy hills and waterfalls.
10 – Maharajah Jungle Trek
The second experience which tends to be underrated in Disney's Animal Kingdom is the Maharajah Jungle Trek, which is also a self-guided walking tour found in the Asia section of the park. This trail brings guests into the Royal Anandapur Forest, where they can check out beautiful temple ruins, exotic landscaping, and beautiful Asian Tigers. Filled with wonderful details and beauty, the Maharajah Jungle Trek shouldn't be missed by guests in Disney's Animal Kingdom!
For a no obligation, FREE Quote on a Disney vacation package, please contact our travel partner Magical Vacation Planner at 407-442-0227 (407-442-0215 for Spanish). You can also request a FREE quote online by Clicking HERE.