Disney is king when it comes to fantastic entertainment. So it should come as no surprise that dinner shows at Disney World offer incredible entertainment and terrific food. When my sisters came down to Orlando this past spring to celebrate my birthday, we wanted to have a special dinner. We decided that the Spirit of Aloha Dinner Show would be a perfect way to celebrate the occasion. It was a fantastic evening, and I believe, worth every penny! Here are five reasons you'll love the Spirit of Aloha Dinner Show!
5 – Perfect Setting
The Spirit of Aloha Dinner Show is presented in an open-air theater, Luau Cove, at Disney's Polynesian Village Resort. The setting is perfect for this Polynesian themed show. With Magic Kingdom in the background, you may even catch the fireworks during your late evening show–we did!
Take note that the show outdoors. The show will be canceled for inclement weather including if the air temperature is too cold for the performers. I attended the show during the summer and so was concerned about it being rained out. I was assured by the Disney agent that if Disney cancels the show my purchase would be refunded. Thankfully, we had beautiful weather, and there was nothing to worry about.
4 – Not a Bad Seat in the House
Seating and pricing are divided into three different categories. Category 3 seats are on the far right and left sides of the main floor and back corners of the upper floor and start at $66. Category 2 seats are on near right and left sides of the main floor and center of the upper floor and start at $74. Finally, the best seats, Category 1, are on the main floor in the center and start at $78. Prices are seasonal so always check Disney for the most current rates.
The theater is very small and intimate, so there isn't a bad seat in the house. In a theater of this size, you will be able to see the entire show well from category 2 or 3 seats. Reservations are highly recommended and can be made up to 180 days in advance. Seating within the categories is reserved based on when we made our reservation, not when we arrived at the theater. Meaning, the earlier you make your reservations, the better your seats will be within the category you purchased.
Please note that if you are a Tables in Wonderland cardholder, you will receive a 20% discount for the second show only. You pay in full when you reserve your seats, and then you will receive your discount when you show your Tables in Wonderland card and ID when you arrive at the show.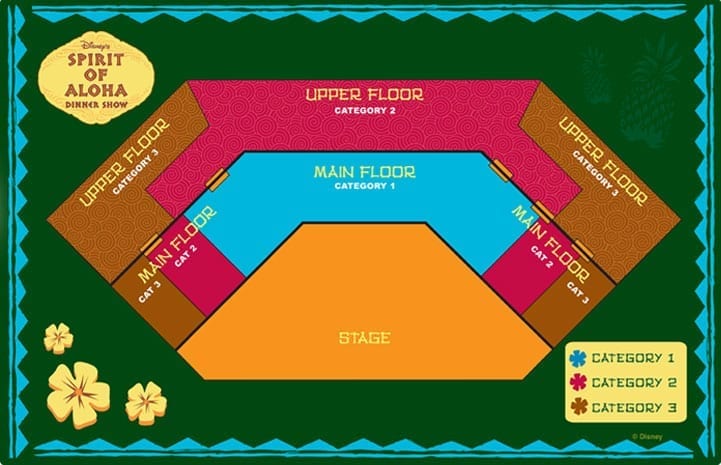 3 – Opportunity to Dress Up
While not required, you may want to dress up for the occasion. My sisters and I had fun finding floral print dresses and getting dressed up for the evening. Men, this is an excellent opportunity to pull out that Hawaiian shirt you've been dying to wear! (For a great selection of Hawaiian attire be sure to check out BouTiki, the Polynesian gift shop). Dressing up makes the evening that more special and really puts you into the Hawaiian spirit!
2 – Excellent Food & Drink
This all you care to enjoy tropical feast includes platters of pulled pork, BBQ ribs, roasted chicken and a vegetable medley. You'll also enjoy a fresh salad with mango-poppy seed vinaigrette, honey-lime slaw, and pineapple-coconut bread. Save room for dessert because you've got warm pineapple bread pudding with caramel sauce headed your way! If you have children in your group who aren't as adventurous, you'll be pleased to know that children's favorites like mini corn dogs, tater tots, cheese pizza, and grilled chicken or Mahi are available. The food was on par with other Disney restaurants. While not as good as Ohana, it was plentiful.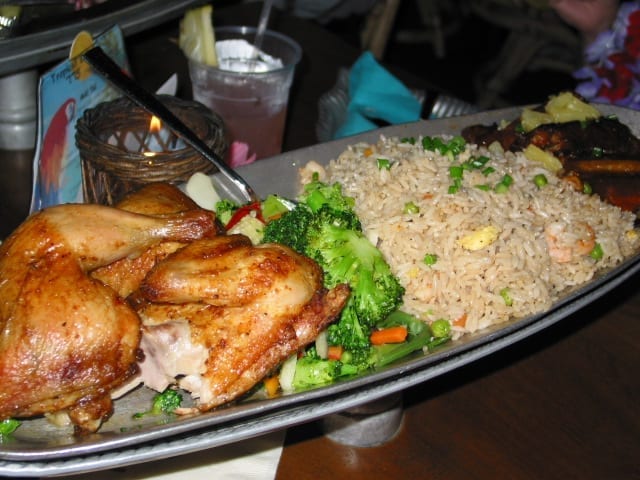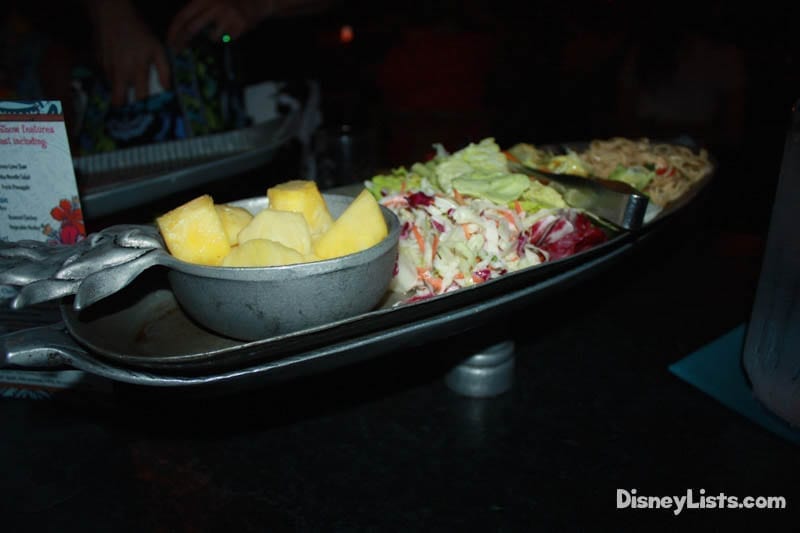 Unlimited soft drinks, lemonade, coffee are available. Guests over 21 years of age can enjoy beer and wine with their meals (included in the price). For an added charge, you'll find a good variety of cocktails including the tropical rum punch served in a hand-carved coconut keepsake. Specialty drinks options include the Fire Knife Quencher, Pina Colada, Strawberry Daiquiri, Maui Margarita, Island Breeze, and a Tiki Mai Tai. I got the very delicious Pina Colada.
Note that all specialty drinks are served in a souvenir Disney Spirit of Aloha Dinner Show (plastic) cup. They will bring you a clean cup to take home at the end of the show!
1 – Amazing Entertainment
The highlight of the evening is the entertainment. You'll be captivated by hula dancing, drummers and a show-stopping fire-knife performer. You'll see traditional dances from Polynesia, including dances from Tahiti, Samoa, Tonga, New Zealand, and Hawaii. The fire dancing alone is worth the price of admission. These guys are unbelievable and will take your breath away. Depending on the time of year, you may prefer to see this dance in the dark for the full effect, so consider the second show. Of course, if you are attending the show in winter, both shows will be after sunset.
If you are considering splurging on a dinner show, then this is the one you should see. Absolutely fantastic, it's worth every penny.
For a no obligation, FREE Quote on a Disney vacation package, please contact our travel partner Magical Vacation Planner at 407-442-0227 (407-442-0215 for Spanish). You can also request a FREE quote online by Clicking HERE.