Hollywood Studios is under a whirlwind of changes, expansions, and refurbishments. This may leave some disgruntled, but for us, it's just the stepping stone to more of Disney's excellent touches to explore in the near future! We do, however, have our list of favorites that we hope stay right where they are. Check out these 6 attractions we hope never close at Disney's Hollywood Studios.
1 – The Twilight Zone Tower of Terror
A haunted elevator, creepy Cast Members, and the unexpected plummeting down then shooting back up only to drop again attraction – thrill riders rejoice! The Twilight Zone Tower of Terror is one attraction that we REALLY hope never closes at Disney's Hollywood Studios. The Hollywood Tower Hotel is the perfect place to harbor such exhilarating thrills as it stands tall within the park. Screams can be heard as the elevator doors slide open for riders to see the park… and the ground that beckons them below! We especially love that this ride is unlike any other we've ever experienced! Plus, guests have a chance to experience different timing and amounts of drops each time they ride – leaving even those of us who have ridden it time and time again, guessing as to what will happen next. Going up? Or going down? One can only guess in this terrifying dimension.
2 – Rock 'n' Roller Coaster
Have you always wanted to catch a ride in a super-stretch limo to one of Aerosmith's concerts across town (or a Disney gift shop in this case)? This coaster is one we'd love to stick around at Hollywood Studios for as long as possible. You know it's an excellent ride when you shoot out from 0 to 60 mph within seconds, right into the first loop. Traffic signs glow, Aerosmith music is pumping, and all guests can do is hold on tight for this rockin' ride. As Disney guests swarm this attraction at all times of the day, leaving us with high hopes that this wild and crazy coaster will be staying at Hollywood Studios for the long haul.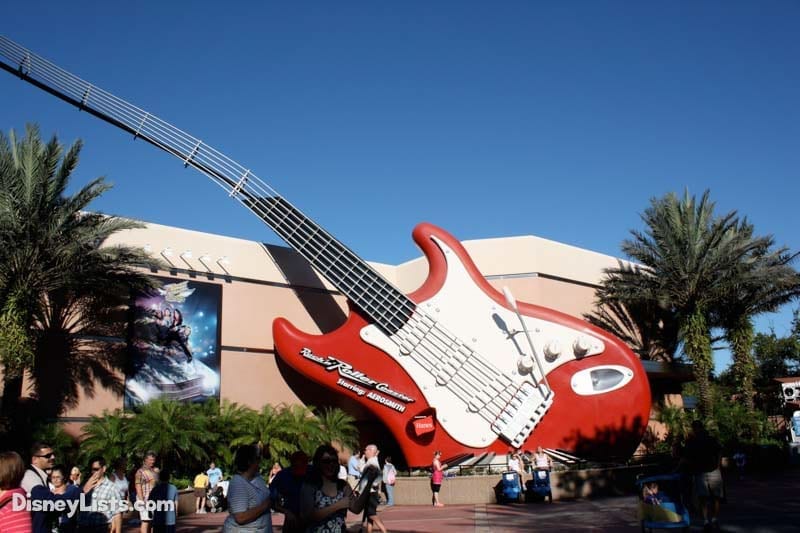 3 – Toy Story Mania!
We must add Toy Story Mania to the list, even though we are fairly certain this is one of Hollywood Studio's definite keepers! With the addition of Toy Story Land, we know that Disney Imagineers see that this attraction is a full-on success in every way! Toy Story Mania is one of the top attractions to fill up on FastPass+ reservations daily and is one of the longest standby line waits. Despite this, we have yet to see disgruntled guests come off this attraction as they usually beam with a huge smile from ear to ear! The 4D interactive game-like attraction is simply brilliant, and we can only hope the designers of this baby got a great raise in their paychecks with all the success! Who doesn't love to feel like a child again as guests shoot targets and whip around from room to room, gaining points for a final score? Toy Story Mania is an incredibly fun attraction, and we can't wait to see it expand so more guests have a chance to enjoy it!
4 – Beauty and the Beast – Live on Stage
Editor's Note: During the phased reopening of Walt Disney World, Beauty and the Beast – Live on Stage is temporarily suspended. Unfortunately, the Beauty and the Beast cast are among the cast members who have been laid off. Disney retains the rights to call them back. We hope and expect at some point in the future when conditions permit they will be called back and the entertainment that is critical to making the parks magical will return. If you feel that the entertainment staff are a big part of making the magic happen, we encourage you to let Disney know how important the entertainers are to your experience.
A "tale as old as time" – but hopefully an attraction as old as time as well! We'd love to see Beauty and her charming Beast stay put at Hollywood Studios for as long as possible. We can't get enough of the romantic fairy tale that comes to life on stage. The spectacular performers use their advanced skills of singing, dancing, and performing to make us all hold our breath even though we know the outcome before the show even starts! We tip our hats to the key performers such as Beauty, Beast, and Gaston, as their excellence radiates across the stage as if we are watching a Broadway performance. Our visits to Hollywood Studios wouldn't be complete without watching this incredible stage performance.
5 – Fantastmic!
Disney World is filled with excellent nighttime shows and fireworks, but Fantastmic takes one of our must-do spots for any first-timers to Disney. This isn't just a display of fireworks, but rather a story of the battle between Disney's good vs. evil. Disney characters galore – with, of course, Mickey as the spotlighted character – take on the evil Villains that are trying to turn Mickey's dream into a nightmare. Pyrotechnics, laser lights, and one million gallons of dancing water make this nighttime musical something you'll remember for years to come! We hope Fantastmic stays at Hollywood Studios for many guests to enjoy year after year. To think of it closing would be a nightmare!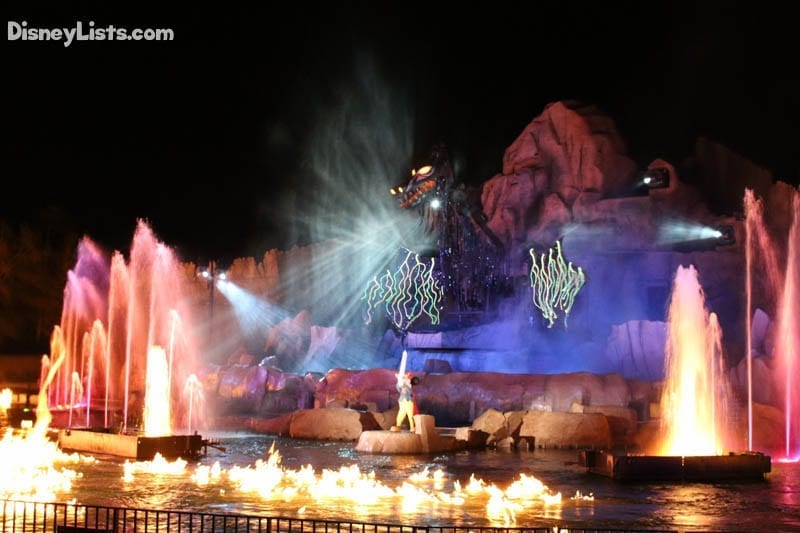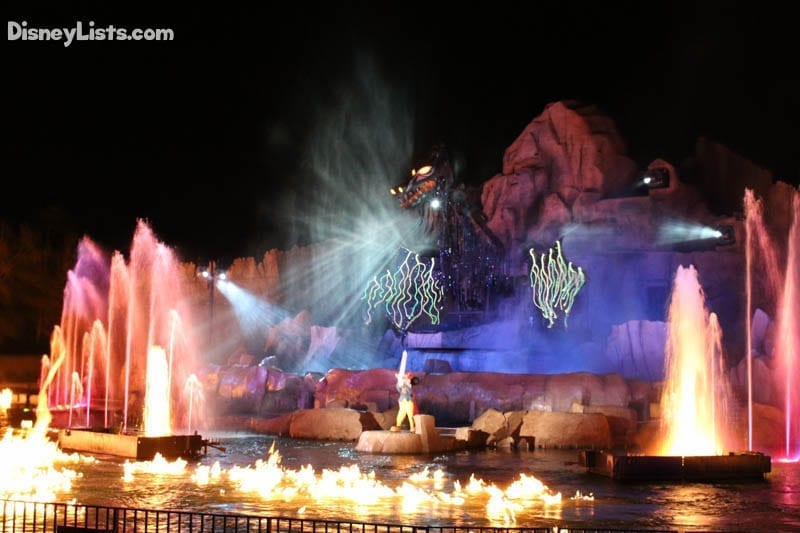 6 – Star Tours
Last on the list, but definitely not least, would have to be Star Tours! With the recent burst of current and future presentations of Star Wars at Hollywood Studios, we believe Star Tours is another safe attraction but always worry the dark side could step in one day! Instead, we'll hope the force stays strong with this one, and Hollywood Studios guests have a chance to enjoy their adventures through a galaxy far, far away in this 3D motion-simulated space flight.