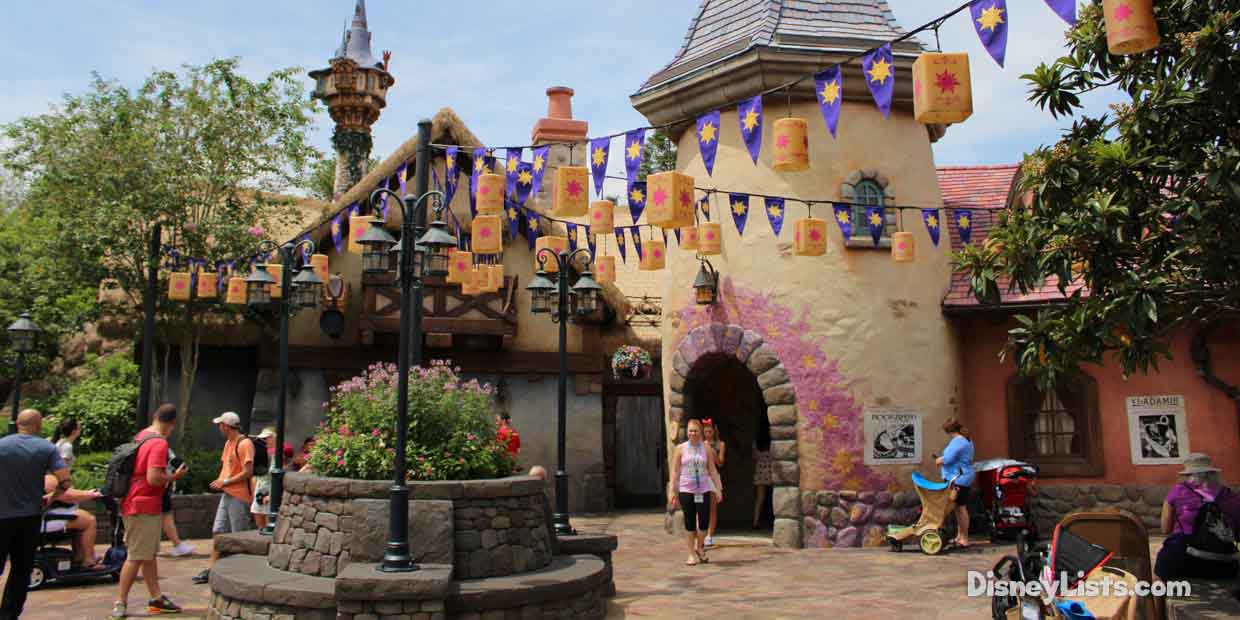 Fantasyland is one of the most popular lands within the Magic Kingdom for its size, the number of attractions, and the characters. It has the highest presence of Disney characters and direct representation from so many of our favorite movies and stories. Here are 6 fun facts and secrets about Fantasyland at the Magic Kingdom:
5 – That is a huge expansion.
Back in 2012, when Fantasyland was expanded to add New Fantasyland, it was the most significant expansion in the entire history of the Magic Kingdom. The whole area of Fantasyland was made up of 10 acres before the expansion. Now the land totals around 21 acres, more than doubling the original size and presence of Fantasyland. It is no surprise that this level of detail and expansion would be put into this land as the characters and theming of Fantasyland is what guests expect to see when they come to Disney World and is a perfect picture of the storybook type feel that includes so many of the popular Disney films and stories all in one place.
4 – The best Hidden Mickey.
The best Hidden Mickey in all of Walt Disney World is in Fantasyland. As you probably already know, there are these things known as "Hidden Mickey's" all around Disney parks where Mickey's head, body, ears, etc. are formed into rocks, flooring, paintings, details, etc., and you have to be paying attention to find them. This creates extra fun for guests to seek them out when they are waiting in lines and to explore Disney parks. Well, the Imagineers went above and beyond this time. They created a Hidden Mickey that can only be seen at noon every November 18th. Do you know the significance of November 18th? It is Mickey Mouse's birthday! The Imagineers created a rock formation in the queue for Under the Sea: Journey of the Little Mermaid that will create a Hidden Mickey on the floor of the queue precisely at that time one that day only. The sun will be in just the right place at that time to create the effect. Pretty special, right? This is one of my absolute favorite secrets in all of Walt Disney World.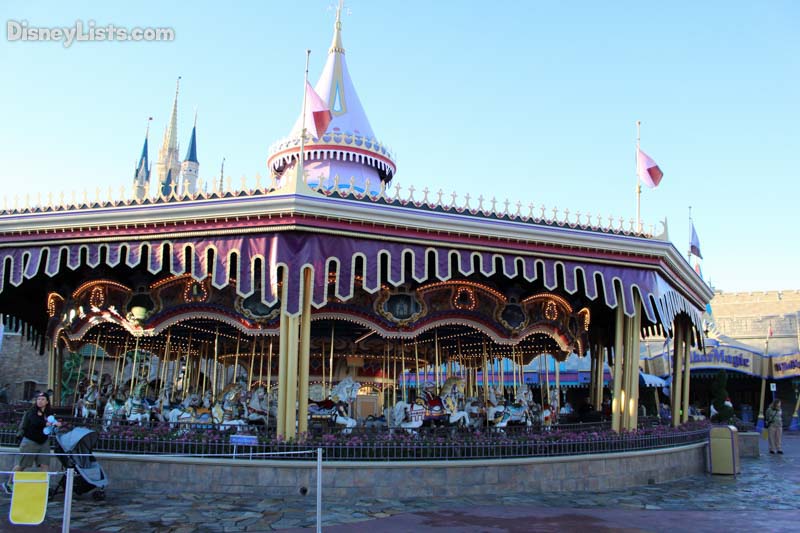 3 – The carousel had to be moved.
When the carousel, now known as Prince Charming's Regal Carousel, was first put in place in the Magic Kingdom, Roy Disney didn't like the placement and didn't feel it was perfectly aligned, so the entire attraction had to be moved 8 inches to be perfectly aligned behind the castle. Can you imagine the work to move and reposition the attraction to move it 8 inches? This is the kind of care and detail that we have come to grow accustomed to and love so much about our Disney World experiences. There is a certain level of perfection, regardless of the cost to create it, that you don't get to experience at most other places you visit.
2 – Raised the bar for bathrooms.
One of the most fantastic bathroom areas in all of Walt Disney World are the bathrooms in the small Tangled area of Fantasyland. This area is right where Fantasyland and Liberty Square meet. You can see Rapunzel's tower in the background. Right after you pass It's A Small World, you notice a bathroom area full of lanterns with the sun symbol on them all over the area, which is absolutely gorgeous at night. The music in the area is fun and lively, and the bathrooms are perfectly themed from Tangled. You really feel like you are in a section of Rapunzel's village, and this is just a restroom area! The opening of these bathrooms really set the bar high for restroom areas when new areas are created at Disney World. Now bathroom theming is even more heavily considered in constructing other areas, as we have seen in the recent reveal of the Arendelle bathrooms that were recently opened in Norway at Epcot. We hope this awesome bathroom trend continues!
1 – Some of the best character interactions.
Editor's Note: During the phased reopening of Walt Disney World, character greetings are temporarily suspended. You'll see characters come through each park in short parades. Click here for more information on how to see characters during the phased reopening.
We would definitely expect to encounter a lot of characters in the Fantasyland area. I feel that Disney definitely delivers here. We have the Beast meet and greet at Be Our Guest, which is an excellent opportunity to meet the master of the castle in his study and take pictures with him, and it is only for guests dining in his castle. You also have the very popular meet and greet with Gaston by his tavern. He is known for being extraordinarily arrogant and full of himself, which he perfectly portrays in his meet and greets and how he interacts with guests. Look a few of them up on YouTube if you haven't seen them. They are great! You also have so many other encounters to go along with these, including all of the classic Disney pals at Pete's Silly Sideshow, Disney princesses, and so much more. If you want to fill up your autograph book and take lots of pictures, this is the place to be!
For a no obligation, FREE Quote on a Disney vacation package, please contact our travel partner Magical Vacation Planner at 407-442-0227 (407-442-0215 for Spanish). You can also request a FREE quote online by Clicking HERE.