Star Wars is all over Disney's Hollywood Studios now, and my family couldn't be happier!  We have a group of Star Wars loving fiends in our group, and they can't get enough.  With all of the Star Wars additions also brought about the Jedi Training:  Trials of the Temple experience!  This one is a lot of fun, and you should at least stop and watch it if you haven't already.  Here are 6 facts and secrets about the experience:
6 – The experience replaced Jedi Training Academy.
Jedi Training: Trials of the Temple opened in late 2015.  From 2007 until the change up in 2015, the attraction was known at the Jedi Training Academy.  It has remained a popular and highly desired experience for young padawans to enjoy during their visit to Disney's Hollywood Studios on the stage right next to the Star Tours attraction.  It is a great opportunity to see characters, hear the popular music and witness kids getting to live out a dream!
5 – It used to only be during Star Wars Weekends.
When the Jedi Training Academy first started, it was only offered on Star Wars Weekends as one of the additional Star Wars offerings for smaller guests to enjoy.  Star Wars Weekends are now no more with Star Wars having a regular daily presence in the parks.  With this change, the experience has now become a daily attraction, which increases the amount of opportunities that children have to enjoy being a Jedi on the big stage.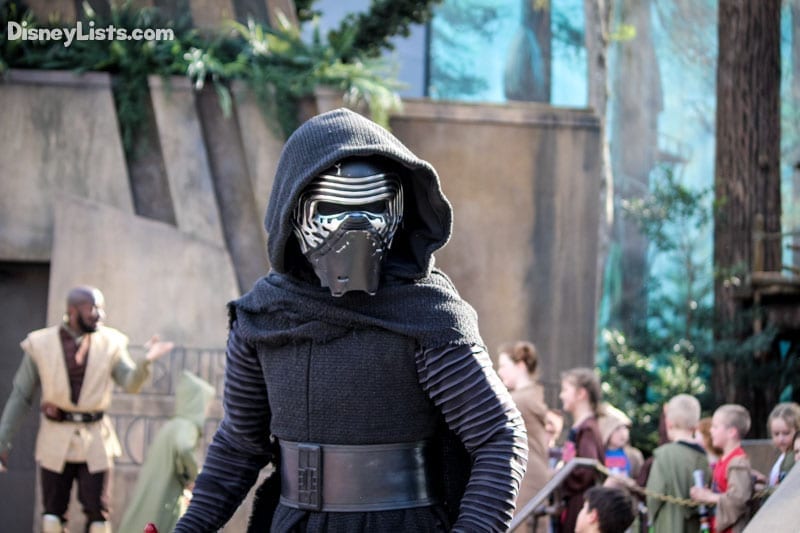 4 – There are new character additions.
The experience has always included storm troopers and Darth Vader. When the attraction changed over to Jedi Training:  Trials of the Temple, it also added an additional character to the show. Kylo Ren now fights young padawan's along with Darth Vader.  With Kylo Ren's introduction in Force Awakens, there is no surprise that he would make an appearance to the set! (The Seventh Sister who is a villain known from Star Wars Rebels, a popular Disney XD series, was a previous villain on the stage).
3 – There is an age limit.
In order to be a part of the show and test your Jedi skills, you must be between the ages of 4 and 12.  There won't be any exceptions to this.  (Believe me, my husband tried!)  The guests will have to register in advance at the Indiana Jones Adventure Outpost and must be present during the time of registration so the cast member can verify they look around the right age.  Registration begins as soon as the park opens and is only offered on a first-come, first-served basis, so if you know your young Jedi has their heart set on doing this, then you may want to rush over there first and complete the registration.  Anyone can watch the show, though, and it takes place several times a day!
Editor's Note: During the phased reopening of Walt Disney World in 2020, we expect that this experience will be temporarily suspended. 
2 – If your child will be in the show, plan accordingly.
When you register, you will register for a time slot for your child to participate.  You will have to be back at the meeting area 30 minutes prior to the showtime to get ready.  The show takes around 20-25 minutes.  It is wise to plan at least an hour cumulative.  You will want to consider this when selecting the time so that you aren't frustrated if it interferes with any of your FastPass+ or dining reservation times.  Use that guideline to pick a time that works best for your group.  If you aren't there at the designated time, they will pull from the alternates list, so make sure you plan and get there when you need to so your child's spot isn't given away!  May the force be with you!
1 – It isn't only a Disney World attraction.
With the popularity of all things Star Wars, Disney World is not the only one to have Jedi Training – Trials of the Temple as part of their entertainment lineup.  Disneyland in California has the attraction at Tomorrowland Terrace.  At Disneyland Paris the attraction is located inside Videopolis in Discoveryland.  Hong Kong Disneyland also has its own version of the attraction for their guests.  The experience has also been offered at the Star Wars Celebration and a D23 expo when it was still the Jedi Training Academy.
For a no obligation, FREE Quote on a Disney vacation package, please contact our travel partner Magical Vacation Planner at 407-442-0227 (407-442-0215 for Spanish). You can also request a FREE quote online by Clicking HERE.