We are slightly partial as we type this article because Disney's Old Key West is our home resort as Disney Vacation Club members. Old Key West is actually the reason we decided to become Disney Vacation Club Members – we wanted to call this tropical paradise home! So why do we recommend you stay at Old Key West? Check out these six reasons.
1 – Tropical Oasis
Of all the Disney resorts we have stayed at, we personally favor the atmosphere Old Key West provides. It truly makes us feel like we have headed down to mile marker 0 at the South Florida Key West. The Margaretville/tropics style music playing from the clubhouse area and the lush flowers and landscape aren't the only factors that bring the Key West atmosphere to life, but you'll find it in the laid-back style of Cast Members and people visiting. You'll experience over-the-top customer service and friendliness, even for Disney's above normal standards. Flip flops, Bahama button-down shirts, sunhats, and a drink in your hand are welcome at this resort. If this sounds like you, rest assured your oasis of relaxation awaits. So be prepared to put your bare feet up and lay back and relax in a hammock or lawn chair.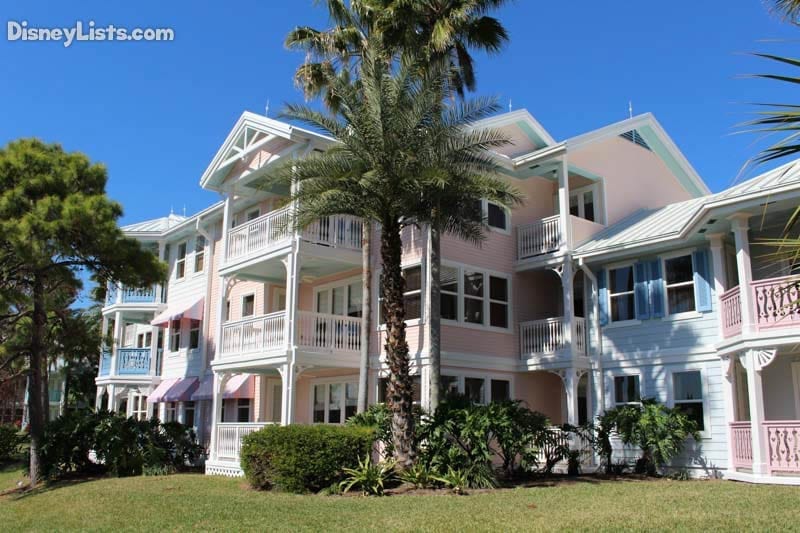 2 – Spread Out!
Since Old Key West was the original Disney Vacation Club Resort, their rooms were built a larger size than the standard resort rooms, which gives room to spread out! We enjoy the extra space with our family of four when we stay in even the basic studio room. The rooms hold true to paradise with light blues and pinks throughout. Every view from the balconies we have experienced has been of lush landscape, a well-manicured golf course, and/or beautiful water views. We also enjoy the ability to drive up to our room area. No need to walk miles to your room. Here you can get off the bus stop or out of your parked car and walk just a few feet to your resort room door. This is especially helpful with little ones tagging along!
3 – Olivia's Cafe
Have you ever been exhausted from a day at the park and just wanted to sit back and relax with a good meal? Airy, quiet, simple, and best of all – incredibly delicious – Olivia's Café is your place! The atmosphere is very welcoming and warm, whether you decide to sit inside or ask for a table outside. We particularly enjoy the nautical theme noticeable throughout the restaurant. The menu offers a great variety of seafood, beef, chicken, salad – just overall great selections. If you have dinner at Olivia's, be sure to try their Hawaiian/coconut bread. It's in our top five favorite foods at Disney! While we like to make a dining reservation, if possible, we have found that Olivia's typically has seating available with minimal wait unless you are visiting during the extremely busy season. Don't forget to try dessert!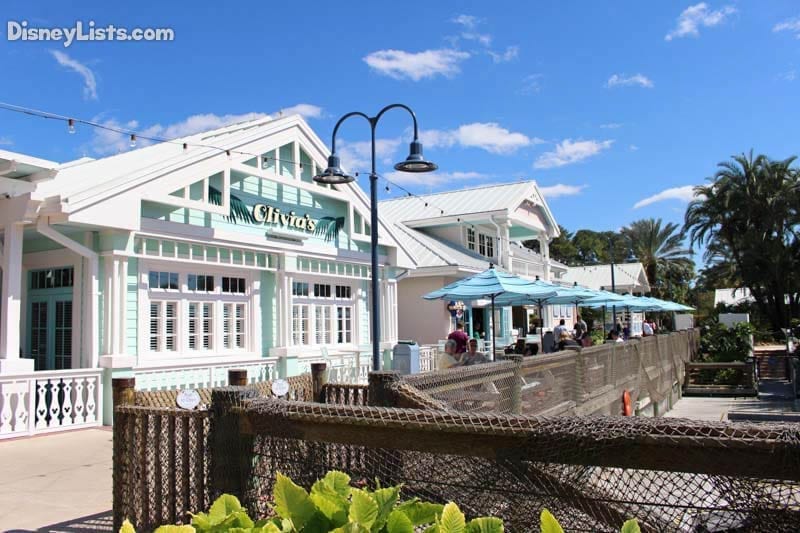 4 – Gurgling Suitcase
Well, the name kind of says it all. This small bar may not seat many, but most seem to snag a drink and walk along the decks surrounding the water near the main pool and boat dock. We mention this bar because we recommend it be the start of your vacation! Get off the bus or out of your car and head to the Gurgling Suitcase for several tasty drink selections. This little bar seems to reflect the ease and relaxation of Old Key West. Especially at night near Gurgling Suitcase, you'll be in awe of the glow of the hanging lights off the water. Take a deep breath… you're in paradise.
5 – Opportunities to Unwind
For some golf may be stressful, but we hope you have a chance to enjoy a relaxing game on Disney's Lake Buena Vista Golf Course that goes right through Old Key West. If golf isn't your cup of tea, maybe you would enjoy one of the four resort pools. We especially love the main clubhouse pool that has an incredible waterslide (you can't miss this Hidden Mickey!). With a towering lighthouse overseeing the pool and sand to stroll in close by, you'll truly feel as if you've been swept away to a tropical location. The three other pools are wonderful for a quiet, restful time that may be a closer walk from your resort room. Are you a runner, walker, or simply looking to stroll? Old Key West has a great jogging trail. Don't forget about the playgrounds, tennis courts, beach volleyball, campfire, and so much more!
6 – Boat to Disney Springs
This one is our daughter's favorite! Be sure to take advantage of the boat ride offered to Disney Springs. Sure, you can catch a bus, but why not relax and listen to the sound of the water as you cruise along. Disney Springs is a busy area, and it's wonderful having a boat that can drop you off in two different locations depending on where you would like to begin your shopping/dining adventure. Shopped out and feeling tired? Old Key West is just a short boat ride (or bus ride) back to the comfort of your resort room.
We feel that Disney's Old Key West is truly a hidden gem. It's not the most popular resort, it's not the most expensive resort, and it isn't overly fancy… but it's just right! We hope you have the opportunity to stay at Old Key West so you can be welcomed home at this incredible resort.
For a no obligation, FREE Quote on a Disney vacation package, please contact our travel partner Magical Vacation Planner at 407-442-0227 (407-442-0215 for Spanish). You can also request a FREE quote online by Clicking HERE.