Guests who visit Walt Disney World had best bring their appetites with them as there are countless places to enjoy delicious meals and snacks. Throughout the four theme parks, two water parks, Disney Springs, and over two dozen Disney Resorts, there are so many options to choose from including quick service and full service options. One of the best places to visit in terms of dining options is Epcot thanks to World Showcase. Home to eleven different pavilions, World Showcase highlights countries from around the world and each pavilion is home to at least one full service and one quick service dining location. With so many options to choose from, it can be hard to decide which restaurant to enjoy a meal in when visiting World Showcase. Here are the eight best table service restaurants in Epcot's World Showcase to enjoy on a Walt Disney World vacation.
8 – San Angel Inn Restaurante
Guests who enter World Showcase from Epcot's Future World have the option of staring in either the Mexico Pavilion or the Canada Pavilion. The Mexico Pavilion is home to a massive pyramid which features a courtyard full of bustling shops and wonderful ambiance. Located in the back of the pyramid is the table service San Angel Inn Restaurante. The restaurant is housed in a beautiful open air courtyard with wonderful architecture on either side. Guests who enjoy a meal there can enjoy views overlooking a tranquil river and a gently smoking volcano in the distance. Open for lunch and dinner, the San Angle Inn Restaurante offers up delicious options including Tacos de Carne, Puntas Motulenas, Pollo a las Rajas, and Enchiladas Verdes con Pollo.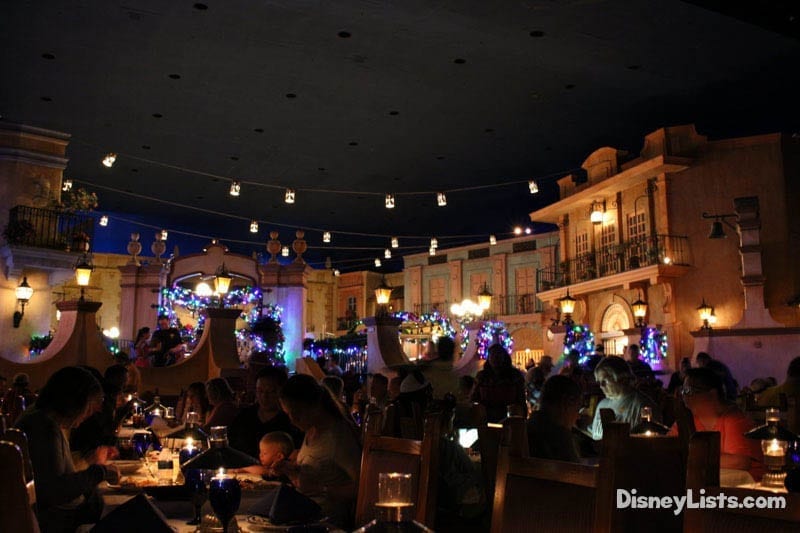 7 – Akershus Royal Banquet Hall
The Norway Pavilion in World Showcase features beautiful architecture as well as a full service dining location fit for royalty. Akurshus Royal Banquet Hall is open daily for breakfast, lunch, and dinner and offers up a traditional Norwegian buffet that guests can enjoy while meeting Disney Princesses like Snow White, Belle, Aurora, and Cinderella. The restaurant is decked out with beautiful details including dark wood beams and royal crests. Guests can enjoy the details and wonderful characters while enjoying foods like Dilled Salmon Gravlax, Jarlsberg Cheese, Traditional Kjottkake, Grilled Pork Chop, and Oven-Baked Cod.
6 – Nine Dragons Restaurant
Guests who are looking to enjoy an authentic Chinese meal can head over to the China Pavilion to dine at Nine Dragons Restaurant. This full service location is open for lunch and dinner and features a beautiful dining room filled with opulent jade green details, dark wood accents, and beautiful dragon artwork. The menu at Nine Dragons Restaurant offers up delicious options like Honey Sesame Chicken, Nine Dragons Lo Mein, Kung Pao Shrimps, and Vegetable and Tofu Stir Fry.
5- Tokyo Dining
The Japan Pavilion in World Showcase is home to several full service dining options, including one location which combines delicious food with a modern and clean décor. Tokyo Dining invites guests to dine amidst a modern décor filled with ambient lighting, sleek furniture, and interesting architectural details. Lunch and dinner at Tokyo Dining are amazing meals to enjoy with menu options like the Sushi Sampler, Tuna Tataki, Grilled Chicken, Shibuya, Roppongi, and Steak Combination with Sushi.
4- Biergarten Restaurant
One of the most popular table service locations in Epcot's World Showcase invites guests to dine in a quaint moonlit village filled with beautiful architecture and live entertainment. The Biergarten Restaurant in the Germany Pavilion brings guests into a beautiful open air courtyard themed like a German village where they can enjoy an all you can eat buffet and live entertainment like oompah bands. Guests who dine at the location for lunch or dinner are seated family style with other guests and can enjoy delicious menu options like Potato Salad, Pork Schnitzel, German Meat Loaf, Meatballs, Spatzle, and Roasted Chicken.
3 – Rose & Crown Dining Room
Guests looking to enjoy a lively meal in a bustling location in World Showcase should definitely stop by the UK Pavilion for the perfect option. The Rose & Crown Dining Room can be found along the shores of World Showcase Lagoon and offers up a loud and energetic environment thanks to its attached Rose & Crown Pub. Guests who sit down to enjoy lunch or dinner can enjoy cozy rooms featuring charming china details, warm fireplaces, and large windows with dark wood panels. Some guests might also be lucky enough to score a table on the outdoor patio overlooking the water. The Rose & Crown Dining Room's menu offers up delicious choices like Bangers and Mash, Shepard's Pie, Welsh Pub Burger, and Corn Beef and Cabbage.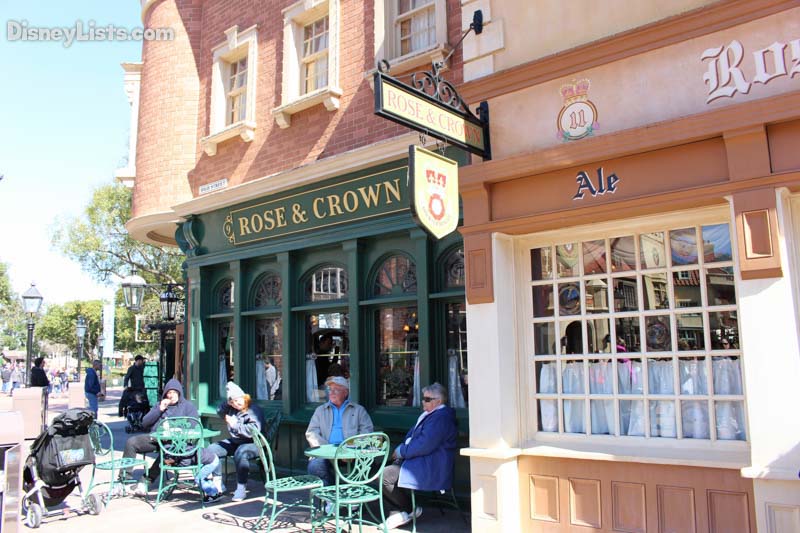 2 – Monsieur Paul
Guests looking to enjoy classic French cuisine in an elegant and airy setting simply have to stop by the Franc Pavilion to enjoy a meal at Monsieur Paul. The location features massive windows which let in plenty of light to make the dining room look spectacular. Guests can enjoy classic French architecture with modern bright touches while enjoying dinner at the restaurant. Monsieur Paul's menu offers up delicious and decadent options like Roasted Duck Breast, Grilled Beef Tenderloin, Seared Scallops, and Red Snapper. Guests can also opt to dine from a Prix-fixe menu which offers choices like Roasted Bone-In Rib Eye For Two and Herb-Crusted Colorado Lamb Chops.
1 – Le Cellier Steakhouse
One of the most popular full service restaurants in World Showcase can be found nestled inside of the Canada Pavilion. Le Cellier Steakhouse invites guests to enjoy a meal in a cozy dining room designed to feel like a wine cellar with dim lighting and low vaulted ceilings. Guests who can score a reservation for lunch or dinner can enjoy favorite menu options like the Le Cellier Filet Mignon, Cross-Seasno Canadian Salmon, Angus New York Strip, and Chicken Cassoulet. Guests who dine at Le Cellier Steakhouse should also save room for the delicious Canadian Cheddar Cheese Soup!
For a no obligation, FREE Quote on a Disney vacation package, please contact our travel partner Magical Vacation Planner at 407-442-0227 (407-442-0215 for Spanish). You can also request a FREE quote online by Clicking HERE.