Planning
9 DO's and DON'Ts for Using the My Disney Experience App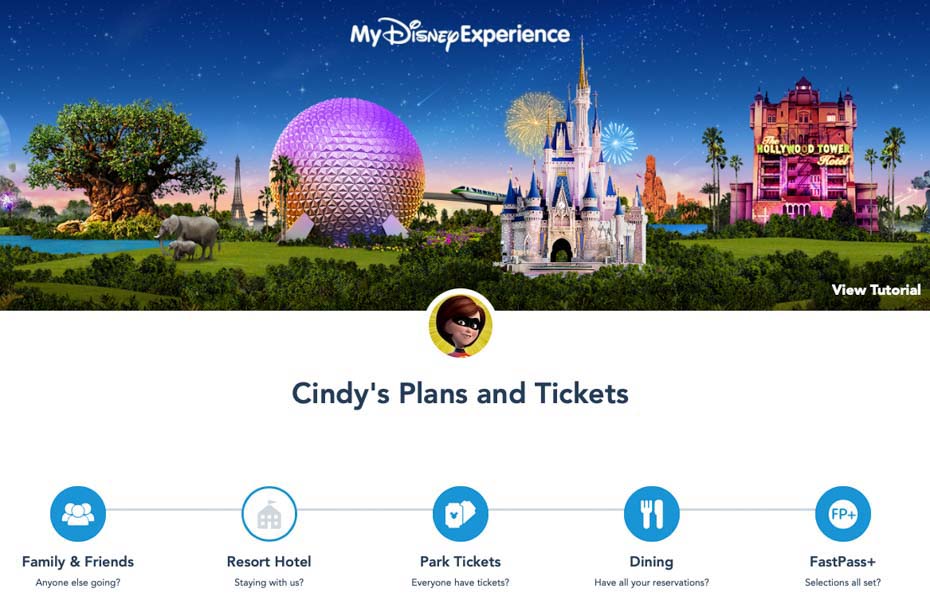 The My Disney Experience App is extremely helpful and links everything to your Magic Bands, which help to ensure that all aspects of your vacation are at organized and ready for you to enjoy.  There are several things that you should definitely know as you are using the app to plan and enjoy your Disney vacation:
9 – DO set up the free account!
The account is entirely free to set up, and it invaluable in helping to plan and organize every aspect of your vacation to Walt Disney World. You can use the web interface or the mobile application to set up and manage all of the details of your account, including all reservations, park tickets, resort reservations, preferences, celebrations, etc. You can even put in notes about your vacations and mark favorite attractions. It is beneficial, and did I mention that it is entirely free?
8 – DON'T forget to add the other members of your party.
Once you have set up an account, you will want to make sure that each member of your party has a profile so that you can link them to all of your reservations. They can then set up their own free account and then complete a friend request to connect with you so that you can add each other to reservations and plans. If they don't have an interest in an account or aren't old enough to manage their own, then you can add them as a friend and manage their profile yourself. You will still be able to add them to everything.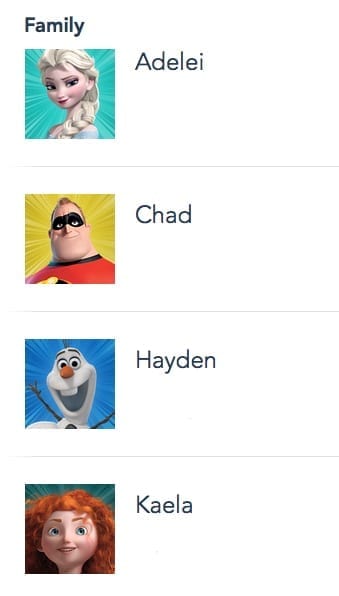 7 – DO ensure that all of your reservations are linked.
This is especially important! To get the most use out of the application and to ensure that you have all of your reservations managed in a single place, you will need to make sure that they all appear on the reservations tab. If you don't see one there, you can easily link them and add the appropriate members to the group. This will help keep you from missing anything and planning the other aspects of your trip around the reservations. You must also make sure that your Magic Bands are properly linked to your account and to each member of your party. Your Magic Bands are how you will access most of these reservations and park admission.
6 – DON'T forget to validate your address, credit card information, etc. is up to date.
It will save you a lot of time if you make sure that you have full and complete information in your account. The mailing address is very important since this is where your Magic Bands, Magical Express info, and other items will be mailed to. You definitely don't want these items getting lost in transit. Your credit card and billing information are used to hold all of your dining reservations (in most cases, it WILL NOT be charged, though). The credit card information is also used for your resort charges, which you can also set a pin number to help protect your accounts.
5 – DO make sure you have downloaded and gotten comfortable with the application.
Before you go on your vacation, you will want to download the app to your phone. It is a free app in the app store on your phone. Once downloaded, you will be able to log into your account. Be sure to spend time getting comfortable with the app so that you know where to find everything. You will be able to see attractions at each park, all of your reservations, park hours, and more. It gives you a lot of information to keep you organized and get the most out of your vacation right at your fingertips.
4 – DO filter the wait time list.
On the main app home page, you'll see a map. When you click on that, it defaults to show you the "Wait Times" of attraction. There are two options here that will make it easier for you. On the upper left side, you'll see a "Filter" button. Press on that, and you'll be able to choose a park. Then you'll be able to view only the attractions for that park instead of all of them! On the upper right-hand side, you'll see a "show list" option. This will let you know the attraction wait times as a list rather than on the map. See the photos below for more help.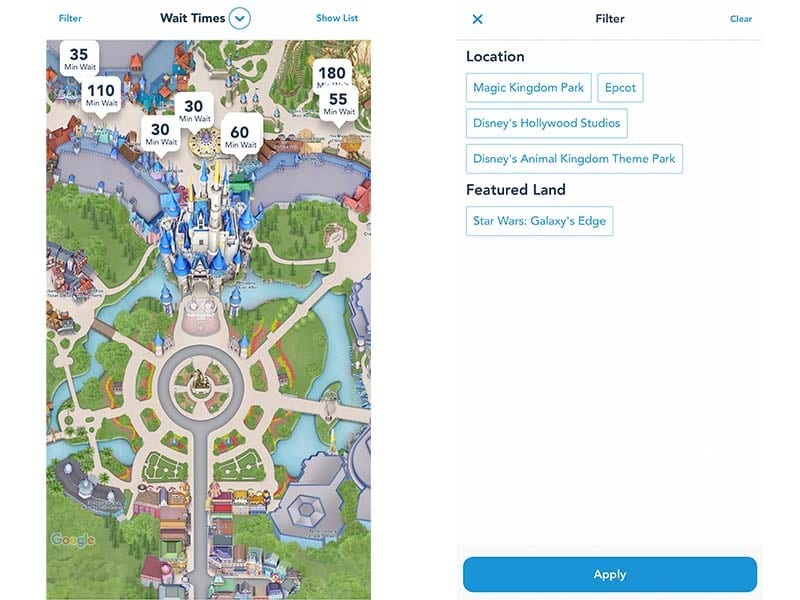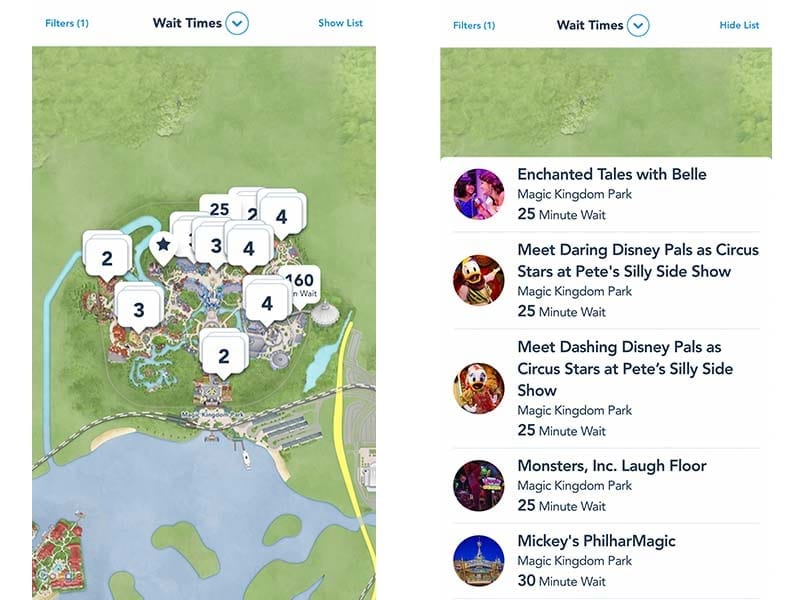 3 – DO keep up to date with show and parade times.
Editor's Note: During the phased reopening of Walt Disney World, parades are temporarily suspended.
Disney prints and distributes Times Guides at the front of the park, but you really don't need them! You already have this information in the app and can easily find it all. The evening shows and the parades are even grouped together so that you can see the times for everything and plan which you will attend. The showtimes for each show are in there so you can see when the next show is before making the journey over there. It is very beneficial!
2 – DON'T feel stuck in a single park for FastPass+.
Editor's Note: During the phased reopening of Walt Disney World, FastPass+ is temporarily suspended.
Gone are the days of the FastPass+ selections getting limited to one park in a single day! With the original system, you had to make three selections for a given day, all in the same park. Now, with changes to the system, you still have to use your initial 3 FastPass+ selections at one park, but after you have used those, you can make new selections, one at a time, for any park. So before you head over to your next park, secure those FastPasses on the App!
1 – DO Use the App for Mobile Ordering
During the phased reopening of Walt Disney World, all quick-service restaurants require you to use Mobile Ordering in order to place an order at a restaurant. Only guests without access to a smartphone and the MyDisney Experience app will be able to place an order in person. So be ready for and expect to use the app for your quick-service meals. You also want to order early in the day (you can always cancel) since Disney now sets aside a select number of orders per 'arrival window.' So once a time slot is full, no more orders for that time will be accepted. If you go to order at noon, the first available time slot may be hours later. Click here for what you need to know about Mobile Ordering. 
For a no obligation, FREE Quote on a Disney vacation package, please contact our travel partner Magical Vacation Planner at 407-442-0227 (407-442-0215 for Spanish). You can also request a FREE quote online by Clicking HERE.