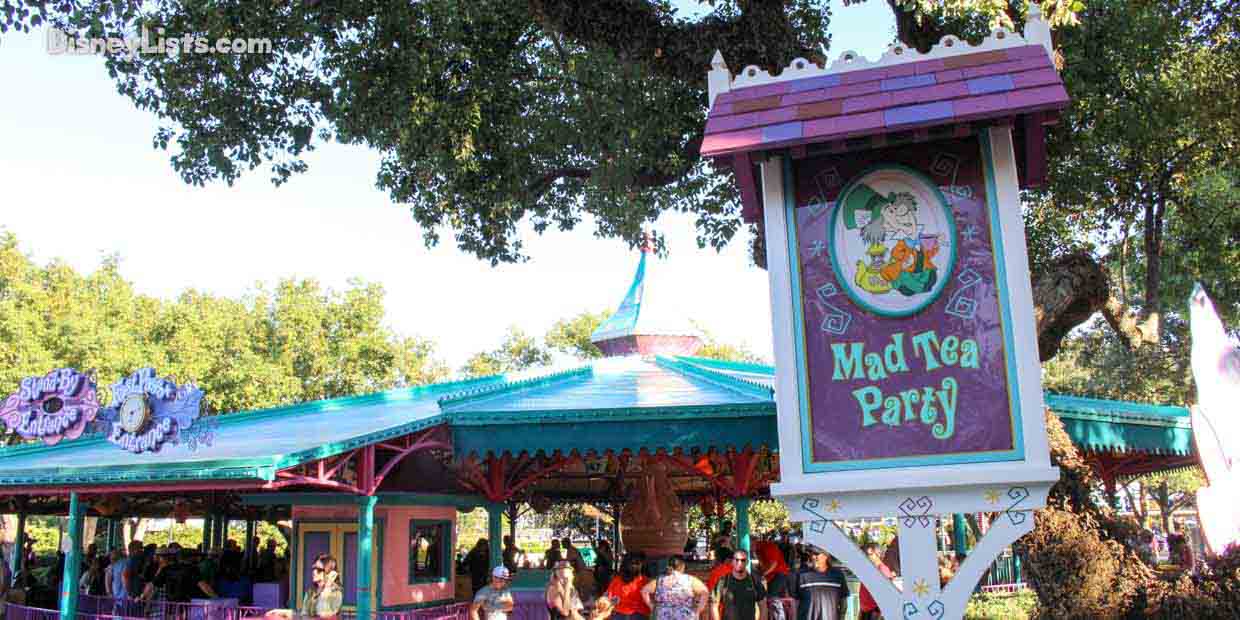 The Mad Tea Party is a really fun Alice in Wonderland themed ride that entertains kids and adults of all ages.  The ride is a spinning ride where your teacups spin over and over again based on how fast you spin them, and then they are moving and rotating in a circle on the deck as you spin.  It is fun to work together as a group to see how fast you can get it to spin, too!  Here are 8 facts and secrets about the Mad Tea Party that you may not know:
8 – Magic Kingdom opening day attraction.
This attraction was one of the attractions that made the cut to open with all of the opening day attractions at the Magic Kingdom.  This means that guests have been enjoying this attraction almost every day since the park first opened.  It is amazing that the attraction has been around for this long, making it almost 50 years old!
7 – You can't get away from it (at Disney parks at least).
This style for this attraction has managed to be popular and fun enough that it has made its way to every single main Disney Park that is currently open, even if the theming is a little bit different.  This means the attraction is in Florida and California, as well as Paris, Tokyo, and Hong Kong.  It is in plans for Shanghai Disneyland and will be a Winnie the Pooh themed at this theme park.  We may not be able to get away from it, but really, why would we want to?  It is great classic fun!
6 – It wasn't completely built by Disney.
The original Mad Tea Party in Disneyland, as well as most of its "sister" rides were not actually built by Disney imagineers.  The ride theming, colors and experience details were all designed and carefully planned by the imagineers, but the actual construction and engineering are all thanks to a third party company.   This is actually the approach used for many of the standalone rides you see throughout Disney parks that help give guests fun things to experience in between the major attractions.  It is a great way for Disney to get more done even faster to help add more magical experiences for guests to enjoy.
5 – No covering for California.
While you are enjoying the shade and protection from other elements while you enjoy the attraction at Disney World, be thankful!  The original attraction at Disneyland in California is the only version of the attraction that has no covering over it!  That means no protection from sun, rain or whatever Mother Nature decided to throw at them.  We know how much we appreciate a break from the sun here in Florida, so I can't imagine how it would feel waiting and enjoying the attraction if we were in the sun the entire time.  I'm just glad that we don't have to find out!
4 – The appearance of the Dormouse.
You will notice at the center of the attraction that as you spin around the Dormouse sometimes pops out of the top of the big teapot so that you get a little bit of his presence in the attraction and creates a cool visual effect for the attraction as a whole as guests are waiting and walking by. The unique fact about this is that all of the other versions of the attractions don't have this effect.  The teapot with the Dormouse is only in the Magic Kingdom and Tokyo Disneyland, while the other locations across the globe don't have a teapot at all and have a different focal point.
3 – The gold teacup.
This is only for the Disneyland attraction in California, but when Disneyland celebrated their 50th anniversary a gold teacup was added to the attraction!  This is a really cool way to honor the history of the park and incorporate the anniversary into one of the classic attractions.  Now I want to go to Disneyland and make sure that I get the gold cup!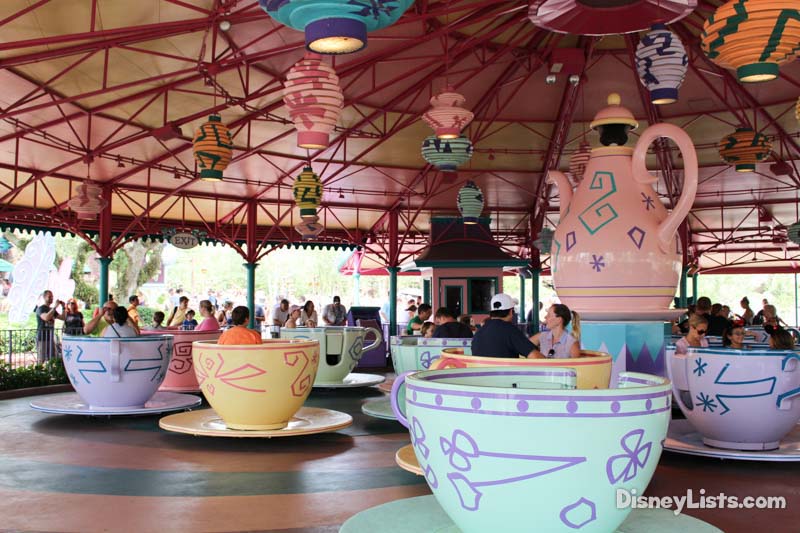 2 – Characters may ride.
I haven't seen this happen as much lately, but Alice and the Mad Hatter have been known to board the attraction and ride!  They are usually around the area at times and come out for meet and greets.  It is always fun to have the opportunity to ride with the characters and experience interactions that you can't usually get, or even predict if you can get.  If you do happen to get lucky enough to have this experience, be sure to take lots of pictures and enjoy it!
1 – Key Ride Facts.
Ride Opening Date: 1971
Duration: Around 1.5 minutes
Height Requirements: None
For a no obligation, FREE Quote on a Disney vacation package, please contact our travel partner Magical Vacation Planner at 407-442-0227 (407-442-0215 for Spanish). You can also request a FREE quote online by Clicking HERE.