Tomorrowland is a land within the Magic Kingdom that helps to transport us to a community of tomorrow.  The attractions, characters and experience fit in with the theme of the land.  The land had a lot of history and special touches from Walt himself.  Here are 7 facts and secrets about Tomorrowland for you to enjoy:
7 – Opening day attractions.
Tomorrowland was one of the lands that opened on October 1, 1971, the opening day for the Magic Kingdom. The land was opened unfinished and with a lot of room to grow and expand, but did open with two attractions for the opening day guests to enjoy.  The attractions were the Grand Prix Raceway and the Skyway to Fantasyland.  This land didn't offer a lot for guests to enjoy or experience compared to some of the other opening day lands and attractions.
6 – Home to the largest counter service restaurant in the Magic Kingdom.
Editor's Note: During the phased reopening of Walt Disney World, nighttime spectaculars, including fireworks shows, are temporarily suspended.
For many years, Tomorrowland was the home of the largest counter service restaurant in all of the Magic Kingdom.  Any guesses as to which location that was?  Well it was the Tomorrowland Terrace restaurant!  This is pretty crazy considering that the Tomorrowland Terrace restaurant is now typically only open seasonally, and is the home of the Happily Ever After Fireworks Dessert Party for most evenings.  The outdoor (although covered) seating makes it much less appealing on a hot summer day than its competitor restaurants that offer air conditioning and indoor seating, like the very nearby Cosmic Rays.
5 – Walt Disney was a huge fan of space exploration which pioneered the creation of the land.
It is well known that Walt was a huge fan of progress and learning more about space travel.  He was a believer in learning more about how we could make our world better tomorrow and had ideas for a futuristic city, which became the initial theme for Epcot when it was created.  When Disneyland opened here are Walt's words about Tomorrowland: "A vista into a world of wondrous ideas, signifying Man's achievements…A step into the future of constructed things to come.  Tomorrow offers new frontiers in science, adventure and ideals.  The atomic age, the Challenge of Outer Space and the hope for a peaceful, unified world." (July 17, 1955)
4 – There are multiple Tomorrowlands.
The concept for Tomorrowland is very popular among guests.  It is intriguing and offers guests attractions that are more futuristic or space explorative in nature, which is an interest that unites people from all over the world.  The attractions vary in each of the Tomorrowlands, but the general concept and feel for each is the same.  The first Tomorrowland was opened when Disneyland first opened in California.  There is of course the one at Walt Disney World in the Magic Kingdom.  Then there are also ones in Tokyo Disneyland, Hong Kong Disneyland and the newest Disney Park, Shanghai Disneyland.  Disneyland Paris has Discoveryland, which is similar to Tomorrowland, but not exactly the same.
3 – There is a secret phone.
Look for the secret phone in Tomorrowland!  It located in the area underneath the Peoplemover and Astro Orbiter in the center of the land.  Why is this important?  Well, this isn't an ordinary phone.  It is actually a phone that lets you listen in on conversations that fit within the theme of the land.  This is a lot of fun for younger kids to enjoy and get a little bit of extra magic while you explore.
2 – PUSH the talking trash can.
You might have seen pictures from past Disney trips of guests taking pictures with a Tomorrowland trash can.  You may have been wondering why the heck anyone would care about a Disney trash can.  Well, PUSH was not just your typical trash can.  He was actually a talking trash can that would move throughout Tomorrowland and interact with guests.  He was so much fun, and even helped with magical surprises like marriage proposals!  He has since been discontinued and no longer makes appearances.  We keep hoping that he will make a grand re-appearance one day.  Fingers crossed!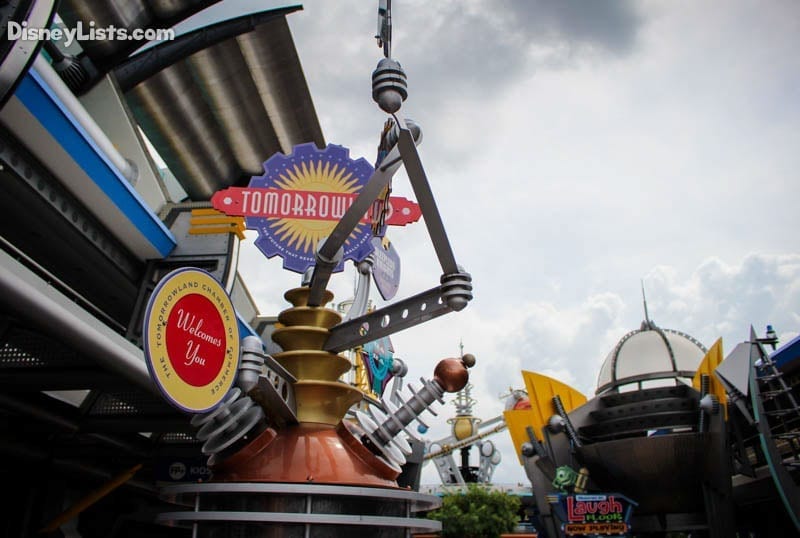 1 – Awesome hidden Mickey.
There is a really neat hidden Mickey (among several others throughout the land) that is hiding in plain sight.  Head over by the Tomorrowland Speedway.  Look for the street light that has three round hooded lights on it.  The street light was designed so that a Mickey would appear on the ground twice a day when the sun is in just the right place to create the effect.  This is an extra special hidden Mickey since this took a lot of care and planning in order to execute.
For a no obligation, FREE Quote on a Disney vacation package, please contact our travel partner Magical Vacation Planner at 407-442-0227 (407-442-0215 for Spanish). You can also request a FREE quote online by Clicking HERE.