Tackling Disney World is a tiring business. Guests report to walking up to 8-10 miles a day around the parks and resorts. Add to that the fatigue you get from standing for long periods and your legs will be ready at some point for a break! Even the fittest need to rest their legs from time to time. While Disney has benches and places for rest all over, we've found a favorite spot in each park. It's a place we keep going back to if you need a rest. Here are the nine best spots to take a break in Disney Parks.
1 – The Area Just Outside the Tangled Restrooms, Fantasyland, Magic Kingdom
Since its opening in March 2013, we love resting at the area outside the Tangled restrooms in Magic Kingdom. I know that it's a bit weird, but this spot offers much more than just cool bathrooms. First, the theming in the area is fantastic. You feel like you've stepped into Rapunzel's kingdom complete with her famous lanterns. Also, you'll spy her famous tower in the distance. But what makes the pit stop worth it is that the seating area includes many outlets to charge your portable devices. Using a smartphone at Disney is a battery draining business, and you'll likely need to charge your phone at least once during the day. Some seats and benches allow you to charge your device while you enjoy Rapunzel's village.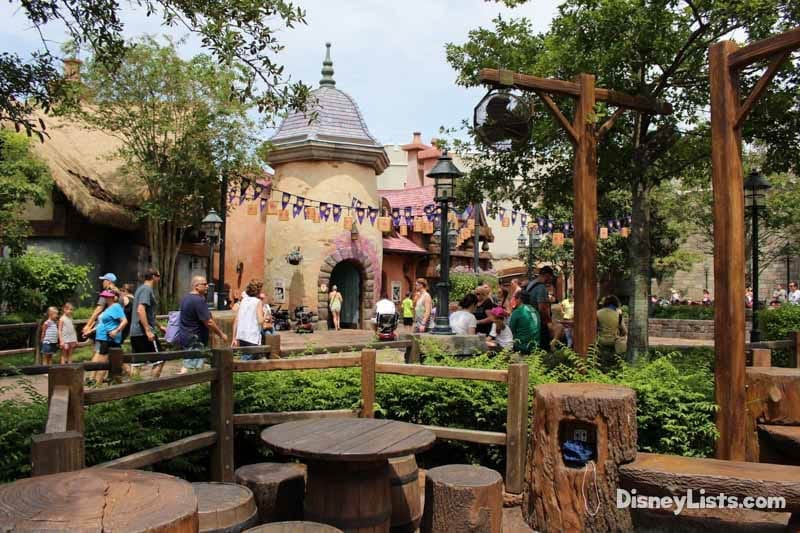 2 – Inside the American Adventure Pavilion, World Showcase, Epcot
Tackling walking around the world can be tiring. We love taking a break inside the American Adventure pavilion at Epcot, which is right about in the middle of World Showcase. Inside you'll find a large room that is air-conditioned. There are benches along the wall that are perfect for a nice break. You may also be treated to the Voices of Liberty who perform in the rotunda a few times a day. If you'd like to extend your break, we recommend heading into the theater for the show.  You'll be treated to 35 Audio-Animatronic figures for a stirring retelling of America's story that ends with a song that still brings tears to my eyes. It's a great way to relax and get a break.
3 – Dawa Bar, Africa, Animal Kingdom
Located at the front of Africa, Dawa Bar is a great place to sit and take a rest. Its outside location is open and airy and covered which gives protection from sun and rain. There are plenty of tables and chairs for everyone in your party. Adults will appreciate the opportunity to visit the bar for refreshments. Tamu Tamu Refreshments is also across the way, and Kusafiri Coffee Shop and Bakery is close by for those looking for a quick snack or sweet treat. Bring them back and enjoy your drinks, snacks, and rest at Dawa Bar!
4 – Eating Area off of Sunset Boulevard, Hollywood Studios
Off of Sunset Boulevard is a collection of quick-service restaurants that offers plenty of food and snack options and plenty of seating. Most of the seating is covered by umbrellas or pavilions. Restaurants include Hollywood Scoops, Fairfax Fare, Catalina Eddie's, and Rosie's All-American Cafe. You'll also find fruit stands for some healthier options. We like resting in this area because of the many different food options. Everyone in our party can get what they want! It's also fun to sit and listen to the screams from Twilight Zone Tower of Terror!
5 – Tom Sawyer Island, Magic Kingdom
Tucked away in Magic Kingdom is Tom Sawyer Island, which provides many quiet, shaded spots to take a rest. If you have small ones in your party, they'll love exploring while you can rest. Aunt Polly's Dockside Inn was a restaurant on the island where you could actually stop and have a meal. While it is no longer serving food, the tables and chairs are still there, offering a great spot to view Liberty Square from across the river. You'll also find many benches throughout the island.
6 – Boat Transportation, a.k.a. "The Floating Bench"
One of the most relaxing and enjoyable ways to relax is to take a boat ride. Epcot offers two boats for transportation in World Showcase. If you want to cut down on the walking, you can hop on the "floating bench" and enjoy a brief rest on your way across the lagoon. A boat ride may be just the thing your family needs to relax. Some of our favorite relaxing boat attractions are the Liberty Belle Riverboat, Pirates of the Caribbean, and the Gran Fiesta Tour Boat Cruise.
7 – Walt Disney World Railroad, Magic Kingdom
Walt Disney loved trains, and so can you. If you are looking to cut down on walking or for a chance to just enjoy the view and ride the train, you can travel on the Walt Disney World Railroad. This railroad has three stops: Main Street, U.S.A., Frontierland, and Fantasyland. A full round trip is twenty minutes. It's an excellent chance for you to rest up and enjoy a tour around Magic Kingdom!
Editor's Note: the Walt Disney World Railroad is currently closed.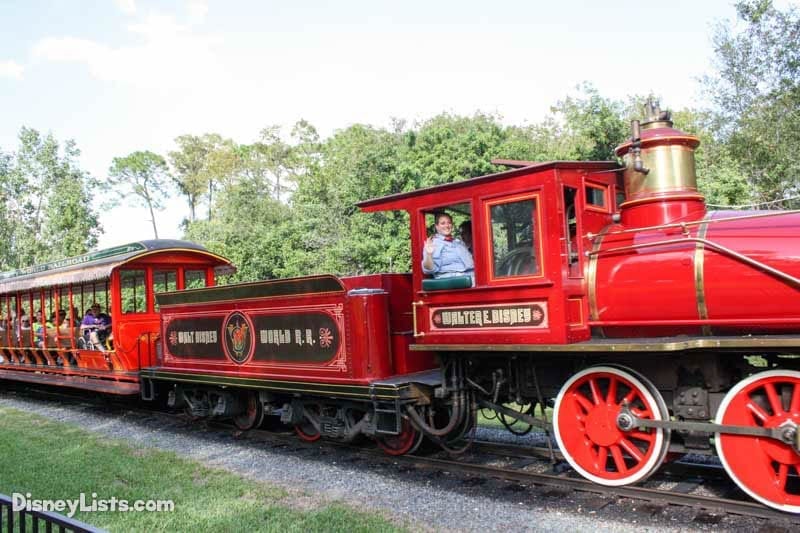 8 – Walt Disney Presents, Hollywood Studios
Tucked in between the Little Mermaid show and the entrance to Toy Story Land is an attraction that, sadly, many guests pass on by. Walt Disney Presents is a look at the life of Walt Disney, the man that made all of this possible. The experience starts with a walk through various exhibits showing the story of Walt and the Walt Disney Company with some very cool artifacts on display. The attraction ends with a short movie previewing an upcoming movie release. Take a few minutes and enjoy learning something about a truly extraordinary person. Note that screenings may sometimes be preempted for special sneak peeks of upcoming Disney feature films. Please check back on this page or consult the Times Guide at Disney's Hollywood Studios for details.
9 – Disney & Pixar Short Film Festival, Epcot
The Magic Eye Theater, adjacent to Journey Into Imagination, is now hosting to the Disney & Pixar Short Film Festival. The 18-minute experience features three short films and is a welcome chance to get off your feet for a bit in the air conditioning.
For a no obligation, FREE Quote on a Disney vacation package, please contact our travel partner Magical Vacation Planner at 407-442-0227 (407-442-0215 for Spanish). You can also request a FREE quote online by Clicking HERE.