Planning
9 Things You Need to Know About Parking at Disney World Theme Parks
Did you know, it is said that you could fit all of Disneyland into Disney World's Magic Kingdom parking, plus still have room for another 500 cars?! And that's just ONE of Disney World's four theme parks and two water parks. Parking lots of massive size can sound like a tricky feat in itself to reach the magic, but of course, Disney has prepared for their huge crowds with an excellent parking lot flow. We'll make it even easier to navigate! Here are 9 things you need to know about parking at Disney World Theme Parks.
1 – Let's Talk Cost
Parking at one of Disney World's four theme parks will cost a car or motorcycle $25 per day. The great news is that this fee will provide you with a parking pass good for all 4 theme park parking lots (Magic Kingdom, Epcot, Hollywood Studios, Animal Kingdom) for a full day. If you are riding in a shuttle, limo, camper, trailer, RV, Bur, or tractor-trailer, you'll pay $30 per day. If you want to park as close to the front as you can, you may purchase preferred parking for a car or motorcycle for $50 a day. If you are an Annual Passholder or a Disney Resort Guest, parking is complimentary. Parking at the Water Parks and at Disney Springs is complimentary for all guests!
2 – What is the "TTC"?
When visiting Epcot, Hollywood Studios, or Animal Kingdom, the parking lot locations are within walking distance or in tram distance to the theme park. Magic Kingdom, however, is a special situation. You'll hear the term "TTC" which stands for Transportation and Ticket Center. You'll park at the TTC then either jump on the monorail or get on the ferry to reach Magic Kingdom. Sometimes the TTC has a bus lot open as well, and you can bus over to Magic Kingdom.
3 – What Section Are We in?
This is VERY important, as it would be a pain to have to try to locate your car if you had no idea where you parked. The theme parks divide sections of the parking lot into memorable names. For example, Magic Kingdom's parking lot at the TTC has a Heroes and a Villains section. Take note of which one you are in. If you are in the Villains section, for example, check to see what character your section is named after, such as the Cruella section. Last but not least – what is your parking row number? Do yourself a favor and when you reach the end of your parking row, take a picture of the number which is printed on the ground. Text yourself the picture of the parking row along with the section name(s), and you'll save yourself a headache at the end of the day!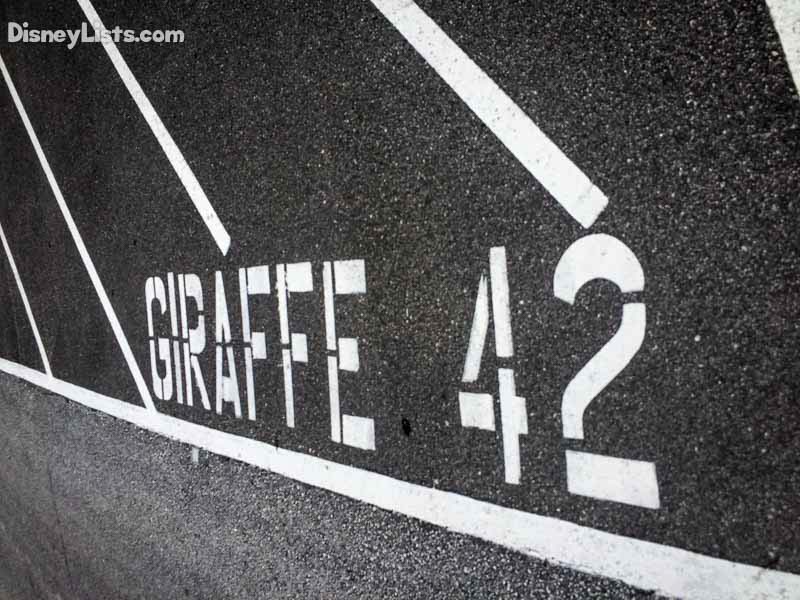 4 – A Ride on the Tram
Editor's Note: During the phased reopening of Walt Disney World, tram service is not available. 
Each Disney World theme park parking offers trams that go to and from the parking lot picking up passengers as needed from designated areas. There have been several times when we've parked and have decided we are close enough to walk to the park entrance from our parking spot. This saves the hassle of trying to find a seat and get the family on the tram. If you do prefer the tram, however, because you are in the nosebleed section of the parking lot or because you want to save your walking legs for the park – look for the Cast Member directing folks to stand behind the line. Typically, there is a large yellow cone style object that will help guide you to the tram pick up location. While riding the tram, be sure to listen to the Cast Member's instructions and information. They will inform you of when the park closes and when the last tram will depart. When departing from the park, the tram will drop you off in designated areas for you to walk the rest of the way to your car.
5 – Disability Parking
Handicap parking is available at all of Disney's parking lots, including theme parks, Disney Springs, water parks, and resorts –a valid disability parking permit is required. Courtesy trams are available at these locations within the theme parks. Disability parking lots are available at Disney's theme parks for guests with mobility disabilities, including those traveling with personal wheelchairs, electric scooters, or other mobility devices. These parking lots are close to the main entrance and do not provide a courtesy tram.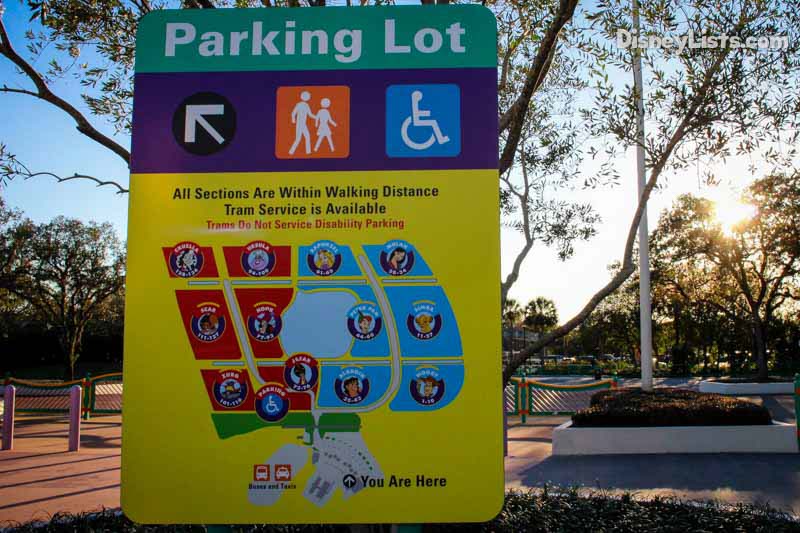 6 – Electric Cars
If you are cool enough to have an Electric Vehicle, know that we are jealous! You'll want to know that Disney offers Electric Vehicle Charging Stations. ChargePoint charging stations are now available in parking lots at Epcot, Animal Kingdom, and Disney Springs and are available on a first-come, first-serve basis. Guests wanting to use this service will need a credit card or a pre-ordered ChargePoint card (available at chargepoint.com). The cost to charge is $0.35 per kilowatt-hour, with a minimum service amount of $1.50. Charging will stop once the vehicle's battery is fully charged. ChargePoint will "ping" the owners to alert them when their car is ready!
7 – Car Troubles?
Unfortunately, it does happen – after a long day at the park, you get to the car, and it won't start! Disney is there to help as they provide four Auto Plazas that are located at the entrance to each of the four theme park parking lots. A number to reach Guest Services that you may want to keep in your phone is 407-824-2222.
8 – Tips with Kids
For those parking with children in tow, here are a few tips we suggest you keep in mind. First, when you pull into your parking spot, instruct your child NOT to open the door until you give them the all-clear. Typically, cars are pulling in on both sides of you at roughly the same time you are pulling in. They, too, try to open their doors and cars and be dented, and it can be dangerous for kids that tend to jump out of the car right away. Second, listen to the Cast Member parking guides. They will tell you to move in front of your vehicle as soon as possible and proceed to the walking path going in front of your car. This is because there is usually a stream of cars pouring in, and they don't want you to get hit. Finally, if you are planning on taking the tram, don't unpack the stroller and load the baby in it just yet. You'll just have to fold it again and unload your stuff from it to put it on the tram anyway.
9 – Tips for Disney Springs
Disney Springs parking has drastically improved with both the Lime and Orange parking garages open and offering each around 2000 parking spaces. Both parking garages offer the occupied parking space technology that allows guests to see, not only the total number of parking spots available but also which spots are open. Also, with the addition of the direct exit off of I-4 and the exit ramp into the Orange lot off of Buena Vista drive, parking at Disney Springs has never been easier.
Just remember – parking is what allows you to reach a day full of magic! Get to and from your awesome day safely by following signs and Cast Members' guidance.
For a no obligation, FREE Quote on a Disney vacation package, please contact our travel partner Magical Vacation Planner at 407-442-0227 (407-442-0215 for Spanish). You can also request a FREE quote online by Clicking HERE.