Be Our Guest Restaurant, located in Magic Kingdom's Fantasyland was a massive hit from the moment it opened its doors in late November of 2012 as part of the vast expansion and renovation of Fantasyland. While full table service is offered at night, lunch guests can experience the restaurant as a quick-service restaurant. This allows many more guests the opportunity to dine in Beast's castle. This is one of the top dining choices for many because it is such a unique experience. Here are 7 things you need to know about lunch at Be Our Guest.
7 – Reserve Early
Unlike most quick-service restaurants, you can make advance dining reservations for Be Our Guest lunch (and breakfast). The standard 180 day before your dining date applies here. If you are planning to dine at Be Our Guest for lunch, you'll definitely want to make a reservation. While they do allow for walk-ups some of the time, if the restaurant is fully booked (and it will be during all but the slowest times), they do not. Lunch is available from 10:30 am 2:30 pm. Go online or call 4070-WDW-Dine for reservations.
6 – French Inspired Cuisine
Disney World has come a long way from the standard theme park fare of burgers and fries. The food offerings are delicious and varied. The French-inspired food ranges from a fresh tuna Nicoise salad, turkey baguette, vegetable quiche, and braised pork. Kid menu items include Mickey meatloaf and whole-grain macaroni. We enjoyed all of our meals. There is a lot of food for a counter service meal, and overall it's a good value.
[smartslider3 slider=37]
5 – Order Your Food Ahead of Time
With a reservation, you can pre-order your food up to 30 days before your visit through the order-ahead dining service. We highly recommend this service. We did not take advantage of this offering because we thought we would want to decide what we wanted to eat that day. However, that turned out to be a costly mistake. We waited for over 30 minutes after our reservation time just to order our food. Others around us had reported a 45-minute wait time to order.  The lunch menu can be found here: https://disneyworld.disney.go.com/dining/magic-kingdom/be-our-guest-restaurant/menus/lunch/
You can order your food through your My Disney Experience account. Simply view your registration and there will be a link to pre-order your food.
4 – Touch Screen Ordering
If you do not order your food ahead of time, you'll be directed to a line to place your order. You have two options for ordering. There are multiple touch screen terminals where you can place your food order for your party. If you are paying with cash, have special dietary requests, or changes you'd like to make to the dish or just don't want to use the touch screen, you can also order from a Cast Member.
3 – Split Up Large Parties for Ordering
If you have a large party, you are not required to order, and there is no advantage to doing so. We had a party of 12 and found it much easier to split up during the ordering process. It didn't matter that we were all on one reservation. We could order and pay separately, which made things a lot easier.
2 – Three Distinct Dining Rooms
After you order, you'll be able to choose between three distinct dining rooms. The Grand Ballroom is a beautiful ballroom with high, domed ceilings, chandeliers and Gothic arches. This, of course, is the room where Beast and Belle danced. This is the largest of the three rooms at the center of the restaurant. Be aware that there is a lot of traffic in this room and it is loud. The smallest of the three rooms is the mysterious West Wing study where you'll find the enchanted rose. This is a dark and quiet room and is the most popular. It is a very small room, and in several visits, we have yet to see an empty table. The Castle Gallery, which is Belle's private library, offers portraits of Beast and Belle and larger-than-life figures of Belle and Beast dancing. This is the easiest room to find a table because, frankly, it's the most boring of the three. It could easily be mistaken for the staff cafeteria.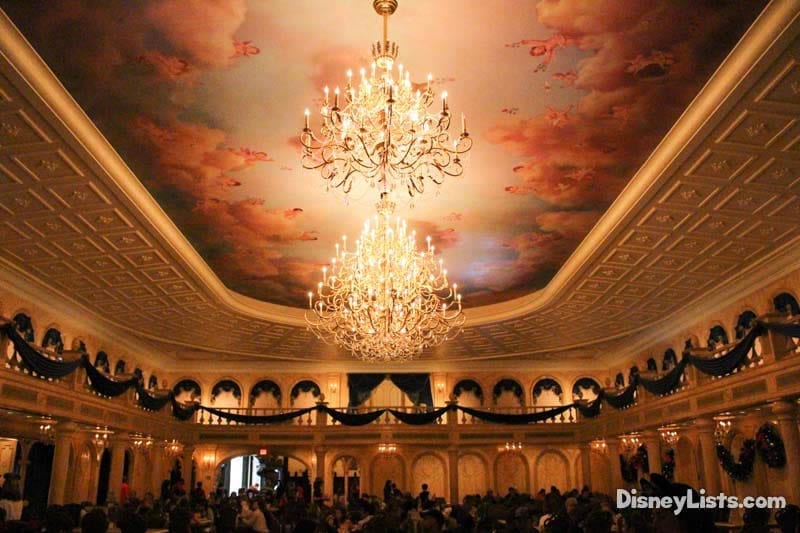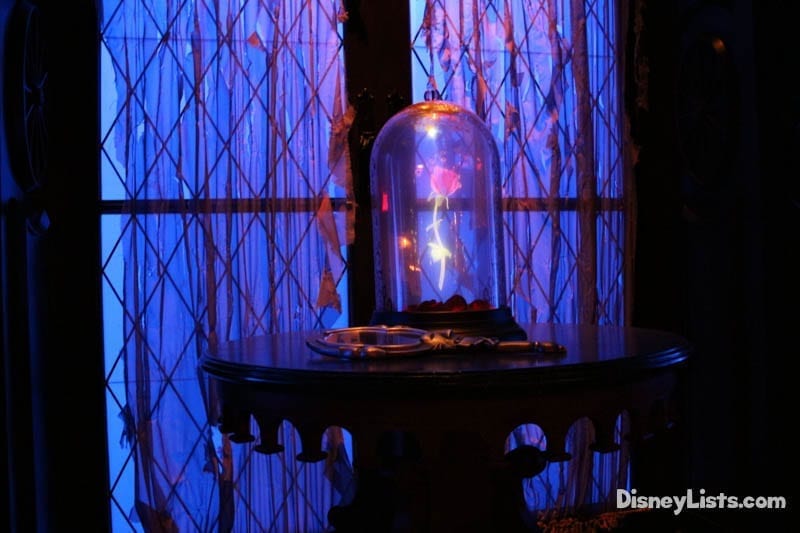 1 – The Food Comes to You
Through the magic of Disney, your food will be brought to your table regardless of where you choose to sit. Disney uses the technology of Magic Bands to locate you in the dining hall. If you do not have a Magic Band, you will be given a Magic Rose (it looks like a donut), so they can locate you. Each of the three rooms has a beverage station with unlimited refills, cutlery, and condiments.
For a no obligation, FREE Quote on a Disney vacation package, please contact our travel partner Magical Vacation Planner at 407-442-0227 (407-442-0215 for Spanish). You can also request a FREE quote online by Clicking HERE.